Parents Share Hilarious Photos of Their Kids before and after First Day of School
Adorable Before and After photos of kids on their first day of school surfaced online, and people can't stop laughing at their innocent faces.
For many years, parents have taken pride in their children going to school. To commemorate their first day, kids are often dressed neatly and photographed for remembrance.
With the emergence of social media, today's parents cannot help but share a proud photo of their kids, but recent posts showed the reality of first school days through before and after snaps.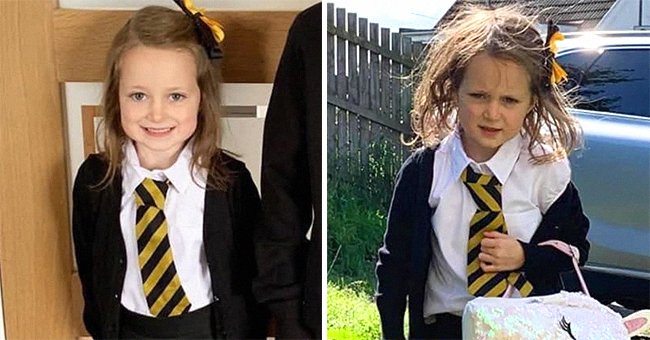 One child looked cute with straight hair, styled with an inward curl while posing with a pout before school. When she got home, her hair was all messed up as she looked at the camera with an annoyed face.
Another little girl looked prim and proper with what seemed to be her school uniform as she left for her first day. A lot obviously happened before she returned home.
An excited little girl put together an all-pink ensemble as she smiled with a "FIRST DAY OF PRE-K" sign before school and came home without the oversized pink bow on her head.
It seems that many kids who left home with neatly styled hair came home looking different. One student who went to school with bunned hair came back with messy pigtails.
One little girl managed to keep her long pigtails intact throughout the school day. However, her plain white shirt nearly turned gray from dirt.
While all the little girls seemed to have had playtime in school, a lad's photo was different. Seeing as he was holding papers in the latter, it looked like he was given homework and did not like it.
Another little boy seemed to have had a rough time during his first day of school as his bag and one shoe went missing in the after photo.
Here's a look at the other adorable photos from different first school days:
Certainly, it's not just the kids who looked different in their before and after photos. A preschool teacher also shared his side-by-side photo, and it is nothing short of hilarious.​​
Taking care of little children is not for the faint of heart, especially for teachers and parents. Recently, a few parents shared their psychological tricks to make kids obey them, hoping it may help others as well.