34-Year-Old Mom Banned from Going to Son's School Due to Her Revealing Outfit
Mom-of-three, Isabel Castro, was furious when her son's school stopped her from entering a meeting because of her low neckline top.
Many schools around the world implement dress codes for students, but one school in Soledad, Colombia, also applied the rule to a parent.
Isabel Castro shared what happened when the school staff barred her from entering a meeting at her son's school due to an apparent inappropriate outfit.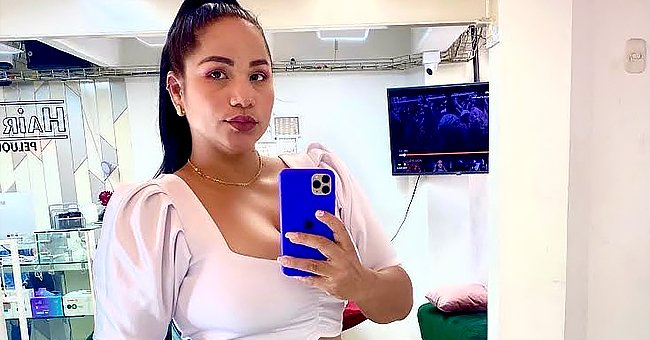 The 34-year-old was dressed in a white low neckline top and ripped jeans to attend the institution's COVID-19 measures meeting.
Castro was with her husband, Cristian Caviedes when a staff member said she could not enter dressed in such clothing and that she should read the handbook. Castro told El Tiempo:
"I left home, and looking at myself in the mirror, I thought I was well-dressed. I was wearing jeans and a blouse which was quite low-cut but far from vulgar."
According to Castro, the school overreacted and made her feel she had to dress in a certain way because she already had three kids.
Sierra narrated the video while wearing a hooded jacket and crying on the plane.
"I feel discriminated against because nobody has the right to point at, judge, or criticize another person," she added.
Castro is confident in her body and tries to dress according to what would make her feel her best, believing that the number of children a woman has shouldn't dictate their style.
Her spouse was also supportive of Castro, telling the news outlet, "Think about all the women suffering this sort of harassment at the moment, for example in Afghanistan, and then you wonder how this school official wants people to dress."
Eventually, Castro and her husband were allowed entry inside the meeting when the campus coordinator meddled in the situation.
#Atlántico | Un padre de familia denuncia que a su pareja no le permitían el ingreso a un colegio de Soledad por la forma como iba vestida. pic.twitter.com/ceXeNXIKEr

— Deivis López Ortega (@DeJhoLopez) September 3, 2021
Similarly, a woman felt that she was discriminated against for her outfit while boarding a plane. TikTok user Sierra shared that Alaska Airlines embarrassed her before other passengers.
Sierra dressed in a crop top and shorts while walking to her seat. Suddenly, a flight attendant grabbed and yelled at her, threatening to kick her out of the flight.
Sierra narrated the video while wearing a hooded jacket and crying on the plane. In another post, she added that the flight stewardess continued to accost her even after covering up with a jacket.
Sierra's post immediately went viral with several comments from angry TikTok users who could not accept such behavior from the airline staff.