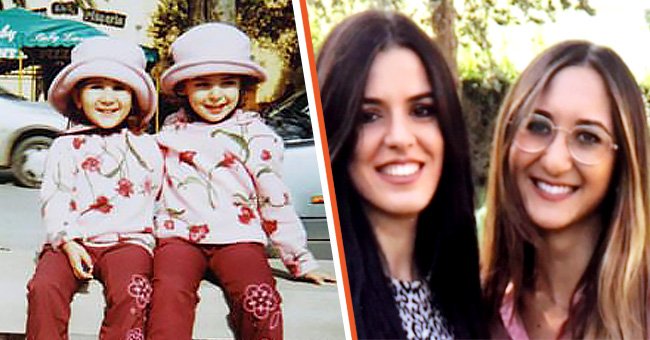 twitter.com/KLUV987. twitter.com/Femail
Mom Notices Girl Who Looks Like Her Children, Learns She's Her Daughter That Was Mixed Up at Birth

A mom experienced a surreal moment after coming across her daughter's playmate, who held a striking resemblance to her family. This discovery led to some revelations showing two babies were swapped at birth.
Melissa Fodera and Caterina Alagna are two young women raised in a situation that can be termed a twist of fate. The girls had been swapped at birth, but a second swap caused their paths to cross again.
The two girls were born in the same hospital, and on the day they were to return home to their families as newborns, a mix-up occurred, leading to the two bearing the other person's surname.
THE BIRTH SWAP
Melissa Fodera and Caterina Alagna were born 15 minutes apart at a hospital in Mazara del Vallo fishing port. The duo was born on New Year's eve of 1998, but some discrepancies occurred presumably due to their birth similarities.
Although both moms had noticed and called the nurses' attention to the difference in clothing, this was brushed aside as a mere error in outfits. However, this error went more profound than just baby clothes.
Marinella Alagna took Melissa Fodera home and raised her as her daughter. This inadvertently meant Gisella Fodera became Caterina Algana's mom.
The unfathomable swap was never noticed, and the two families lived what they thought was a normal life.
However, this would come to an end three years later when Marinella noticed something out of the ordinary. She and Gisella had enrolled their daughters in the same daycare facility, and it was there that Marinella saw Caterina.
On a fateful day, the Sicilian mom had been at the nursery to pick up young Melissa when she saw Caterina. An instant jolt drew her to Caterina's resemblance with her other daughters.
HOW THE SWAP WAS DISCOVERED
Marinella sought out the woman supposed to be Caterina's mom after her discovery. When she found Gisella, she informed her of what she noticed, and the pair knew there was only one way to find out.
Caterina had also recognized Gisella from when they were mates in the maternity ward, which deepened her suspicions.
Finally, after 15 days, the doubts were confirmed, and it was discovered that their daughters were swapped at birth.
The news tore through both families, initially causing some complications. Both families also opposed the idea of swapping the girls yet again. Fodera stated how difficult it was:
"I challenge anyone to raise a daughter for three years then give her up over a simple mistake."
HOW BOTH FAMILIES RESOLVED THE DRAMA
It was out of the question that Caterina and Melissa would be suddenly yanked out of the lives they already knew and had grown accustomed to. So, it was up to the adults to resolve the swap issue without hitches.
The Foderas and the Alagnas reached a compromise by spending more time together, and from there, the girls became playmates. The families also moved in together to foster the lovely relationship that has been birthed. As they grew older, Caterina and Melissa became inseparable.
This also led their parents to become one happy family. Their daughters spend the weekends and holidays together, and birthdays are never celebrated in isolation. Once speaking about the situation Caterina, who is now 23, shared:
"We are a phenomenon. We have eight grandparents, two fathers, and two mothers."
Mauro Caporiccio, who authored "Sisters Forever" a book based on the girls' life stories, stated that Caterina and Melissa were classmates up till college. Caporiccio added that the pair were seen as twins who did everything together as children.
Melissa shared that she and Caterina were told the story of their birth and swap when they were eight years old. However, it did not seem to affect them, as they do not have those memories. She shared:
"It seemed like a game and today neither of us have any memory of life before we were three. Growing up I had Marinella as a second mother, as she still is."
WHERE ARE THEY NOW?
Gisella was candid about how difficult it was for her to make a swap. She shared that she did not initially feel connected to Melissa.
This was because the 46-year-old felt like she had betrayed Caterina. However, the bond appeared with time, and Gisella stated that there were genuine mother-daughter feelings in present times. She noted:
"At first, loving Melissa, my biological daughter, felt like betraying the daughter I had raised, but today Melissa and I truly feel like mother and daughter."
The idea of staying together until a more natural swap occurred was even less helpful. After the girls had grown accustomed to each other, experts recommended that they be separated for six months to get used to their biological families.
The families were able to do this for three months but could not resist being apart any longer. They ultimately worked their way around the swap and also decided the girls could keep the names they bore after the initial swap.
Caporiccio explained that the Foderas and Alagnas became one big happy family, such that their daughters grew up with four parents, eight grandparents, and many siblings. He stated:
"The girls effectively grew up with four parents and eight grandparents, and the experiment worked… Today they are more like twins than sisters, and there is a kind of love which binds the two families."
While the families chose to keep the girls' first names, the surnames had to be switched. Presently, a documentary by RAI TV has been released, and it is inspired by the incredible story of Melissa and Caterina's birth swap.
The Foderas and Alagnas felt they had been living a lie the instant they found out their daughters had been swapped at birth. However, they immediately made sure to fix the issue and raise the girls, bearing in mind that only love could fix it.
Please fill in your e-mail so we can share with you our top stories!