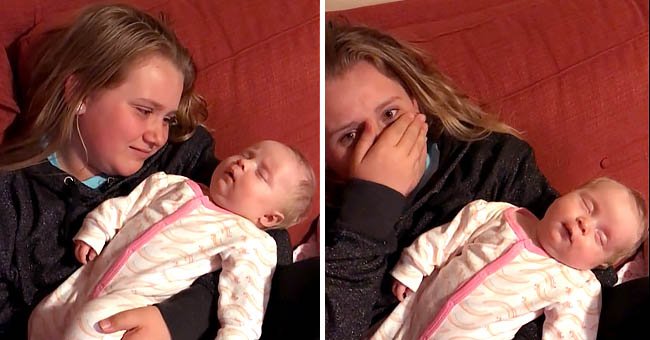 Girl Sings to Her Sleeping Sister in 2017, Then a Small Gesture from the Baby Makes Her Cry

The familiar warmth in the air was tangible as two sisters bonded lovingly over tunes filled with tenderness and literal tears. Older sister Allie, overtaken by her love for her baby sister, couldn't help but bawl.
In 2017, a video was shared on Facebook of big sister 9-year-old Allie singing a lullaby to her half-asleep little sister Ashlyn, who was only 7 weeks old at the time.
The clip shows Allie holding her tiny sibling in her arms, dressed in a cute onesie with her eyes closed, already enjoying the tune. The big sister looked down at Ashlyn with adoration as she continued holding the soothing melody.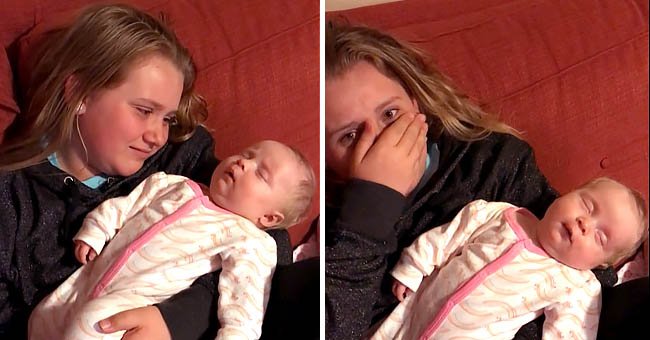 9-year-old Allie singing and crying while holding her 7-week-old sister Ashlyn. | Source: facebook.com/foreverymom
With her eyes still closed, the 7-week-old cracked an adorable smile to which Allie instinctively reacted with a loving smile, still looking down at her sibling. The big sister then covered her face as she began to tear up, to which her mom asked:
"Why are you crying? Because you love her that much?"
Her daughter said that it was simply because the little one was smiling in response to her singing. Allie continued to hum while gently holding the tiny one in her arms.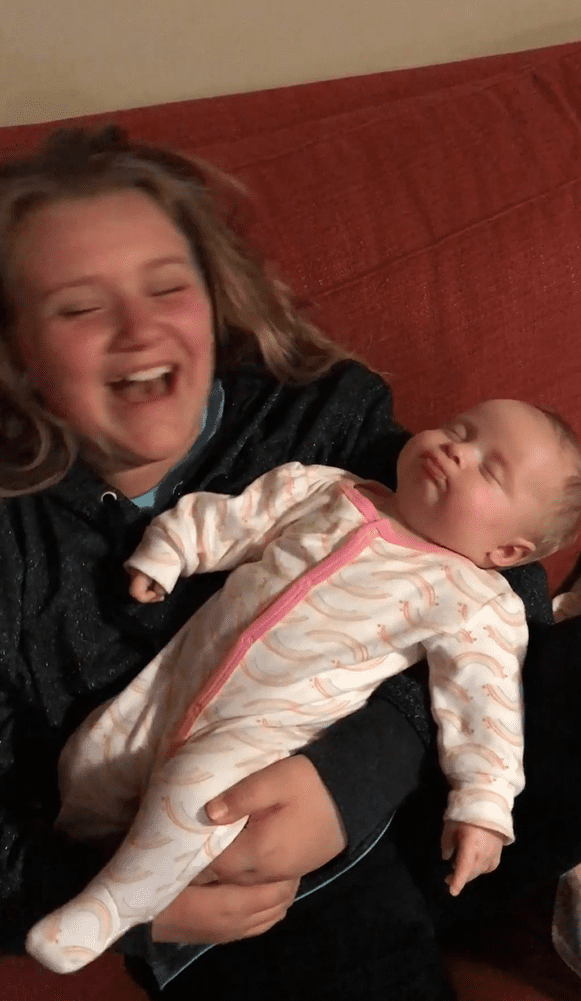 9-year-old Allie laughing while holding her 7-week-old sister Ashlyn. | Source: facebook.com/foreverymom
Ashlyn then began preciously flickering her eyes open and pouting her mouth. Her older sister immediately started laughing at the cute gesture as their mom giggled along.
A mother who captured her babysitter singing to her daughter... couldn't help but cry.
The chuckling then turned into wet eyes as Allie put her hand over her face once more. The Facebook post went viral, accumulating around 2500 emoji reactions and just over 200 comments.

Individual commenting on a Facebook post by For Every Mom. | Source: facebook.com/foreverymom
Out of these 200 remarks, there appeared to be not a single negative remark, with everyone doting on the relationship between the two. One individual penned:
"I almost had 3 baby siblings and I would have loved them like this. She's a lovely big sister.💓"
Crooning to a child is not only a cute and loving moment. It causes the bond between parents and their kids to be stronger, meaning that these two sisters may have a healthy and deep relationship growing up.
It looks like whenever babies are around, there are waterworks, as evidenced by a mother who captured her babysitter singing to her daughter and couldn't help but cry.
Nicki Maher had been infatuated with her babysitter's voice for a while and chose to record her secretly. The18-year-old lacked confidence in her ability to sing, but Maher thought otherwise.
In the video, Wilson is seen singing "Part of Your World" from "The Little Mermaid" while babysitting. Maher was moved to tears by what she was witnessing and hearing. Of course, music, combined with special moments and loved ones, is bound to get anyone emotional.
Please fill in your e-mail so we can share with you our top stories!