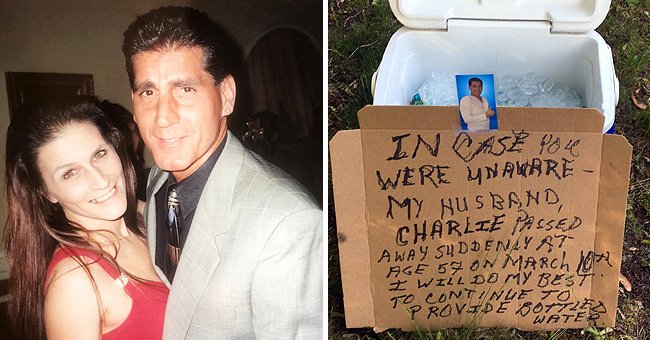 Facebook.com/velvet.poveromo
Man Who Left Water and Food for Workers Every Day Dies–but His Wife Refuses to Give It Up

Charlie Poveromo left this earth a few years ago, but the extraordinary impact he had on the hearts and lives of those he came in contact with is undying, as people chose to follow in his gigantic footsteps.
In 2018, a grieving yet proud wife, Velvet Poveromo, took to Facebook to share the legacy of her late husband, Charlie Poveromo, who had been gone for 3 months. Velvet expanded on how he embodied hard work and kindness in every aspect of his life.
The widow spoke about his tremendous working hours, looking after their grandson, taking on a mountain of house chores, and making sure to be there in every possible way throughout her surgeries, to name a vast few. The Facebook poster exclaimed that she had no clue how he did it all.
However, what struck Velvet most was her spouse's decision to provide food and water outside for workers and their response when they found out about his passing.
Charlie gifted workers in the area, such as truck drivers, police officers, and construction workers, with food and drinks. This was left outside in a cooler box for them.
If Charlie could shake Pengelly's hand he would surely do it with prideful recognition.
The wife chose to take over this tradition and left a note on the cooler box, letting the workers know that her husband had passed. In a heart-touching moment, Poveromo watched a garbage truck stop outside the house. Each person then stepped off the truck and gave a salute to herself and the home.
The widow said that emotion overtook her as she witnessed this, and she began to tear up. Velvet stated that they each proceeded to hug her, divulging:
"[They] told me how very sorry they were and that no one had ever shown them the thoughtfulness...my husband had."

Individual commenting on a Facebook post by Velvet Poveromo. | Source: facebook.com/velvet.poveromo
The post became extremely popular with just over 401 reactions, most of which were heart emojis. Those in the comment section had nothing but positive remarks, with many gushing over what a heartwarming story it was.
Beyond his wife and the workers, everyone had something positive to say about the late Charlie. The owner of Grissini restaurant Tony Del Gatto where the loving husband worked as a bartender, stated:
"He was one of the finest gentlemen I had ever met. Everybody felt like an individual to him."
Since the post, people have begun donating food and drinks to what has now become known as "Charlie's Cooler." Some individuals even began to follow his lead and put out their cooler boxes in honor of the good samaritan.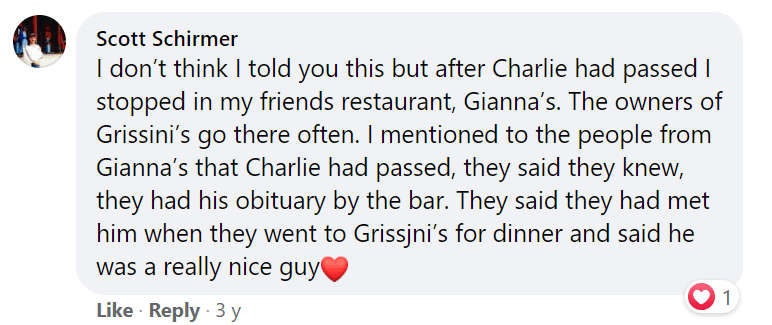 Individual commenting on a Facebook post by Velvet Poveromo. | Source: facebook.com/velvet.poveromo
This spirit of generosity and kindness lived in the heart of Charlie and now those who he inspired. This goodwill was also reflected through Jonathan Pengelly, who resided in Cardiff, Wales.
On a Sunday morning in 2016, he invited a homeless woman to his house after she was denied water at McDonald's. Shattered by what he had just witnessed, he bought her a large amount of food, let her shower at his house, and they engaged in a cooking spree.
This act of humanitarianism only cost £20.00, which is not a large sum of money to many individuals, but the woman expressed that she had never felt so appreciated. If Charlie could shake Pengelly's hand, he would surely do it with prideful recognition.
Please fill in your e-mail so we can share with you our top stories!