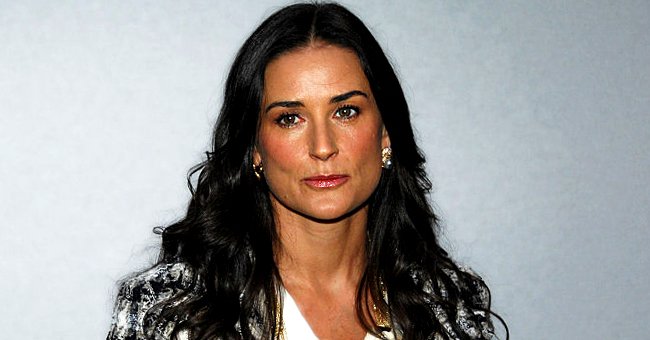 Getty Images
Demi Moore's Childhood Ended After a Life-Changing Moment Triggered by Her Mother

Demi Moore has, for years and years, made award-winning movies, but her hits are a far cry from the wretched and tumultuous childhood she lived under the care of her unstable mother.
Today, Demi Moore is recognized as one of Hollywood's most impactful actresses, with her influence in the fight for equal payments for Hollywood actresses felt by many. Moore is also considered a sex symbol for her media image and looks.
She has bagged numerous accolades over the years, such as a screen Actors Guild Award, a Primetime Emmy Award, two Golden Globe Awards, and a Critics' Choice Movie Award. And yet, her life has not been that of glitz and glamour.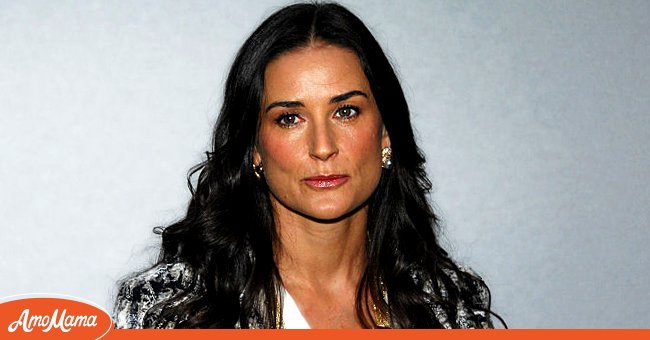 Demi Moore attends CHANEL Cruise Show L.A. - Arrivals at Santa Monica Airport on May 18, 2007 in Santa Monica, CA. | Source: Getty Images
MOORE'S TRAUMATIZING CHILDHOOD
From as early as her childhood, Moore has suffered a great deal of isolation, pain, and betrayal from people she considered close to her, and even after her ascent to fame, life continued to deal her a bad hand.
In 2019, she released a memoir that takes a candid look at the struggles from her childhood, her rise to fame amid life's drawbacks, and her desire to help others suffering from the same fate as hers.
Moore was born in 1962 in Roswell, New Mexico, to her mother Virginia and Air Force airman Charles Harmon, Sr. Her parents' two-month union ended long before Moore was born.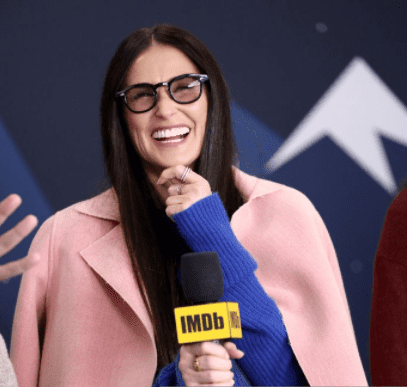 Demi Moore of Corporate Animals attends The IMDb Studio at Acura Festival Village on location at The 2019 Sundance Film Festival - Day 4 on January 28, 2019 in Park City, Utah. | Source: Getty Images
Her childhood was anything but perfect, riddled with her parents' alcoholism and consequent instability. Her family relocated so much before finally settling in California to escape debt collectors, infidelities, and thunderous fights.
At only 12, Moore made a devastating discovery when she came across her parent's marriage certificate that indicated they'd been married a year after she was born.
Everyone had been lying to her all her life, about the identity of her biological father, and this, she says, made her feel unwanted and unwelcome.
THE TRAUMATIZING EVENT THAT ENDED MOORE'S CHILDHOOD
Around the same time, an event that would forever change Moore's life happened. Her mother attempted suicide by drug overdose, and young as she was, Moore had to take quick action before her mother found herself in the glare of death. She writes:
"I remember using my fingers, the small fingers of a child, to dig the pills my mother had tried to swallow, out of her mouth."
Despite the scary attempt on her life, Moore's mother was determined to end her life, and she would go on to attempt suicide many more times after that, and every single time, Moore had to deal with the trauma on her own.
Moore says that following her mother's first attempt at suicide, something inside her shifted, and it never did shift back. The event undoubtedly ended her childhood. The troubles were, however, only beginning, and at only 15, Moore had yet another traumatizing event happen to her.
After her parents divorced, Moore was left to care for her unstable mother all by herself. Her mother would tag along with her to bars so the men there would notice them.
One day, she returned home to find an older man with a key to their home. He got her into the house and forced himself on her.
[Moore] is slowly facing the demons of her past and in the process teaching life-long lessons to others in her situation.
Moore was devastated at her mother's betrayal, which she only discovered after the man teased her, asking how it felt being "sold" by her mother for 500 dollars.
Asked if she thought her mother did indeed "sell" her, she says she does not think so. She adds, however, that even though it wasn't a direct transaction, her mother had still given the man access to her and put her in harm's way.
Soon after, Moore dropped out of high school and "escaped" home in search of a better life for herself, and it was then that she signed for an acting audition even though she did not have any training.
The "Disclosure" actress says she was of the school of thought that she would fake it till she made it, with her confidence stemming from the fact that she had nothing to lose.
MOORE AUDITIONS FOR "GENERAL HOSPITAL"
Moore caught her lucky break when she auditioned for the impossibly popular TV soap opera "General Hospital." While it was her chance to redeem herself, Moore was in over her head, and she began to abuse alcohol and cocaine in a bid to tame her fears.
Just like her parents, she would experience periods of blackouts and humiliation. She spoke of the challenging times, saying:
"I don't have an off-switch, I don't have the thing that says "this is enough.""
Her role in "General Hospital" propelled her to heights she'd never reached before, and she became one of Hollywood's highest-earning actresses in the '80s and '90s, taking home an estimated salary of 12.5 million dollars.
For years, she struggled to quit alcohol but help came in the form of a new movie. In 1984, she was ironically cast for the role of a reckless party girl in the coming-of-age film "St. Elmo's Fire."
Before they filmed, the show's directors asked her to seek medical help, and Moore began her two-decade journey of sobriety. She says the directors and producers gave her a "profound gift."
TROUBLE FOLLOWS HER INTO ADULTHOOD
Despite her newfound fame and status, trouble seemed to follow Moore, and well in her 40's, she relapsed, fuelled by her co-dependency on her relationship with 16-years-younger 16-years-younger Ashton Kutcher.
Her relationship with the then 25-year-old Kutcher was like an obsession, and it led her right into the throws of a situation that had taken everything she had to get out of.
The "Striptease" actress was so seriously taken emotionally with Kutcher that it severed her relationship with her daughters. And for three years, she could not see eye to eye with them.
Even though they have since reconciled, it took years of patience, inward reflection, and forgiveness to reach that point.
Moore embarked on a raw journey of healing, one that comes with many tears and pain, but a courageous one nevertheless. The mother of three is slowly facing the demons of her past and, in the process, teaching life-long lessons to others in her situation.
If you or someone you know is considering suicide, please contact the National Suicide Prevention Lifeline at 1-800-273-TALK (8255), text "help" to the Crisis Text Line at 741-741, or go to suicidepreventionlifeline.org.
Please fill in your e-mail so we can share with you our top stories!