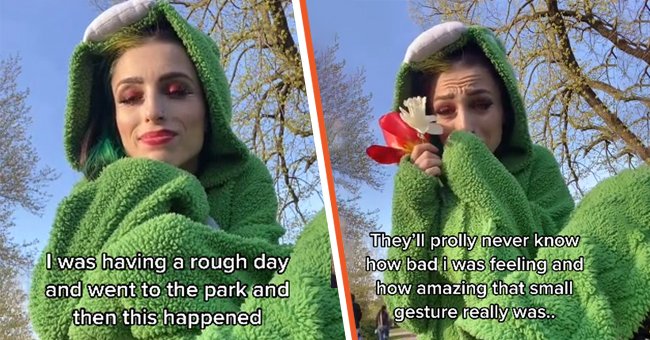 tiktok.com/@ohheymissfaye
Woman Bursts into Tears When a Stranger Gives Her a Flower in the Park
A woman who was having a rough day at the park was brought to tears when strangers gave her flowers at random. She caught everything on video.
Kindness can undoubtedly save lives, and to anyone who thinks otherwise, Miss Faye is living proof. Miss Faye, as the young woman is named online, recently shared a remarkable story during her day at the park.
At the time, Faye was having a terrible day and entertaining suicidal thoughts. While taking in the fresh air, she hoped that the universe would give her a sign that she was meant to exist.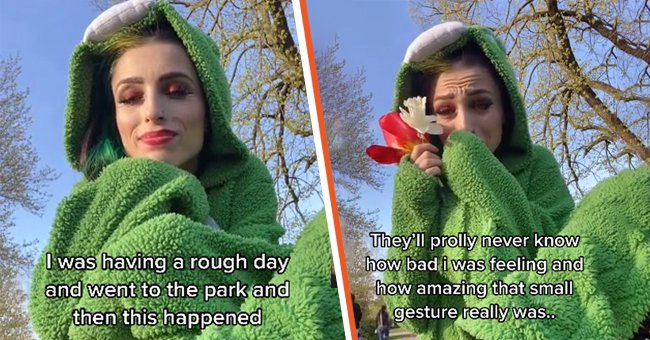 Miss Faye having a rough day at the park. | Source: tiktok.com/@ohheymissfaye
"I wanted someone to show me kindness so I could believe it existed," she shared. Little did she expect that a couple of kids would save her.
While going live online, Faye captured herself peacefully taking in the environment. Suddenly, the young girls approached her and gave her flowers -- a gesture she least expected.
Initially, she declined and told the girls, "Awe, you keep it. It's too pretty for me to take." But the kids insisted, with one saying that Faye was "just as pretty."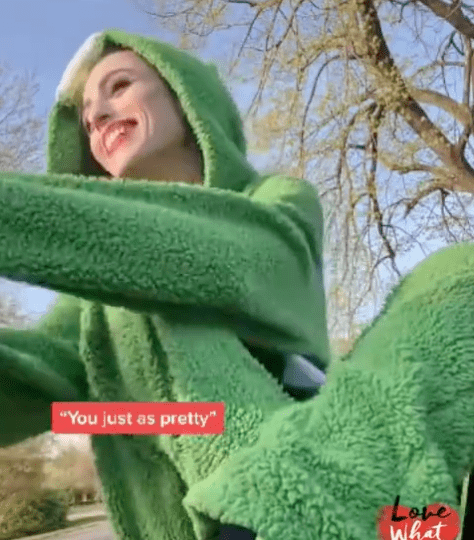 Miss Faye at the park when strangers gave her flowers. | Source: Instagram/Lovewhatmatters
As the girls walked away, Faye teared up while looking at the camera. She took a couple of breaths and shared in the caption:
"They'll probably never know how bad I was feeling and how amazing that small gesture really was."
In the clip, Faye asked her viewers always to be kind to strangers because no one knows what they are battling internally. In addition, kindness can change a person's life in the smallest or most significant way.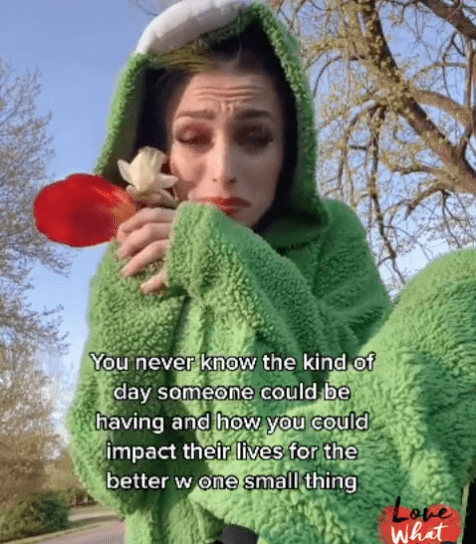 Miss Faye at the park when strangers gave her flowers. | Source: Instagram/Lovewhatmatters
Several social media users were touched by Faye's story and appreciated the young girls' gesture towards her. One comment read:
"I hope these girls made you feel loved and pretty and Worthy because you are you totally are all of those things and more [sic]."
Strangers doing random acts of kindness for others have been evident lately. For example, another woman in a grocery store shared what she could with a man who did not have food.
In a viral TikTok, Isaiah Garza conducted a social experiment to see if strangers would buy him lunch because he forgot his wallet at home.
A woman later agreed to buy him something from the store, not knowing about the experiment. Because of her generosity, Garza paid for all the items she wanted to buy in the grocery store.
The woman was immediately brought to tears. It turned out that she was having a rough past few weeks and recently buried her mother. Still, she did not hesitate to show Garza kindness.
These stories serve as a reminder to be nice to everyone. Kindness is free, and it is something that the world needs most at this time.
Please fill in your e-mail so we can share with you our top stories!