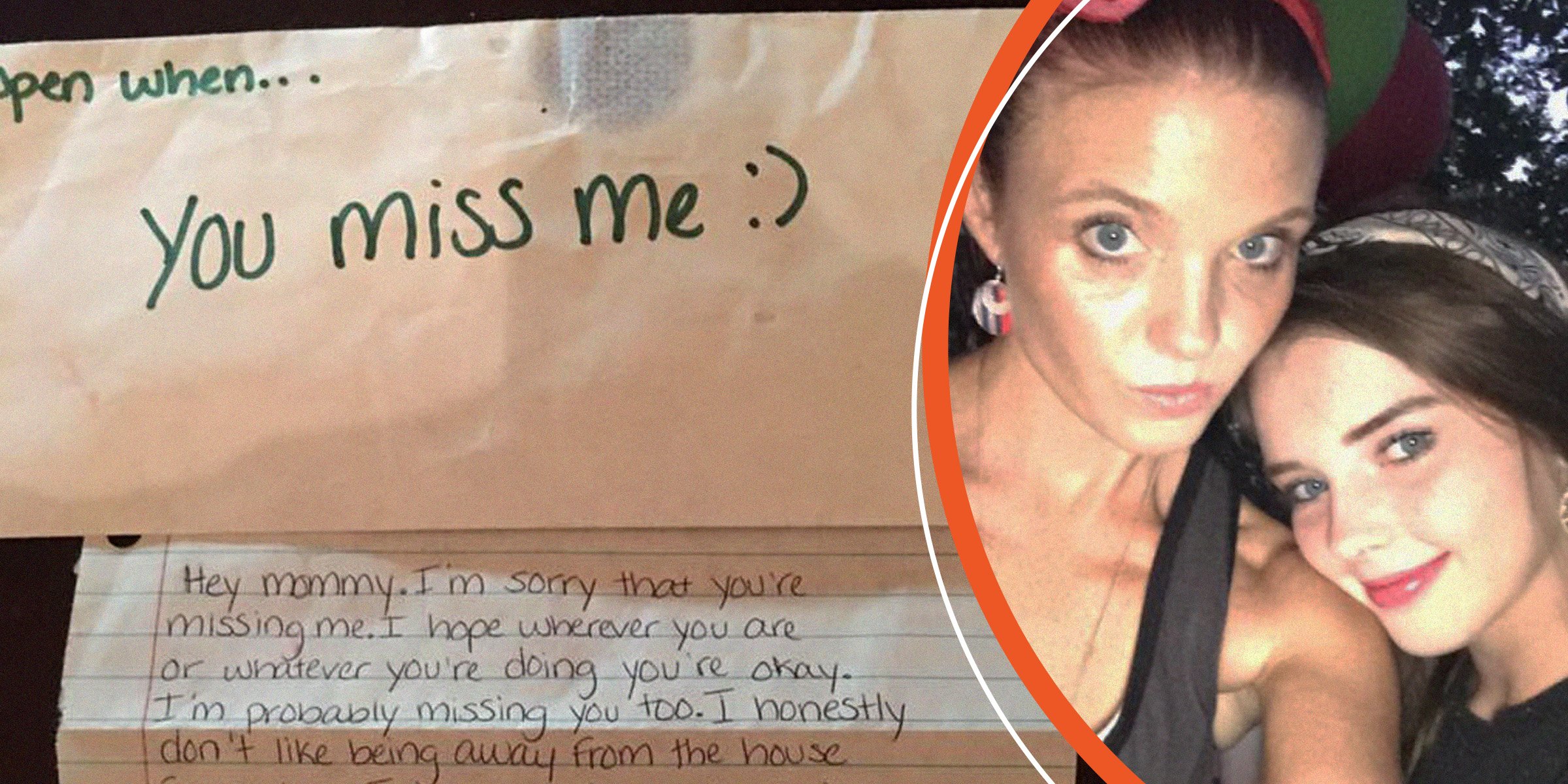 facebook.com/Macy's Journey
Mom Loses Daughter in an Accident, Notices Heartwarming Letter from Her in the Car Months Later

When a mother lost her girl in a tragic accident, her life was turned upside down, and she didn't know how to overcome her heart-wrenching grief. Then, one day, she was cleaning her car when she stumbled upon something — a handwritten letter. Who do you think it was from?
A parent's love for their child is pure, unconditional, and never-ending. Even the mere thought of seeing their kids in harm's way can turn out to be a parent's worst nightmare. Perhaps that's why our moms and dads never think twice before jeopardizing their own lives to keep us safe.
But imagine a parent's pain and trauma when they lose a child. Navigating the grief and learning to live without their little one can take a toll on them, and more than anything, the heartbroken parent wishes for closure and to hug and kiss their baby one last time. The woman in today's story experienced something similar.
A LIVELY TEENAGER
Macy Mathis was a vibrant teenager with big plans and dreams for her future. She loved spending time with her family, especially her mother, Cindy Mathis, and her three younger brothers. Cindy noted how her daughter helped raise her three sons and was another mom in the house.
Young Macy had a boyfriend, Adam Sattler, a Georgia Tech student and another person she loved hanging out with. She was a vibrant and lively youngster who never missed a chance to tell her near and dear ones how much they meant to her.
THE DAY THAT CHANGED EVERYTHING
Per Cindy, her smart and thoughtful daughter asked all her siblings to write notes for their mom on Mother's Day one year, stating how much they loved her.
The grief-stricken mother said she wanted to open all the notes and go through them, but she didn't think her fragile heart could handle it.
Coming from a troubled early life that involved foster care, living on the streets, and enduring several challenges, Cindy said she felt fortunate to have a daughter like Macy. But one day, an unspeakable tragedy struck their world, changing their lives most unexpectedly.
THE HARDEST GOODBYE
In November 2016, Macy, 16, and her boyfriend, Sattler, 18, were nearly a mile away from her Tifton, Georgia, home when their car met with an accident. Macy died five days after the accident on November 25, while her mother held her. Sadly, Sattler also succumbed to his injuries.
The accident crushed Cindy and changed her life in ways she had never thought possible. She had never pictured a life where her sweet Macy wouldn't be with her, and the heartbroken mother found it nearly impossible to deal with the stinging pain.
A STRANGE DISCOVERY
Almost a month after her daughter's death, Cindy was cleaning out the trunk of her car when she noticed something and instantly choked up. It was a letter in her sweet Macy's handwriting that read: "Open when you can't sleep."
Her hands shivered as she opened the envelope, and the note inside said:
"I want you to know that I love you. I feel like I don't tell you that enough and since you can't sleep and you're probably stressed out about something, I need you to know that I love you. If you'd like, you can crawl in bed with me and I'll be your little baby girl again. I'll make you coffee in the morning."
A SPECIAL BIRTHDAY GIFT
After reading the note, Cindy realized that it wasn't the only letter her lovely girl had written for her. Until that moment, she had forgotten about the letters, but she suddenly remembered that it was just one of the 25 heartfelt notes her Macy had penned for her as a birthday gift. The mother recalled:
"That's when I had remembered she had written these letters for me. I tore my room apart looking for all of them."
Cindy revealed she had only read about three of the letters before her daughter died. The grief-stricken mother said she wanted to open all the notes and go through them, but she didn't think her fragile heart could handle it.
A REMEDY FOR EVERY SITUATION
So, the Georgia mother decided to go slow and thoroughly soak her beloved Macy's words, one letter at a time. She also remembered her daughter's original rule of opening a letter only when a specific need arose.
Cindy explained that each letter was labeled to cater to a unique situation or sentiment, including sleeplessness, loneliness, sadness, reassurance of love, etc. The devastated mom had still not fully come to terms with her sweet girl's loss, so she plucked up the courage to open the letter that fit her broken state.
"I WILL ALWAYS LOVE YOU"
It was the letter that Macy had instructed her mother to open when she missed her immensely. A part of the heartwarming note read:
"Hey mommy. I'm sorry that you're missing me. I hope that wherever you are or whatever you're doing you're okay. I'm probably missing you too. I will always and forever love you, Mommy."
Tears filled her eyes as her heart ached and longed for the daughter she knew she couldn't hug or smother with kisses. While Macy couldn't physically be present in her mother's life, the notes she had left behind offered solace to Cindy at a time when she needed it the most.
"GOODNIGHT, SWEET ANGEL"
Since finding the stack of letters, Cindy has posted them on a Facebook page dedicated to her beloved daughter, where she often responds to her daughter by expressing the emotions she feels after reading each letter. Cindy wrote:
You don't know how much mommy misses you! There is not a second of the day that goes by and I don't think of you. You are my rock, my best friend, my everything. We love you so very much baby girl!! Mommy misses you more than words could ever express! Goodnight my sweet, beautiful angel."
The Tifton mother stated that finding the letters has helped her navigate the pain and grief, and with every note, she has felt closer to her daughter. "I feel like she knew. Maybe deep down, she knew, or maybe God told her," expressed Cindy.
FINDING CLOSURE
Although Cindy's heart would always yearn for her baby girl, the letters helped her find the closure she desperately needed in the wake of a heart-wrenching tragedy. She added:
"I'm very thankful for them, because I don't have closure. They give me a little bit of closure to know how much she knew I loved her. They keep her alive."
Please like and share this touching story with all those who have lost a loved one, so they can also find the courage to move forward, knowing they will carry a piece of their beloved in their hearts forever. Click here to read another story about a man who died hours after meeting his newborn and left moving letters for his family.
Please fill in your e-mail so we can share with you our top stories!