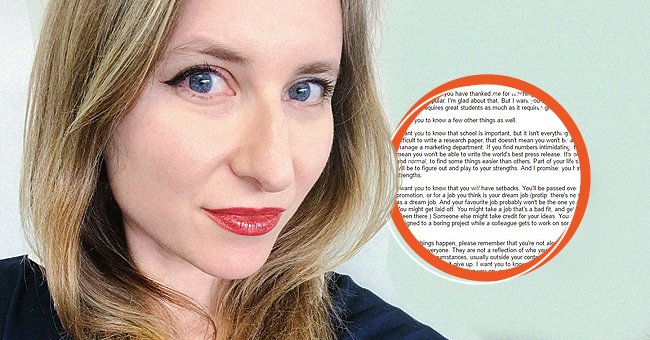 twitter.com/DrJessicaLanger | twitter.com/yunniemon
'Every One of You Is Valuable:' Professor's Inspiring Thank You Letter to Her Students Goes Viral
After rounding up her creative marketing course for the year, a Ryerson University professor decided to say thank you to her students in a special way.
Jessica Langer completed her final semester at Ryerson University, Toronto, lecturing a class of ninety students. As per her usual custom, she decided to send out a thank you email to the college undergrads to mark the end of the semester officially.
Knowing the challenges college graduates face in the labor market, especially those in the creative field, Langer was determined to make her parting note much more than a "thank you.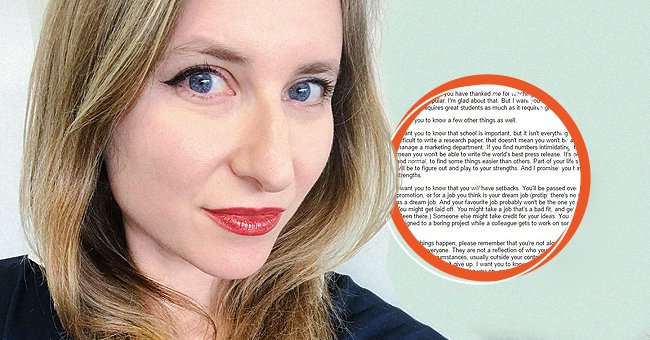 Jessica Langer's selfie in a red lipstick [left]. A picture of Langer's note to her student [inset] | Photo: twitter.com/DrJessicaLanger twitter.com/yunniemon
Hence, she tried as much as she could to put into words everything she felt would equip the students for life through college and after graduation. More importantly, she had to sum them up in a one-page readable email.
BEFORE FACING THE REAL WORLD
Langer reassured her students she was rooting for them no matter what they encountered in life. The beautiful message highlighted some of the obstacles she believed they would face in the real world.
She urged them to never give up when facing setbacks or circumstances beyond their control, which would surely come their way. Instead, the professor urged them to discover their strengths and tap into them in such situations.
BUILDING ON STRENGTHS
Langer also reminded her students that one person's strength and path to success was different from the next person's. What was important was believing those strengths existed and harnessing them for future success. She concluded her mail with the beautiful words:
"Each and everyone of you is valuable. You matter to me, to your friends and family, and to the world."
The content of her email was so inspiring, it moved the college undergrads to tears. They immediately flooded her inbox with heartfelt words expressing their gratitude.
MORE THAN JUST WORDS
One student reassured the professor he would cherish her words for the rest of his life, while another wrote a letter to the school, begging them to retain her.
A female student was particularly inspired by the "thank you" note which gave her a new perspective on life. She shared a screenshot of the email on Twitter, which soon gained traction across platforms as thousands retweeted it.
Several netizens admitted Langer's words offered them liberation like a life-saving elixir, which was exactly what they needed to keep pushing. A comment read:
"Oh my God this is the most touching and beautiful email I've ever read. Your prof sounds like an amazing person."
One commenter labeled Langer as "the sweetest prof in the world," adding that her note made it evident how much she really cared for her students. Others simply appreciated the professor for her kind words and the poster for sharing the soothing elixir with the world.
INSPIRING MILLIONS
Langer became a global sensation soon after her beautiful mail went viral. She has since granted interviews with various media, each striving to discover her motivation behind the message.
In an email, the creative marketing professor explained she wanted to give her students some reassurance knowing how difficult it was to graduate into a field as unstable as the rapidly changing creative industry. During an interview, she said:
"I feel very strongly that my job as a professor is to be a person in my students' lives who they can trust and who has their best interest in mind. Who can, and will advocate for them."
In another interview, Langer detailed some of the challenges she faced right after graduating and how she surmounted them.
Having lived through the rocky path, she was determined to clear the way as much as she could for newer generations of graduates. Hence, her decision to give them the heads up and prepare them beforehand.
Please fill in your e-mail so we can share with you our top stories!