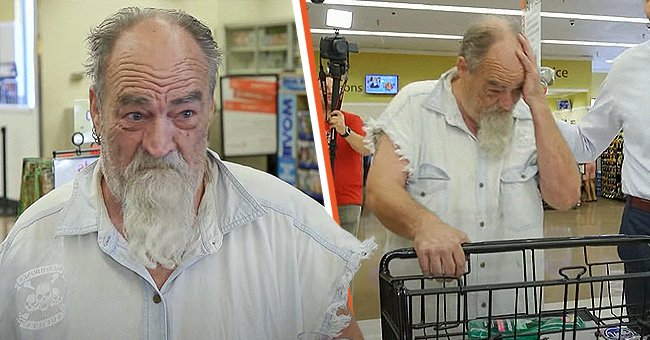 youtube.com/FOX5 Las Vegas
Struggling Veteran Who Helps Others Can't Hold Back Tears after a Man Covers His Bill
A veteran who devoted his life to helping others finally experienced what it felt like to be on the receiving end of a good deed. His reaction after a surprise squad paid his bill was priceless.
In 2017, a Fox 5 surprise squad decided to help a Las Vegas grocery store to pay the bills of random shoppers. In their quest, they discovered a veteran, Larry Robeson, who was dedicated to helping others despite being unable to afford his own basic needs.
In his usual good nature, the man had driven his friend's wife, Stephanie, who was also a veteran with a disability, to the grocery store.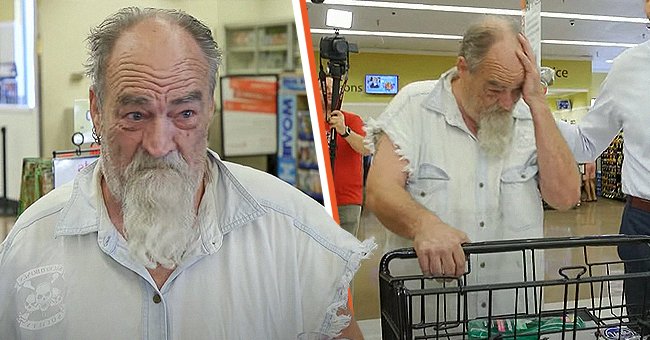 A picture of an American veteran being moved to tears by the heartwarming gesture of a stranger | Photo:youtube.com/FOX5 Las Vegas
While the woman picked out some groceries, hoping to pay with her last 50 bucks, Robeson could barely afford the dish soap and candy he picked out.
The news reporter, Dave Hall, came to the rescue in the nick of time. While doing their rounds at the store, they came across the pair and offered to foot Stephanie's bill. She accepted readily.
Noticing Robeson standing behind her, the reporter asked if he was her husband. The woman quickly refuted and proceeded to introduce the veteran, who had been her husband's friend since they met at their charity club, Bones for Blankets.
The club, founded by Robeson about 16 years ago, focused on helping raise resources to donate blankets to homeless veterans. He began the course after his three brothers froze to death, determined to stop other homeless people from meeting the same fate.
Despite becoming older and finding it more difficult to meet his needs, he remained ever-willing to render a helping hand.
He divulged that Stephanie's husband was a truck driver who was always on the road, which prompted him to do his bit to assist the veteran who uses a wheelchair. He explained:
"No vet should be going through what she is going through."

A netizen's comment on the heartwarming video on Youtube | Photo: Youtube/fox5lasvegas
Moved by the veteran's big heart, Hall decided to take him around the store for some real shopping. They ended up with an overflowing cart of items worth $278. Robeson kept wiping tears from his eyes, unable to believe his luck. Amid tears, the vet divulged:
"This is just like... overwhelming. I've been taking care of myself since I was 13."
After Hall footed the bill, Robeson admitted he never had so much groceries in his life, acknowledging the former's favor with heartfelt gratitude.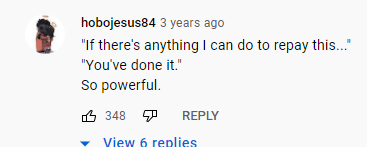 A netizen's comment on the heartwarming video on Youtube | Photo: Youtube/fox5lasvegas
In related news, in July, a grocery store employee, Briar Poirier, who was autistic, went viral after a shopper caught him footing the bill for a veteran unable to pay up his balance.
The female shopper shared the remarkable deed on Facebook to celebrate the kind-hearted employee. Within days, tons of people stepped up to admit the autistic employee had done the same for them on previous occasions.
Such acts of kindness go a long way in appreciating the heroic deeds of veterans who sacrificed their best years to defend the country.
Please fill in your e-mail so we can share with you our top stories!