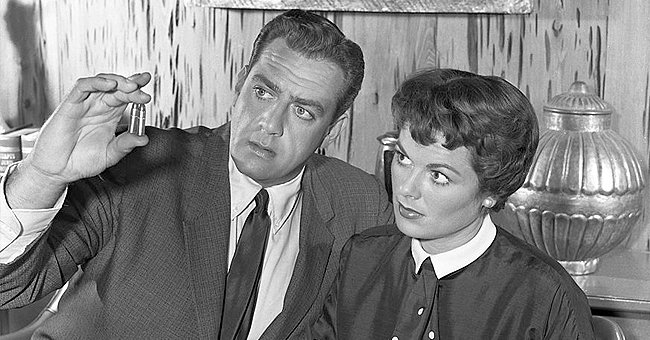 Getty Images
'Perry Mason' Star Barbara Hale Was a Doting Mother of 3 Kids - Meet Her Look-Alike Daughters
American Actress Barbara Hale, who was most known for playing the legal secretary Della Street in "Perry Mason," was a mother of three children. The actress's two daughters look just like her.
"Perry Mason" was Hollywood's first weekly one-hour TV series and held sway from 1957 to 1966. Raymond Burr played the series' titular character, but Actress Barbara Hale contributed immensely to the show's success.
Hale was an outstanding actress in more ways than one. However, besides her acting success, she was also an incredible wife and mother of three children, including two daughters who closely resembled her.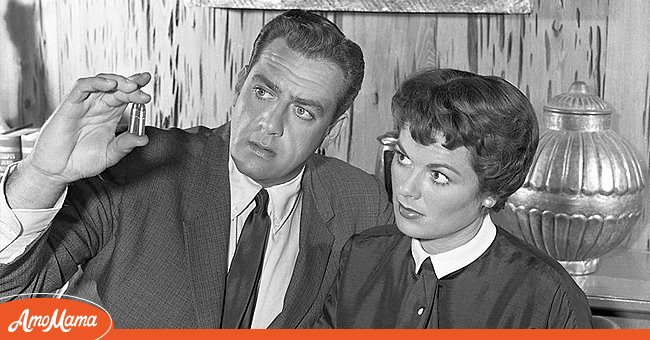 Picture of Raymond Burr as Perry Mason and Barbara Hale as Della Street from the television series "Perry Mason" | Photo: Getty Images
HALE'S LIFE AND CAREER
Hale was born on April 18, 1922, in DeKalb, Illinois. She was the younger of two daughters from her dad, Luther Ezra Hale, and mom, Willa Calvin. Two years after Hale's birth, her family relocated to Rockford.
She attended and graduated from Rockford High School. After which, she moved to Chicago to study commercial art at the Chicago Academy of Fine Arts.
Hale dreamed of being an animator for the Disney studio. However, when she was 19, she decided to try modeling after a random couple on the street gave her a flyer.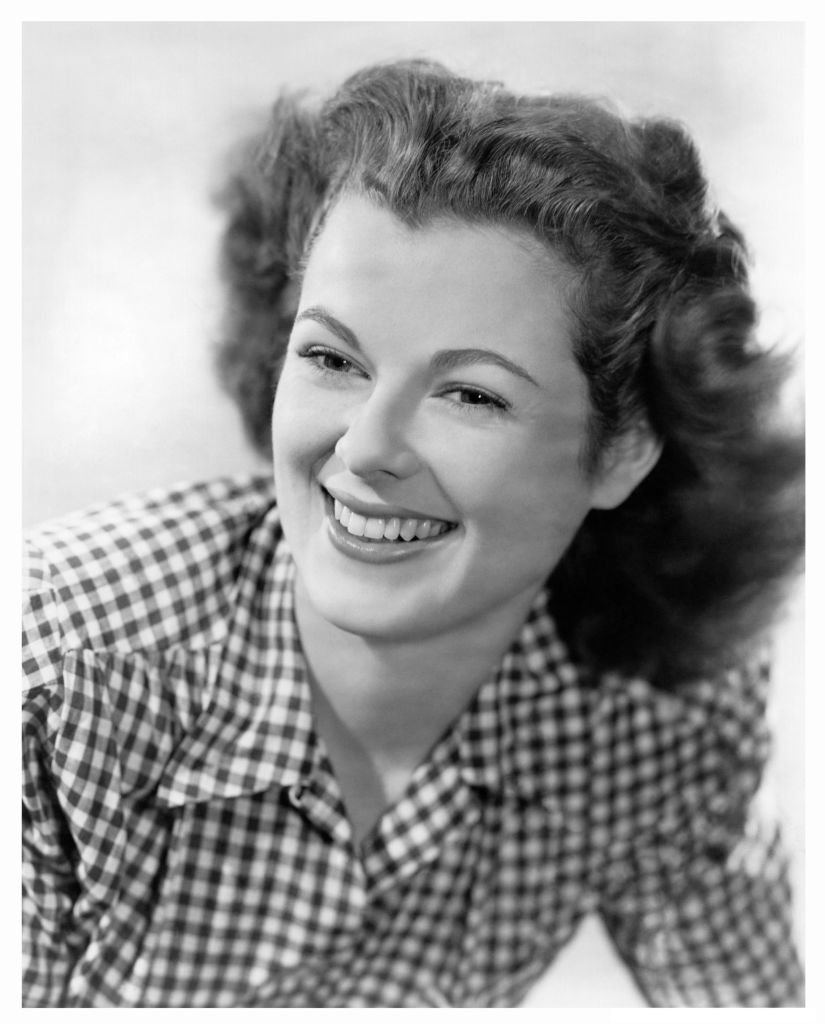 Barbara Hale in a publicity shot from the 1949 movie 'The Window' | Photo: Getty Images
The couple turned out to be Al and Connie Seaman, who recruited Hale after spotting her standing on a street corner near Chicago's Drake Hotel.
After she modeled for a few months, Al and Connie sent her picture to a Hollywood executive. The executive flew out to meet her, and two weeks later, she was signed with RKO Pictures.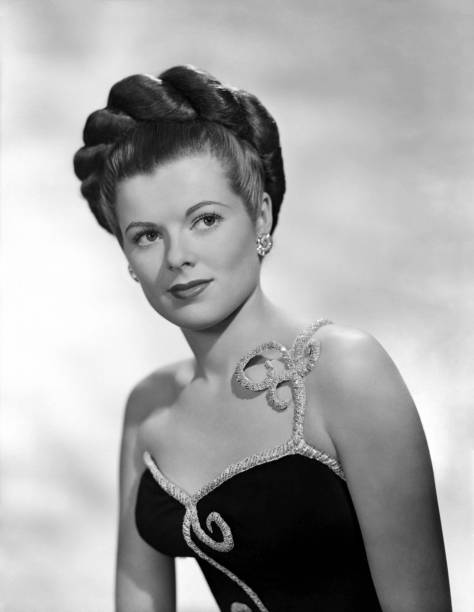 Actress Barbara Hale in a scene from the 1946 comedy movie "Lady Luck" | Photo: Getty Images
Within 24 hours of Hale's arrival to Hollywood, she was rushed onto the set of "Gildersleeve's Bad Day." She had just one line in the film, but it was enough to kickstart her career.
Hale appeared in over 60 movies over the next 15 years after arriving in Hollywood. However, most of them were forgettable, except "The Boy With Green Hair" (1948). She also had several guest appearances on TV series.
Hale was considering retiring from Hollywood when she was offered the role of a legal secretary in "Perry Mason." Burr played the titular character in the series and struck a close friendship with Hale.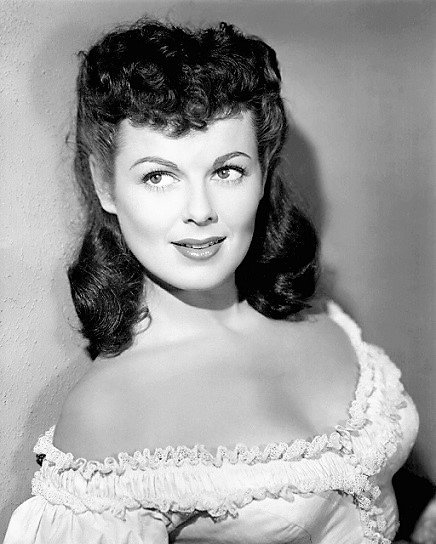 Actress Barbara Hale in a scene from the 1953 movie "Seminole" | Photo: Public Domain, Wikimedia Commons
"Perry Mason" ran for nine seasons and earned Hale a Primetime Emmy Award for Outstanding Supporting Actress in a Drama Series. Hale also appeared in "Perry Mason" TV movies, including four telefilms produced after Burr's death in 1993.
She made her last on-screen appearance in the TV biographical documentary about Burr in 2000. Hale also worked as a spokeswoman for Amana appliances, known for producing Radarange microwave ovens.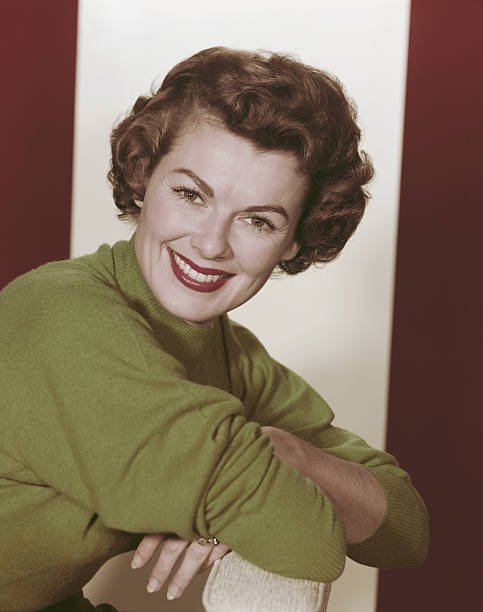 Portrait of American actress Barbara Hale, circa 1965 | Photo: Getty Images
HALE ON "PERRY MASON"
In a chat with Western Clippings, Hale narrated how she agreed to star in "Perry Mason." She said the Producer, Gail Patrick, called and said she wanted her on the show.
However, Hale turned down the request because her children were too young, and she did not want to work at the time. She said she could only do guest shots.
Also, Hale found out she was pregnant, which should have been a problem as one could not be pregnant on TV in those days. Nevertheless, Patrick insisted that she should play the role of a secretary on the show.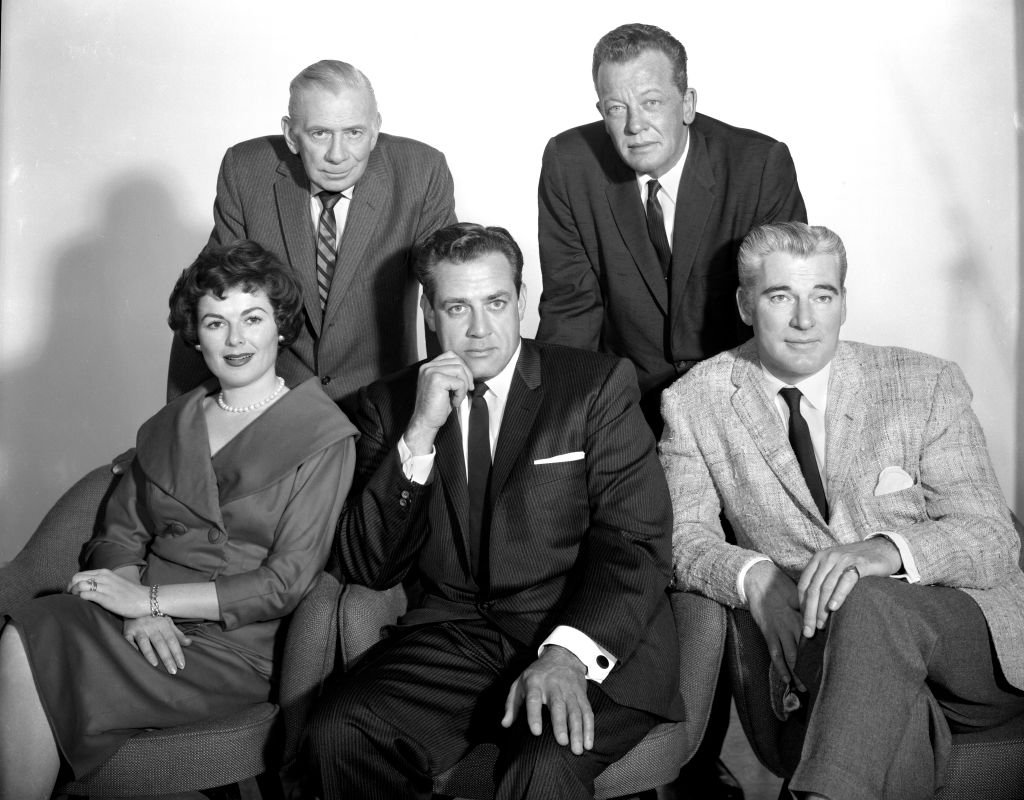 Portrait of the cast of "Perry Mason," a CBS television legal drama | Photo: Getty Images
Patrick pleased Hale by declaring that there would be no children on the show to avoid confusing her kids. Additionally, she would also remain unmarried on the show to keep her husband, Williams, happy.
Patrick kept talking to Hale about the show and said there would only be 18 episodes. Hale was okay with the number, but as things turned out, "Perry Mason" had almost 300 episodes and ran for nine seasons before another movie series stint.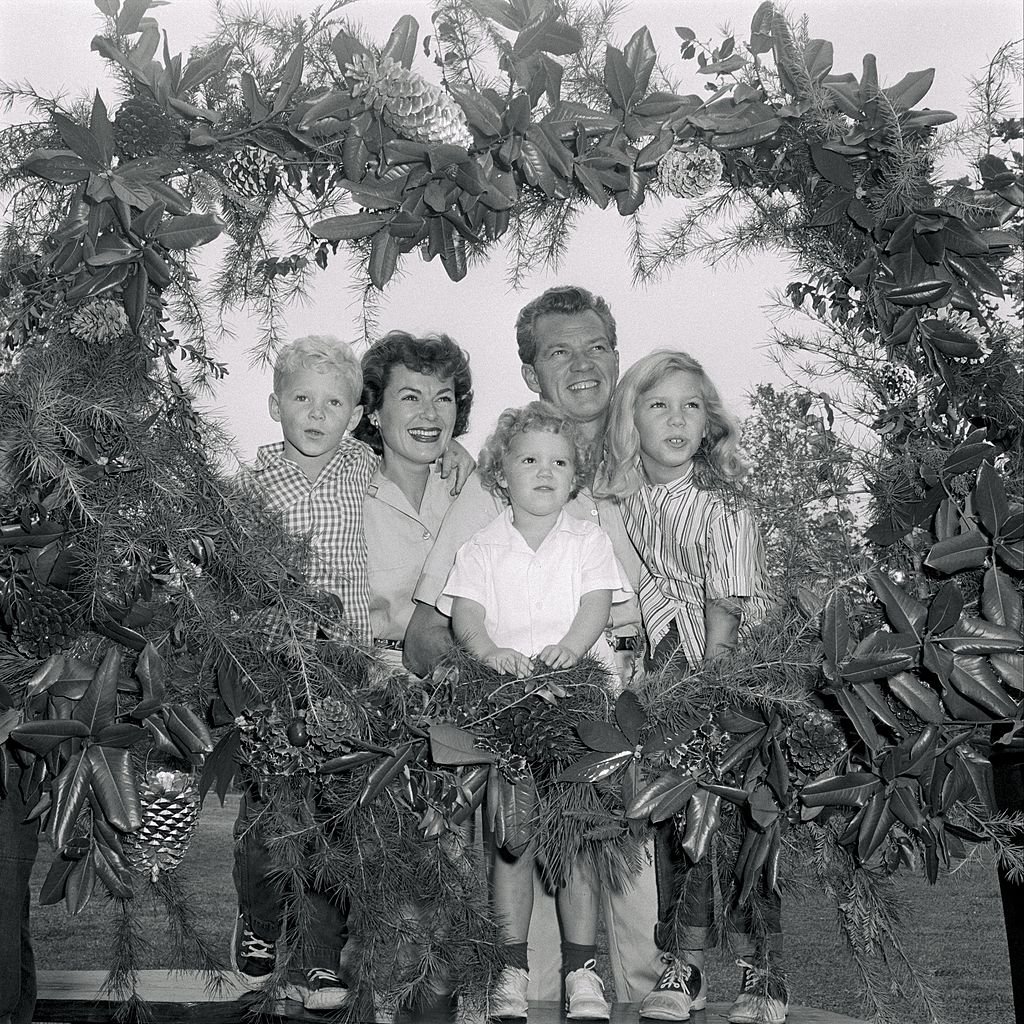 Bill Williams and Barbara Hale with their children in a Christmas portrait on December 2, 1957 | Photo: Getty Images
HALE'S MARRIAGE
While filming "West of the Pecos" in 1945, Hale met actor Bill Williams. In 1946, when she was about to turn 24, a newspaper tabloid publicly predicted that she would marry Williams.
That prediction would come to pass, and Hale and Williams tied the knot on June 22, 1946. The couple shared three children, their two daughters Jody and Juanita and their son William Katt.
Williams appeared as a guest on four episodes of "Perry Mason" in the 1960s. Hale and Williams remained married until he died in 1992. She never remarried.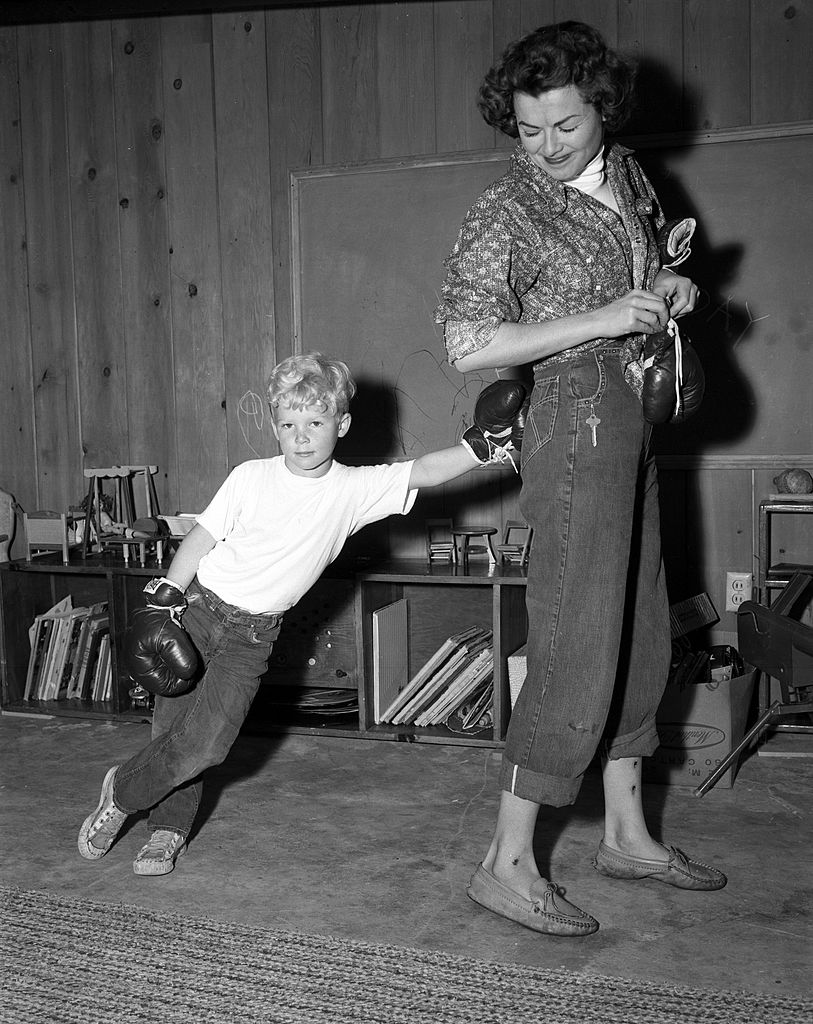 Barbara Hale is seen playing with her son Katt at home on June 2, 1957 | Photo: Getty Images
HALE'S KIDS
Hale shared a close bond with her kids. Her daughters, Jody and Juanita, closely resemble her, while her son, William, followed in her footsteps by becoming an actor.
Hale's daughter, Juanita, died on November 19, 2017. Juanita's sister, Jody, shared her obituary on Facebook and paid a heartwarming tribute.
Meanwhile, Jody has shared several pictures of herself and her mom. A snapshot posted in April 2016 showed her and Hale embracing each other and smiling. It happened to be Hale's 94th birthday, and Jody captioned the post:
"Happy birthday to my mom who turns 94 years young today. I love you so very much and cherish each day we have together.[...]"
Jody, who is actively engaged in raising funds to help animals, seems to have a long-lasting relationship with Susan Nickel. Nickel also had a great relationship with Hale.
In March 2016, Jody shared a photo of her, Nickel, and Hale, raising wine glasses and smiling excitedly. Nickel regularly posts pictures of herself and Jody during their outings and vacations.
She has also shared snaps of herself and Hale. In January 2019, she shared a throwback picture of herself and Hale posing all smiles during a trip to Europe.
On March 22, 2019, Nickel celebrated her and Jody's anniversary by posting a picture of a delicious-looking pink cake, beautiful flowers, and a pink envelope.
William is the only one of Hale's kids to toe her path. He is an actor and director and is known for "Big Wednesday," He starred alongside his famous mom. Hale also guest-starred on her son's series, "The Greatest American Hero."
During an interview with the Chicago Tribune, Hale recalled a cute moment she shared with her son when starring in "Perry Mason." She revealed that the youngster had no idea what her real job was at the time.
When the show started in 1956, it was the inception of women not working at home. Hence, she liked that her character was not married as it meant that her husband did not have to see her every week married to another man on TV.
Hale also said it meant her children did not have to see her being the mother of other kids. When William was in first grade, she and her husband went to his school for the first parent meeting.
William had little projects on his desk. He had made pictures of his mom, dad, sisters, and animals. Underneath the project was Hale's picture on which her son had written in block letters: "This is my mom. I love her. She is a secretary."
Hale died at 94 at her home in Sherman Oaks, California, on January 26, 2017. Her death resulted from complications from chronic obstructive pulmonary disease. She is buried next to her husband in the Forest Lawn Memorial Park.
People would always remember Hale for her portrayal of Della Street. Her memory lives on in her accomplishments and her beloved children, who love her in more ways than one.
Please fill in your e-mail so we can share with you our top stories!