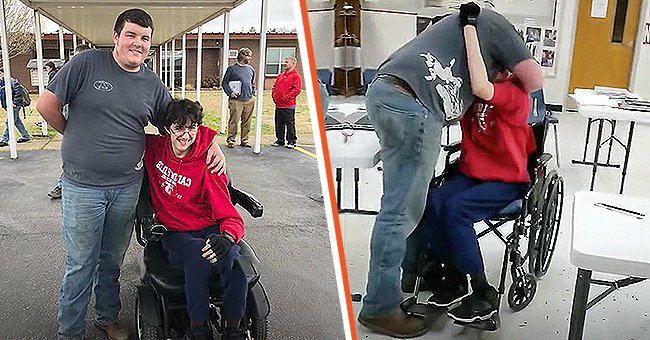 youtube.com/USA TODAY
From Viral Selfie to Saddest Photo: Mountain Gorilla That Died in the Arms of Her Carer

A high school student proved himself a true friend after gifting his friend a new wheelchair he bought with funds saved over the years. His act of kindness left people believing in humanity.
High school senior Tanner Wilson of Norman could not bear to watch his friend Brandon Qualls struggle to move around in his self-propelled wheelchair.
Hence, he took it upon himself to ease the burden. To do that, the teenager began saving bits from his part-time job wages.
It took two years for him to gather enough money to afford a new electric wheelchair to make his friend's high school experience easier. He shared:
"[Qualls] asked me for a push because his arms were getting tired. And his exact words were 'Man, I would sure love an electric wheelchair!'"
In February 2019, Wilson finally set his plan in motion, acquiring the beautiful present and surprising Qualls during class at the Caddo Hills High School, where they both attended. The teen explained:
"He's just been a really good friend and I wanted to do him a favor. I just felt like I needed to do it, and I wanted to do it."
Qualls appreciated the gesture of love, admitting his friend saved him the daunting task of wheeling himself around the hall, which often left his arms limp from fatigue.

A user's comment on a video of a high school student who buys his friend a wheel chair from his savings. | Photo: youtube.com/USA TODAY
As soon as he saw the gift, the teenager broke into tears, unable to believe Wilson's willingness to go the extra mile for him. For the kind-hearted teenager, his friend's outburst of emotion was all the conviction he needed to know he did the right thing.
While everyone admired the boy's noble action, Wilson believes he simply did something that was necessary, enjoining others to take on such responsibilities. He divulged:
"There are many people out here that have troubles and need a little bit of help. Sometimes they can't do it for themselves."

A user's comment on a video of a high school student who buys his friend a wheel chair from his savings. | Photo: youtube.com/USA TODAY
Notably, saving up enough money was just the first step in solving his friend's troubles. He admittedly spent an extra year searching for the perfect chair to suit Qualls' needs before finally stumbling upon one for sale on Facebook.
Since helping out his friend, several schoolmates have approached the youngster asking if it was all worth it. He always had the same reply, saying 100 percent.
Thankfully, he had the support of some of his high school teachers, including Ginger Wray, who helped him deck it in Qualls' favorite color. It was an emotional day within the walls of the Caddo Hills High School in Norman, Arkansas.
Please fill in your e-mail so we can share with you our top stories!