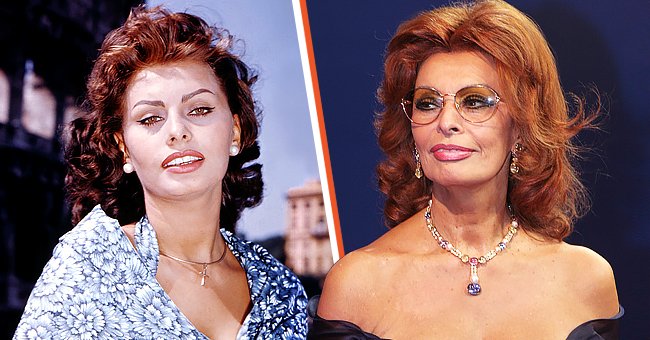 Getty Images
Sophia Loren's Journey to Confidence Following Cruel Mockery for Her Look & Social Origin
Today, Sofia Loren is an acclaimed actress, known for her role in the films "Houseboat," "Two Women," and "Today and Tomorrow." However, her journey to screen prowess was anything but smooth.
Born in the thick of war-torn Catholic Italy, little Sophia Loren and her sister were raised by a single mother. Born out of wedlock, they grew up with an absentee father, and for that reason, they were looked down upon by society.
Loren and her sister grew up in chaos and impoverished. They experienced the turmoil from hunger and constant bombings and the jeers and disapproving looks from people who laughed at them for being born outside marriage.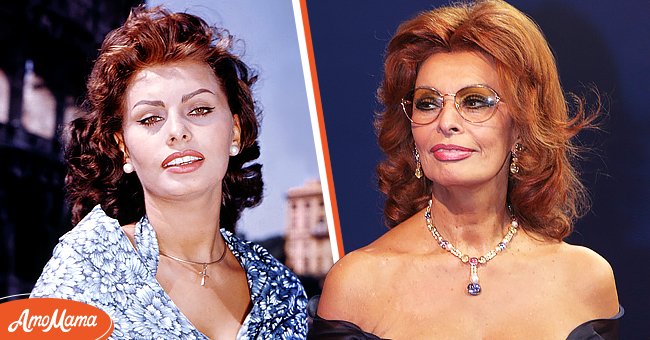 Left: Actress Sophia Loren in a scene from the movie "The River Girl" Right: Actress Sophia Loren arrives at the Bambi Award at Theater im Hafen on November 18, 2004 in Hamburg, Germany. | Source: Getty Images
Unfortunately, the people did not spare her mother from the name-calling. However, while Loren was too young to understand the hatred, she could tell that her mother was a strong and proud woman, always ready to rise above the adversities.
And it was this resolve in her mother's heart that shaped Loren's character. She grew up learning to build an identity for herself that did not rely on the approval of others. This attitude would work well for her in the film industry in the later years.
JOINING THE FILM INDUSTRY
Eventually, the little family left for Rome when Loren was barely 16. She looked to pursue a career in film, but there was a bit of a "problem." Any time she went for an audition, the directors would look at her and shake their heads.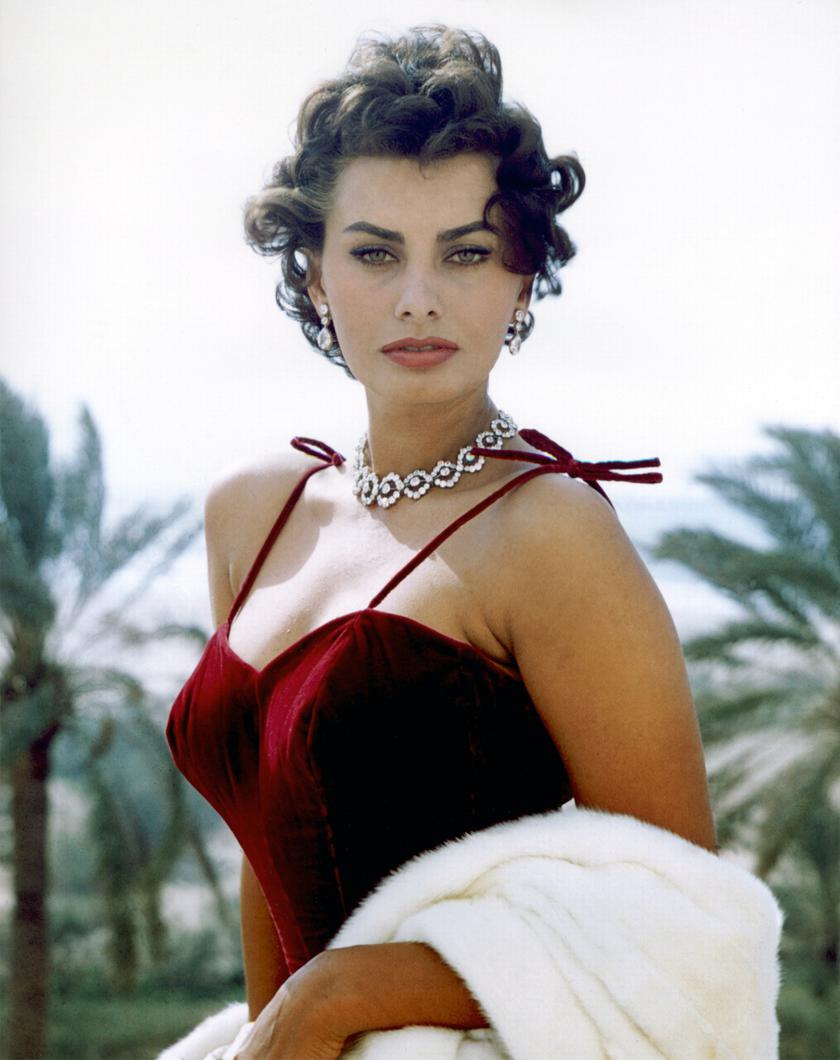 Italian actress Sophia Loren, circa 1955. | Source: Getty Images
On top of her barely bearable life as a child, she had to deal with camera operators who thought her mouth was too broad or her nose too long. She recalls several camera directors telling her that she had to do something about her face if she wanted to make it in film.
But despite being determined about following through with her acting dream, Loren was wise enough to know that nothing would make her make any changes to her face. She endured lots of bullying regarding her facial features.
However, as soon as she changed her attitude towards herself, things took a turn. She says the moment she owned her face was the very moment she became beautiful to others.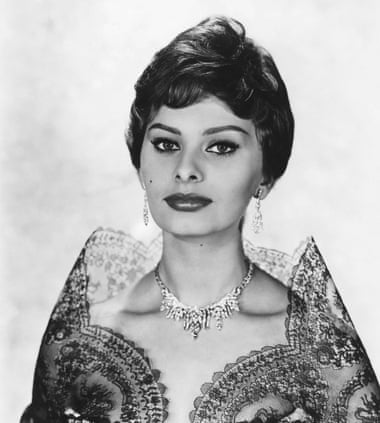 Sophia Loren in 1950, when she entered the Miss Italia beauty pageant. Photograph: Shutterstock
All she had ever needed to do was have the right attitude, a little confidence, and faith in herself. Her eyes shone bright with newfound confidence, which became the stepping stone towards her successful career in film.
Considered "not photogenic enough" for way too long, she almost gave up on her dream of becoming a successful actress one day.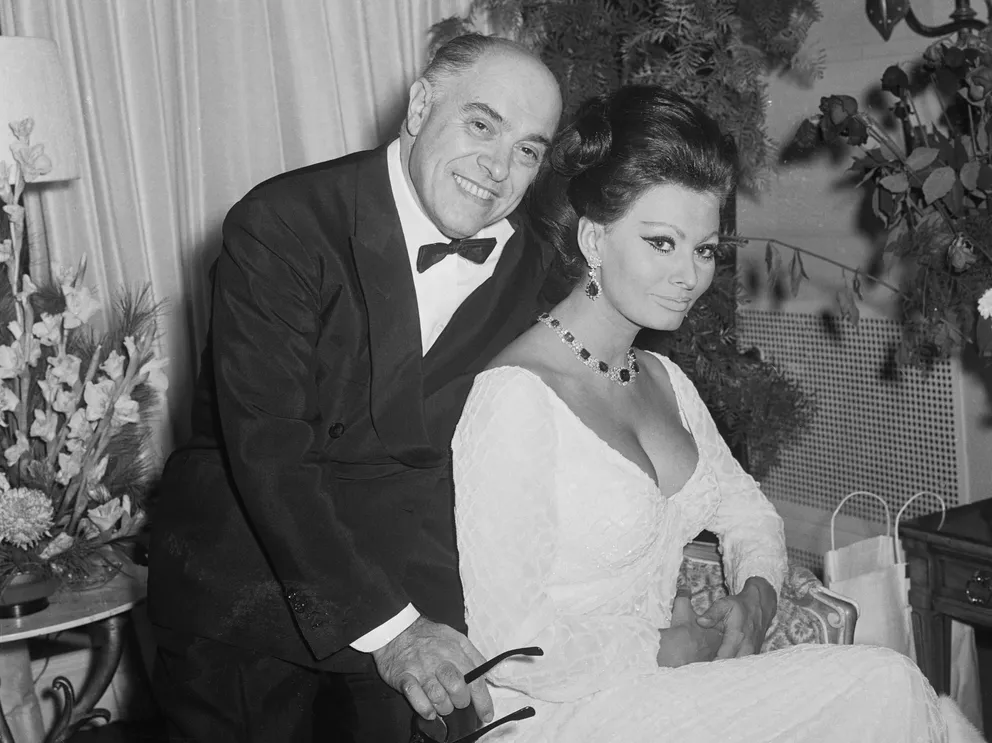 Sophia Loren and producer Carlo Ponti relax at their New York hotel. | Source: Getty Images
Just in the nick of time, a Director, Vittorio De Sica, with whom she had confided in about her frustrations, cast her without an audition. His casting opened unimaginable doors into a career she became so revered for later in life. She recalls the moment that changed her life:
"He told me he didn't want me to audition, this conversation was just fine. I didn't know what to say to this wonderful man. I nearly fainted on the spot."
For years, Loren dealt with backlash regarding her social background and looks, but she turned things around once she got into the industry. She made her first film with Di Sica, known as "The Gold of Naples."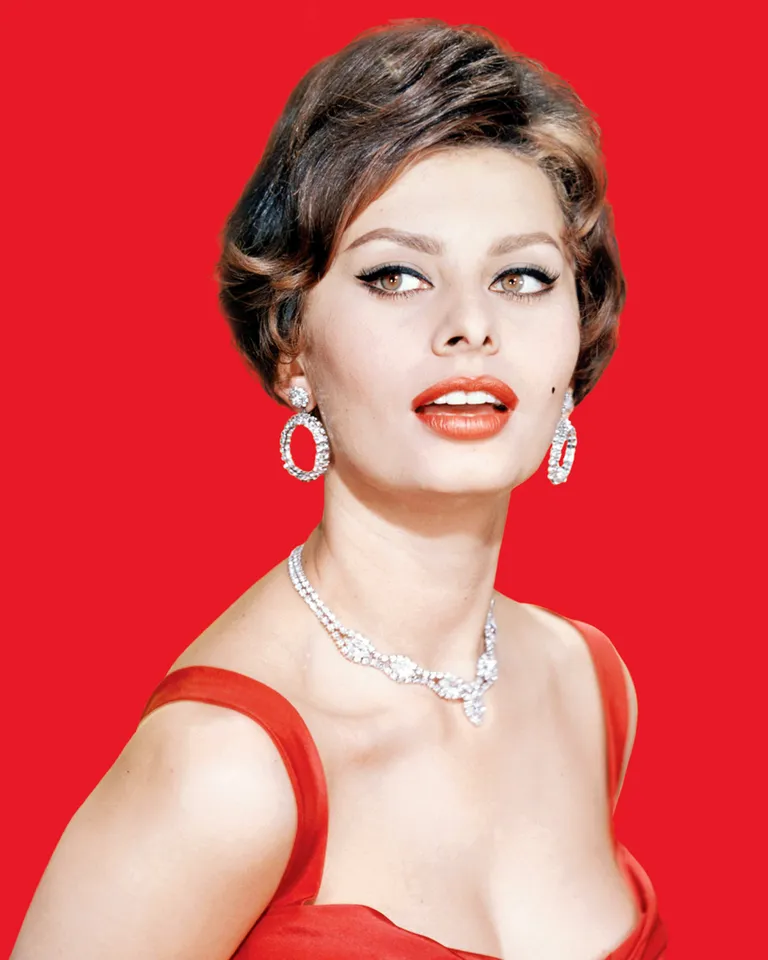 Italian actress Sophia Loren, circa 1960. | Source: Getty Images
The film became so well received that it turned out to be her breakout movie. She has since played many other hit roles alongside Hollywood giants such as Paul Newman, Clark Gable, Charlton Heston, Marlon Brando, and Cary Grant.
She has also, over the years, been awarded the honorary Oscar for her contribution to the industry. Loren also starred in films such as "The Pride and the Passion," "Prêt-a-Porter," and "Arabesque," to name just a few.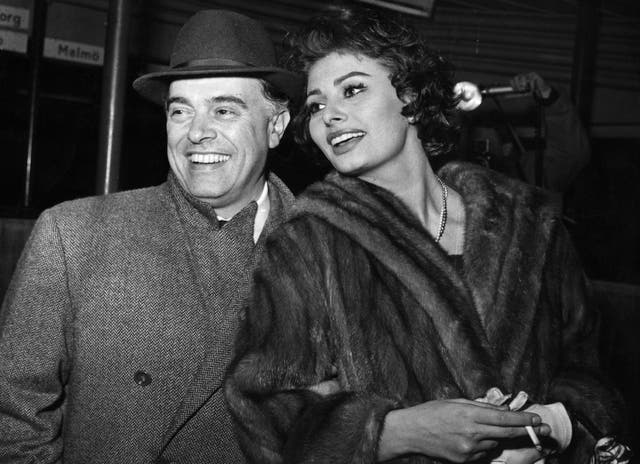 Carlo Ponti, the Italian film director and his wife Sophia Loren, the film actress arriving in Copenhagen en route from Rome to Los Angeles. | Source: Getty Images
In all of her acting career, Loren was always inclined towards playing characters that portrayed strong women. She has won many more accolades, including a standing ovation after her masterclass at Cannes, where she was quoted saying:
"Beauty is not important. You have to be interesting, someone who is different from other people. Otherwise, you just turn up and look beautiful, and there's nothing more to you."
The woman that was once considered impossible to photograph had beaten all odds to become one of Hollywood's most iconic actresses. She eventually earned herself the nickname "Italian Marilyn Monroe."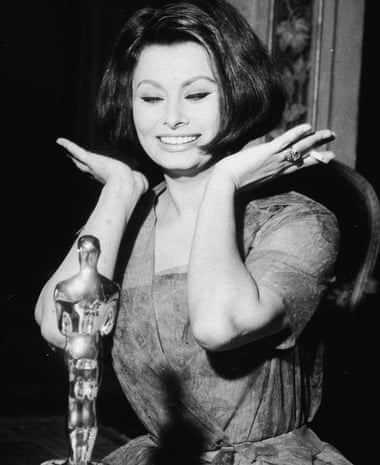 Sophia Loren with the best actress Oscar she won in 1962 for "La Ciociara" (Two Women). | Source: Getty Images
From the onset of her career, Loren had been acquainted with her future husband Carlo Ponti, who was already an accomplished director at the time. Together, they worked on her first-ever starring role in the film "Aida."
Her relationship with her husband was very successful by Hollywood standards and lasted over six decades. The secret to the longevity of the marriage, she says, is because they did everything together.
They were wife and husband, actress and producer, mother and father, but the ribbon that wrapped it all up was the friendship they shared. Together, they had two sons, one of whom grew up to become a producer as well.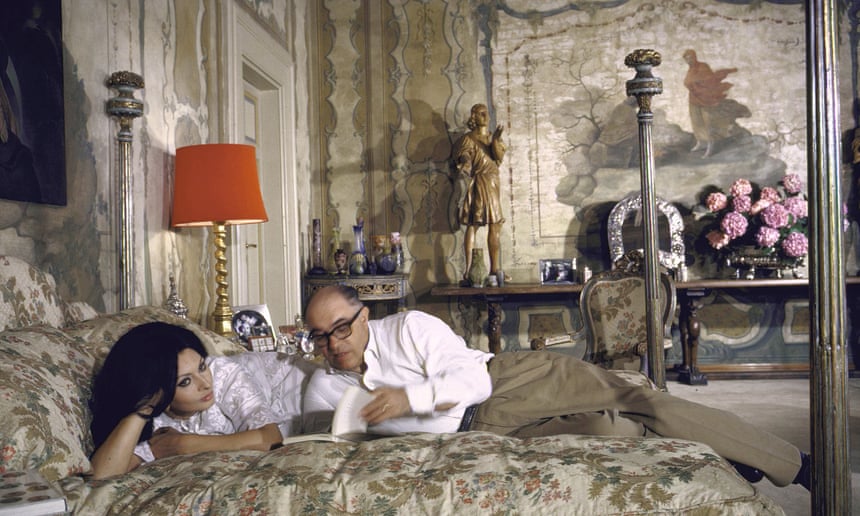 Sophia Loren with her husband, the producer Carlo Ponti, in 1964. | Source: Getty Images
ITALY OVER HOLLYWOOD AND PONTI OVER GRANT
Choosing Italy over Hollywood and Ponti over Cary Grant was a simple choice. Loren had been in love with Ponti since she was 15, and he had been an integral part of making her career in film.
She referred to him as her mentor and was an easy choice of partner for herself in comparison to Grant. Loren had starred in one film, "The Pride and the Passion," with Grant and briefly dated him in the '50s during a breakup with Ponti.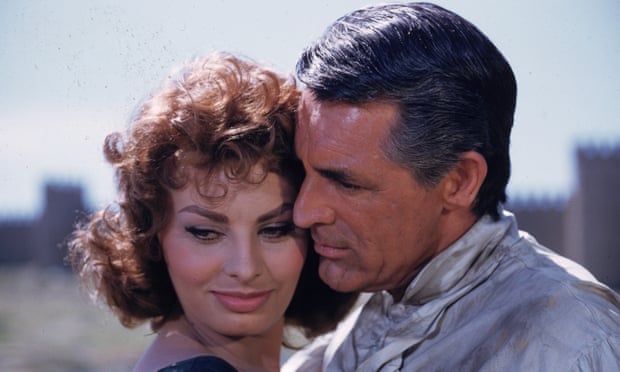 Sophia Loren with Cary Grant in their 1957 film "The Pride and the Passion." | Source: Getty Images
While Hollywood was the place that put her in the spotlight, she merely thought of it as a detour. Los Angeles was an adventure, while Europe was more fertile ground for her career than Hollywood.
As fate would have it, she remained married to Ponti until his demise in 2007. The actress continued making hit films, even lending her voice to non-English editions of Disney's "Cars 2."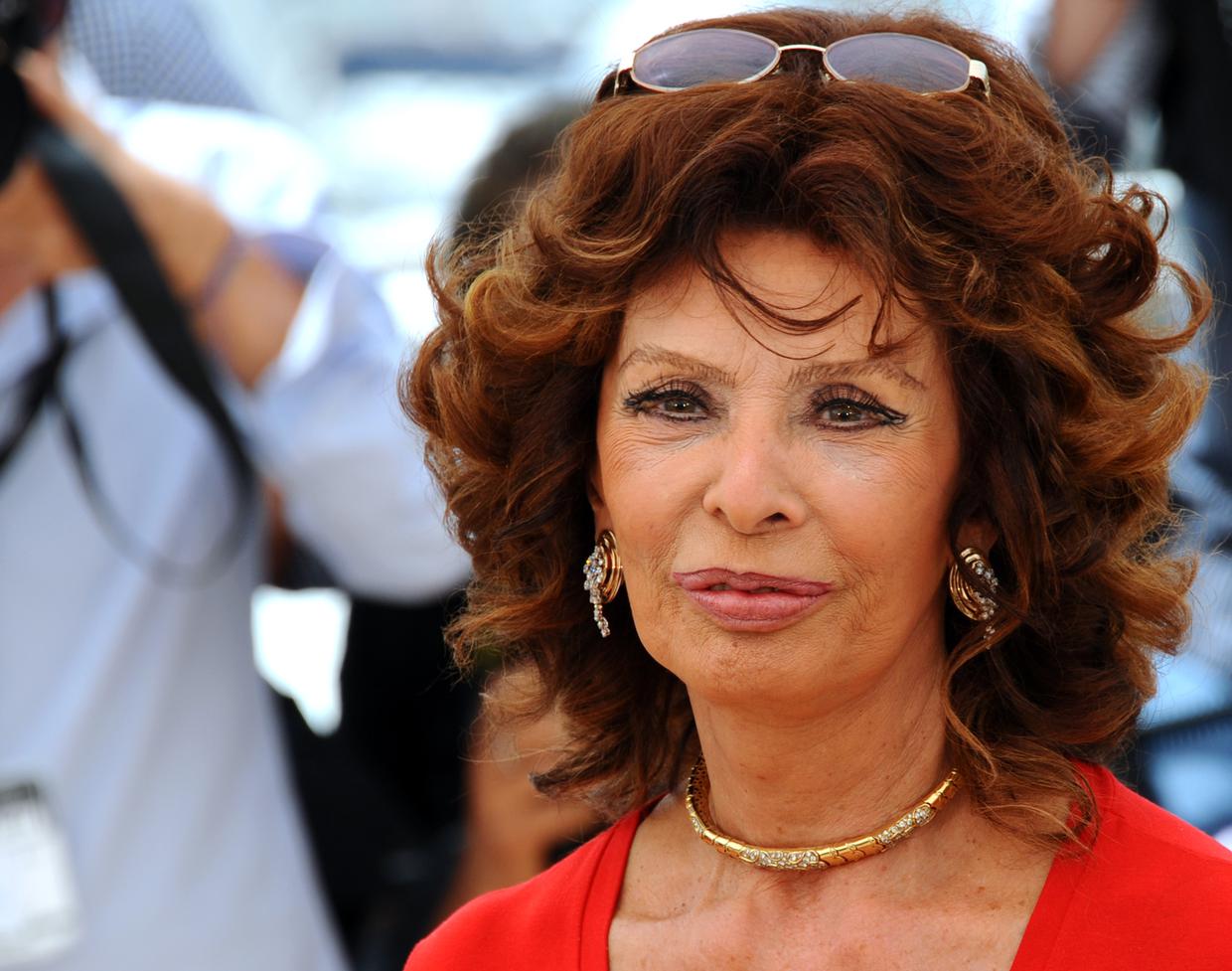 Sophia Loren attends a photocall to present Cannes Classics at the 67th Annual Cannes Film Festival | Source: Getty Images
She then took a break from film work, only returning to work on Netflix's "The Life Ahead," directed by her son Edoardo. The film was released in November 2020.
Loren continues to inspire many people through her life story of rising from a "difficult to photograph" actress to becoming one of film history's most acclaimed stars.
Please fill in your e-mail so we can share with you our top stories!