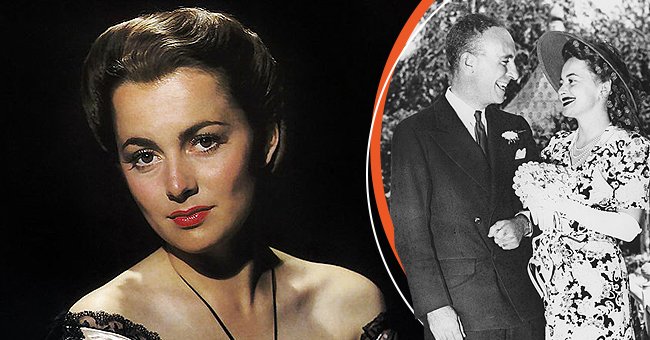 Getty Images
Olivia de Havilland Stopped Talking to Her Family after Marrying Her 1st Husband Marcus
Olivia de Havilland lived a long, successful life spanning over a century. Her life was marked by Hollywood successes, family feuds, and two short-lived marriages.
In the mid-thirties, legendary and talented actress Olivia de Havilland rose to fame following her foray into the movie industry.
While her famous family background played a role in her Hollywood stardom, the Academy Award-winner became estranged from them for years, thanks to her marriage to Marcus Goodrich.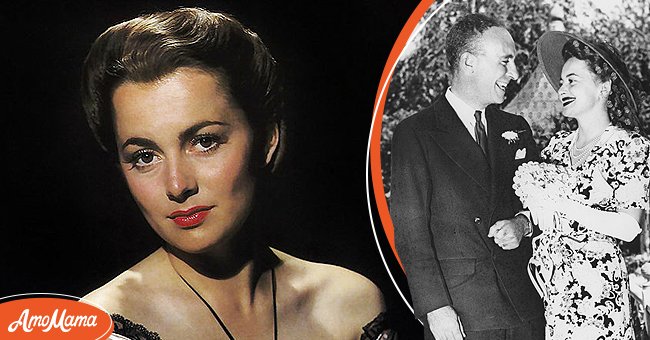 A portrait of Olivia De Havilland [left] Olivia De Havilland and Marcus Goodrich | Photo: Getty Images
DE HAVILLAND'S RISE TO FAME
Olivia de Havilland was born in July 1916 to parents Walter de Havilland and Lilian Fontaine. Coming from a family of entertainers, including a mom who was a stage actress, the icon grew up appreciating the arts.
In the '30s, she kicked off her cinematic career, starring in films like "The Adventures of Robin," "Captain Blood," and "Gone with The Wind," among others.
Her prolific acting skills soon made her a highly sought-after actress, earning her numerous awards and nominations. Over time, she gained global prominence and was a celebrated household name before the 1940s when she met her first husband, Marcus Goodrich.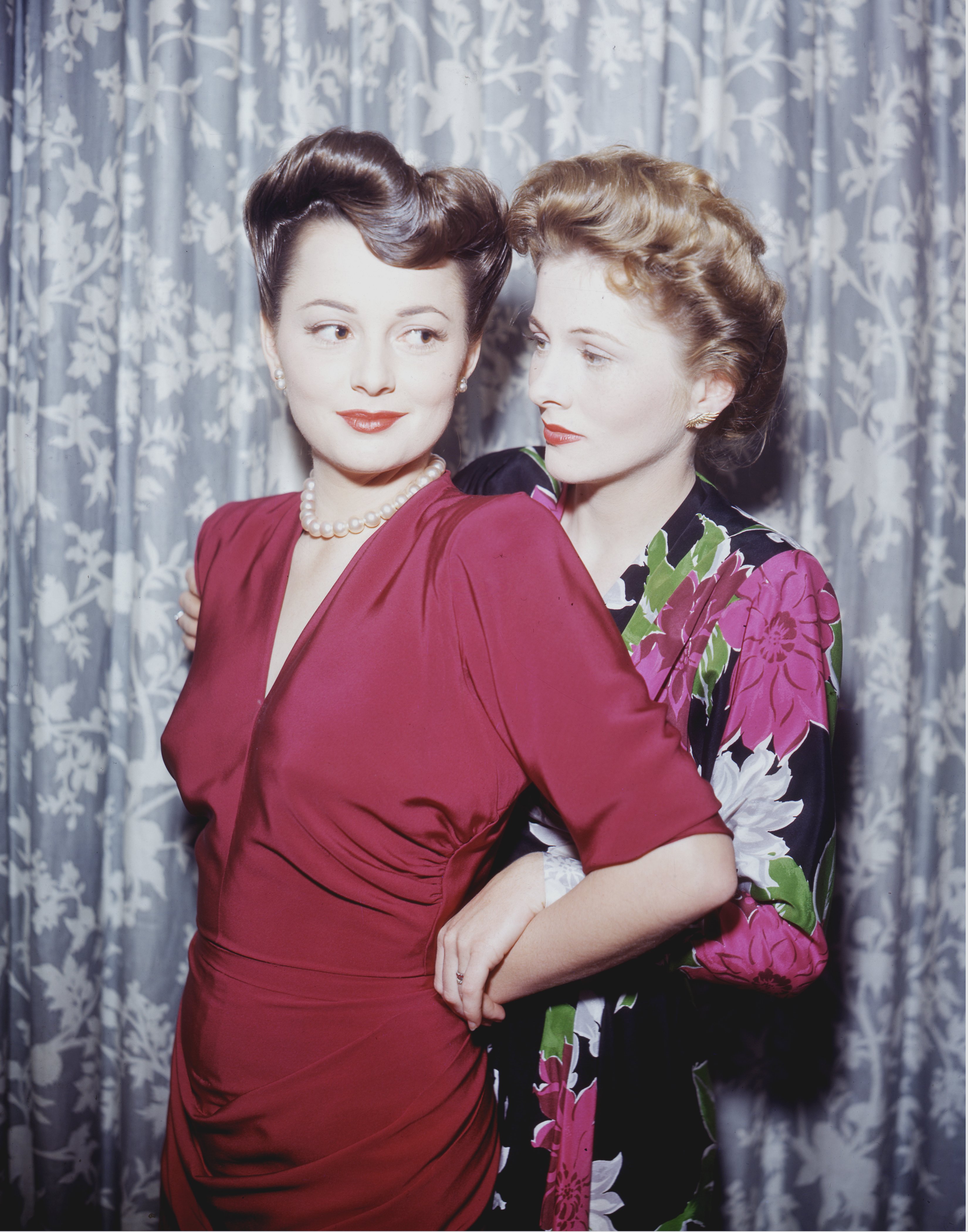 Actress Olivia de Havilland (left) with her sister, actress Joan Fontaine, circa 1945. | Photo: Getty Images
BECOMING MRS GOODRICH
With a combination of perfect looks and unmatched talents, de Havilland easily became the cynosure of all eyes at the peak of her Hollywood stardom and the diamond of many hearts.
She dated Businessman Howard Hughes and Jimmy Stewart before meeting her would-be husband and Novelist, Goodrich, in 1940.
Notably, Goodrich was over eighteen years her senior but had all the charms needed to win over the heart of the Hollywood goddess. They fell in love in no time and kicked off their romance. They tied the knot in 1946 and welcomed one son, Benjamin Goodrich, before their divorce in 1953.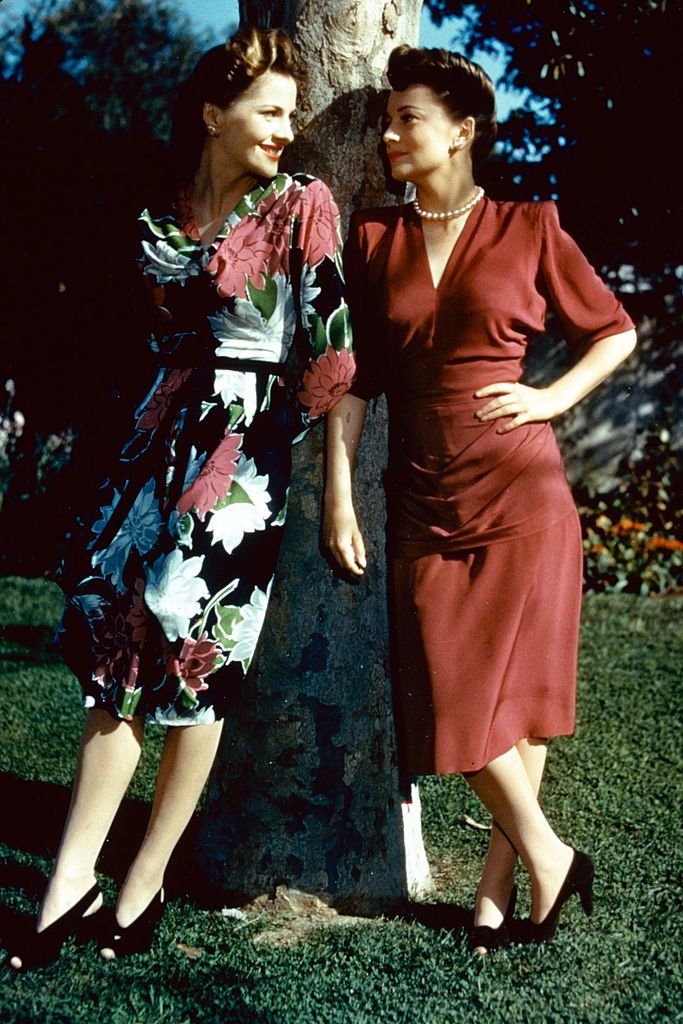 Full-length portrait of Joan Fontaine (left) and her sister, Olivia de Havilland, both British actress, standing in conversation by a tree, circa 1945. | Photo: Getty Images
LIFE WITH HER FIRST HUSBAND
During her marriage to Goodrich, de Havilland remained their family's sole breadwinner despite the bogus age gap.
Following her wedding, the star retained her maiden name as her professional name, as many deemed "Olivia Goodrich," inappropriate for a movie star. Their marriage progressed in the spotlight, with numerous media coverage and reports plaguing their private existence.
Despite being a "house husband," reportedly living with his wife in her mom's home, Goodrich remained the boss of the family. By 1947, he made de Havilland fire her agent, so he could exclusively manage her career.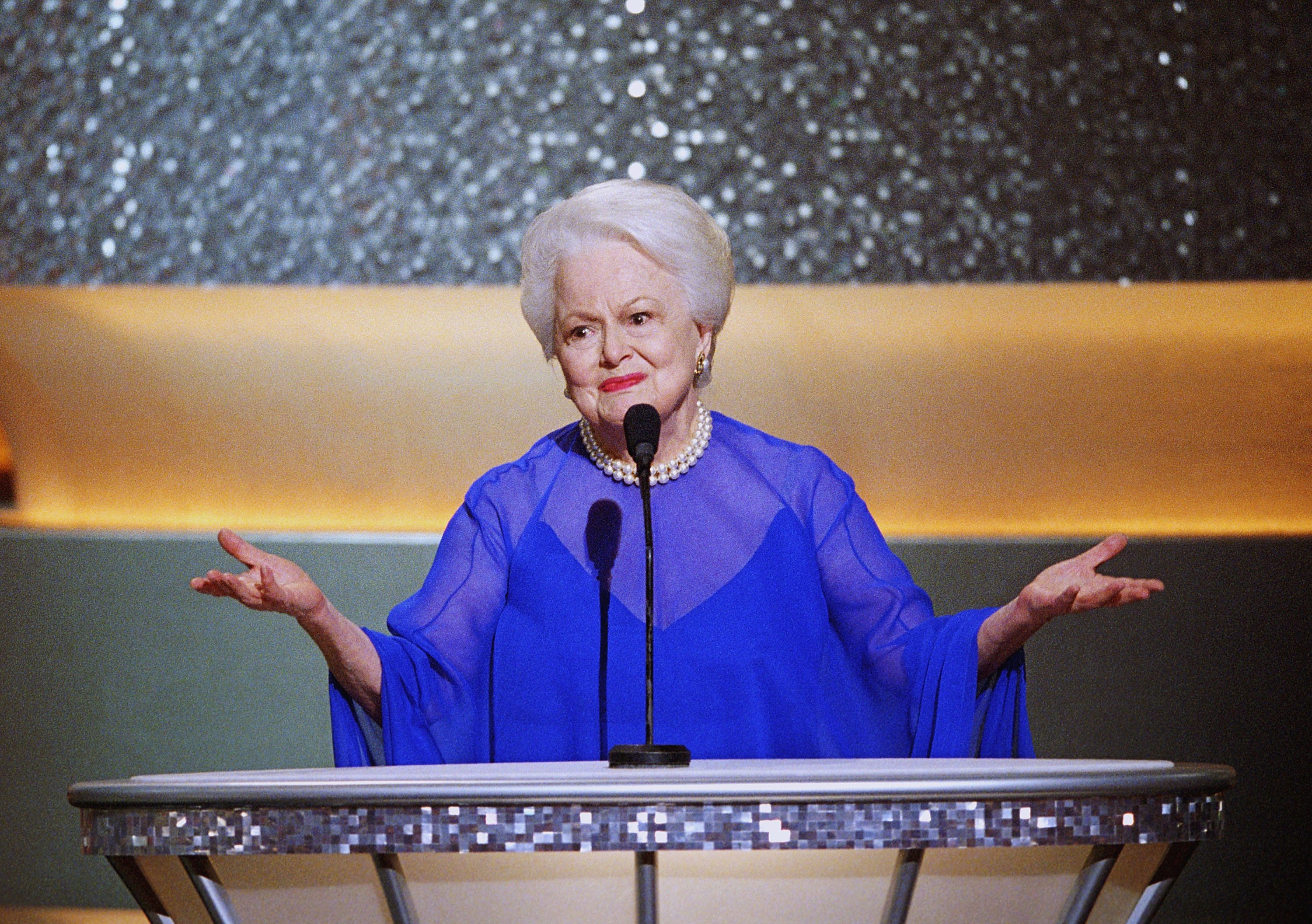 Best Actress Oscar winner Olivia de Havilland (To Each His Own, 1946) introduces other former winners in acting categories for a group presentation during the 75th Annual Academy Awards at the Kodak Theater on March 23, 2003. | Photo: Getty Images
That same year, he orchestrated de Havilland's move from California to Rappahannock, Virginia. The move followed a rattlesnake invasion in their Los Angeles home.
FAMILY FIRST
While de Havilland understood the concept of putting one's family first, she became torn between the family she grew up with and her new one with Goodrich. When it came time to choose, she opted for the latter, following her dedication to fulfilling her duties to her husband.
Reports confirmed that the actress suddenly cut ties with her family following her marriage to the novelist. She reportedly stopped seeing them, answering their messages, or communicating with them.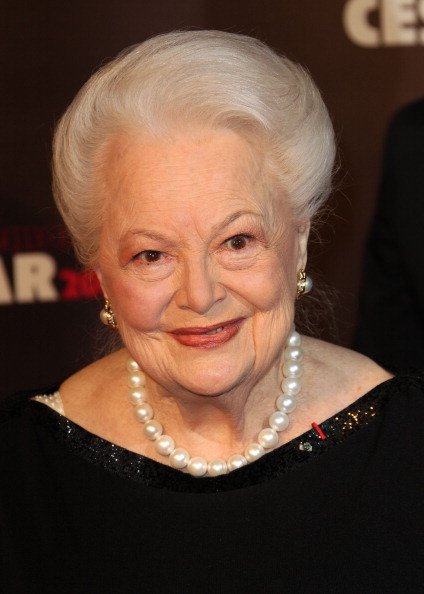 Olivia de Havilland arrives at the 36th Cesar Awards at Theatre du Chatelet on February 25, 2011 | Photo: Getty Images
She also discharged every member of her management staff, entrusting her business affairs with her husband. However, it seemed the icon thought better of the decision, as months later, she hired new agents and attorneys.
Despite the estrangement, she regularly crossed paths with Joan Fontaine, her sister, also an actress. Tales of the feuding sisters made headlines throughout the forties, and early fifties, with Goodrich, caught in between.
Olivia de Havilland, standing in front of a window in a promotional portrait for 'Gone With The Wind'. | Photo: Getty Images
THE TIPPING POINT
In the late '40s, Reporter Jimmy Fidler predicted that the union between the two Hollywood sweethearts would be short-lived thanks to Goodrich's ego-mania.
The U.S Navy veteran's egotism was so renowned that he was widely described as a tall man with a powerful physique and a healthy ego. As predicted, the marriage only lasted seven years before the duo went their separate ways for good.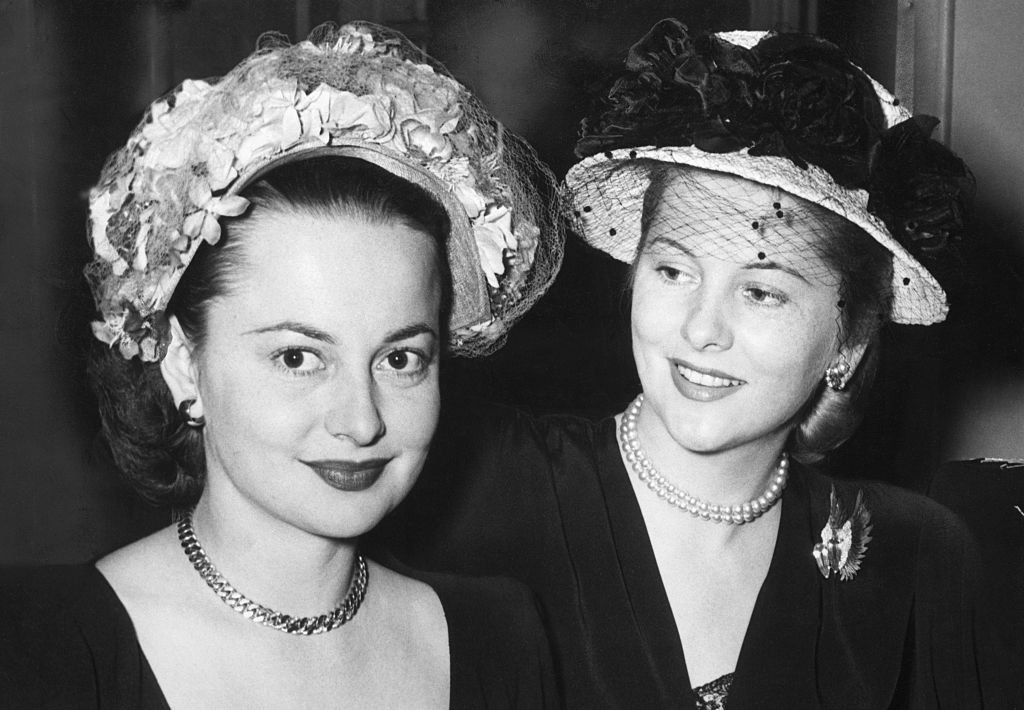 Olivia de Havilland and Joan Fontane, circa 1940. | Photo: Getty Images
DE HAVILLAND'S THOUGHTS ON FIRST MARRIAGE
Although the media laid bare several personal details of de Havilland and Goodrich's relationship, there was more to their marriage than met the eyes.
In the book "Olivia de Havilland: Lady Triumphant," Victoria Amador disclosed an interview where the legend opened up about her first husband. While explaining Goodrich's part in her feud with Fontaine, the star went candid about her first marriage, saying:
"It was not an easy marriage as you well know. But I was married to him, he was my husband, and I felt a very keen loyalty. I had committed myself to him. That means something to me."
Joan Leslie and Olivia de Havilland during Academy of Motion Picture Arts and Science Presents Tribute to Olivia de Havilland at Academy of Motion Picture Arts and Sciences| Photo: Getty Images
Owing to her loyalty, she became furious when her sister spoke ill of Goodrich to the press. Fontaine's refusal to apologize led the sisters to become estranged for about five years. Notably, de Havilland only resumed communication with her sister following her divorce from Goodrich.
LOSING A SON
The "To Each His Own" star was not one to put her life on hold. Two years after her divorce, she tied the knot with Paris Match, an executive editor. However, their marriage, too, was short-lived, ending in 1979, following a 17-year separation.
The actress had one child from each of her marriages. In the late sixties, de Havilland's son, Benjamin, whom she shared with Goodrich, was diagnosed with Hodgkin's Lymphoma at seventeen.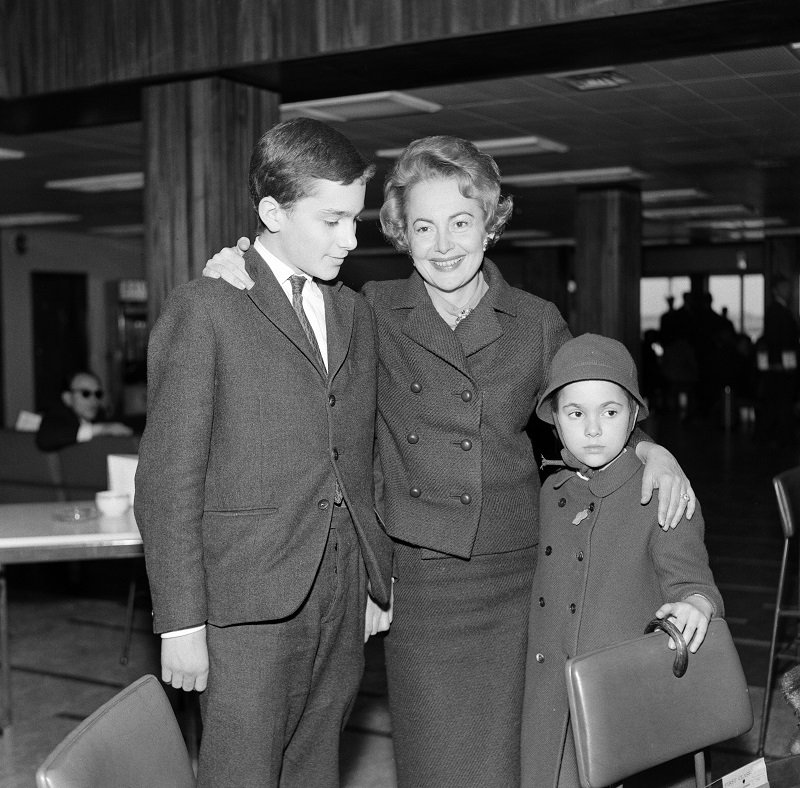 Olivia De Havilland and her children Benjamin and Gisele at London Airport on April 15, 1964 | Photo: Getty Images
He battled with the condition for two decades, eventually developing a heart disease brought about by years of treatment. Finally, in September 1991, at the age of 42, Benjamin succumbed to heart disease.
MARCUS GOODRICH'S DEATH
Three weeks after losing her son, de Havilland was confronted with another harsh reality — losing her first husband, Marcus Goodrich.
Despite being long separated from him, the mom of two admitted she had deep regard for the journalist as a man. She described him as a remarkable person while expressing sadness over his loss.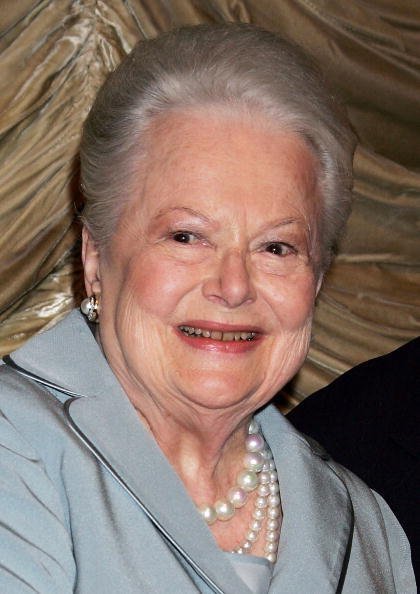 Screen legend Olivia de Havilland appears on stage prior to the screening of "The Heiress", in which she won the Academy Award for Best Actress in 1949, at the Los Angeles County Museum of Art's Bing Theater on June 18, 2006 in Los Angeles, California | Photo: Getty Images
Notably, the former U.S Navy and journalist died from heart failure in October 1991. He was 93. de Havilland lived for three more decades before eventually passing on in 2020, at the age of 104, leaving behind a lasting legacy.
Please fill in your e-mail so we can share with you our top stories!