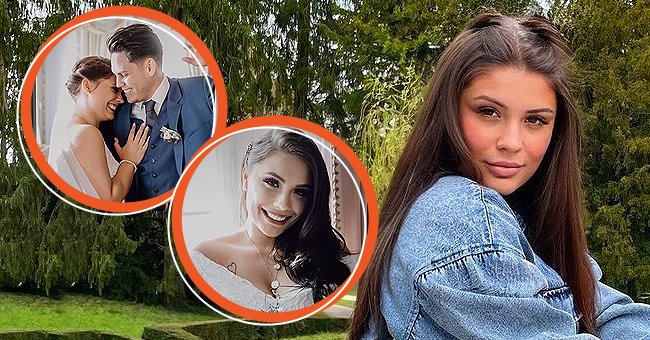 tiktok.com/@dieschaklin | instagram.com/dieschaklin
Woman Faked Her Own Wedding to Get Her Ex-boyfriend to Text Her
To get her ex-boyfriend's attention, a young woman staged a whole wedding. She had her makeup done professionally for the fake event and posed for pictures in her stunning gown with her new husband.
Falling in love might seem effortless to some, but nothing hurts more than a break-up. While some people can bounce back quickly from past relationships, others have a hard time moving on.
Often, people resort to blocking their ex from their lives, such as deleting their contact numbers and boycotting them in real life and on social media. Surprisingly, some folks can also yearn for their ex's attention, doing things they never thought they'd do.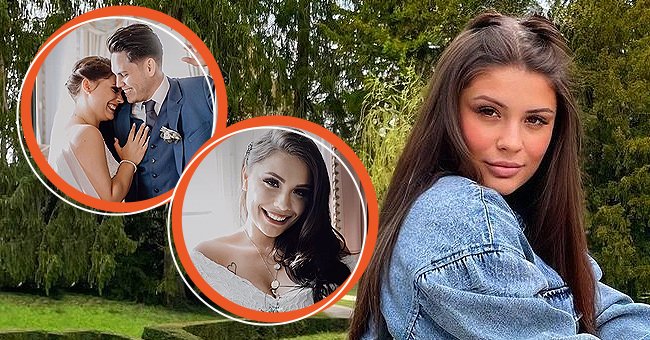 Glimpses from TikToker's @dieschaklin fake wedding. | Photo: tiktok.com/@dieschaklin | instagram.com/dieschaklin
THE ONE WHO SLIPPED AWAY
One such thing happened to a TikToker @dieschaklin who took things a little too far to get her ex-boyfriend to text her. The young lady ended up faking her entire wedding and shared glimpses of it online. She wrote:
"Remembering the time I faked my own wedding and had a professional photoshoot so he would reach out."
Keeping things as real as she possibly could, the supposed bride opted for a gorgeous white dress with a gorgeous veil. She even had a professional makeover and could be seen striking a few poses, stunning everyone with her ethereal beauty.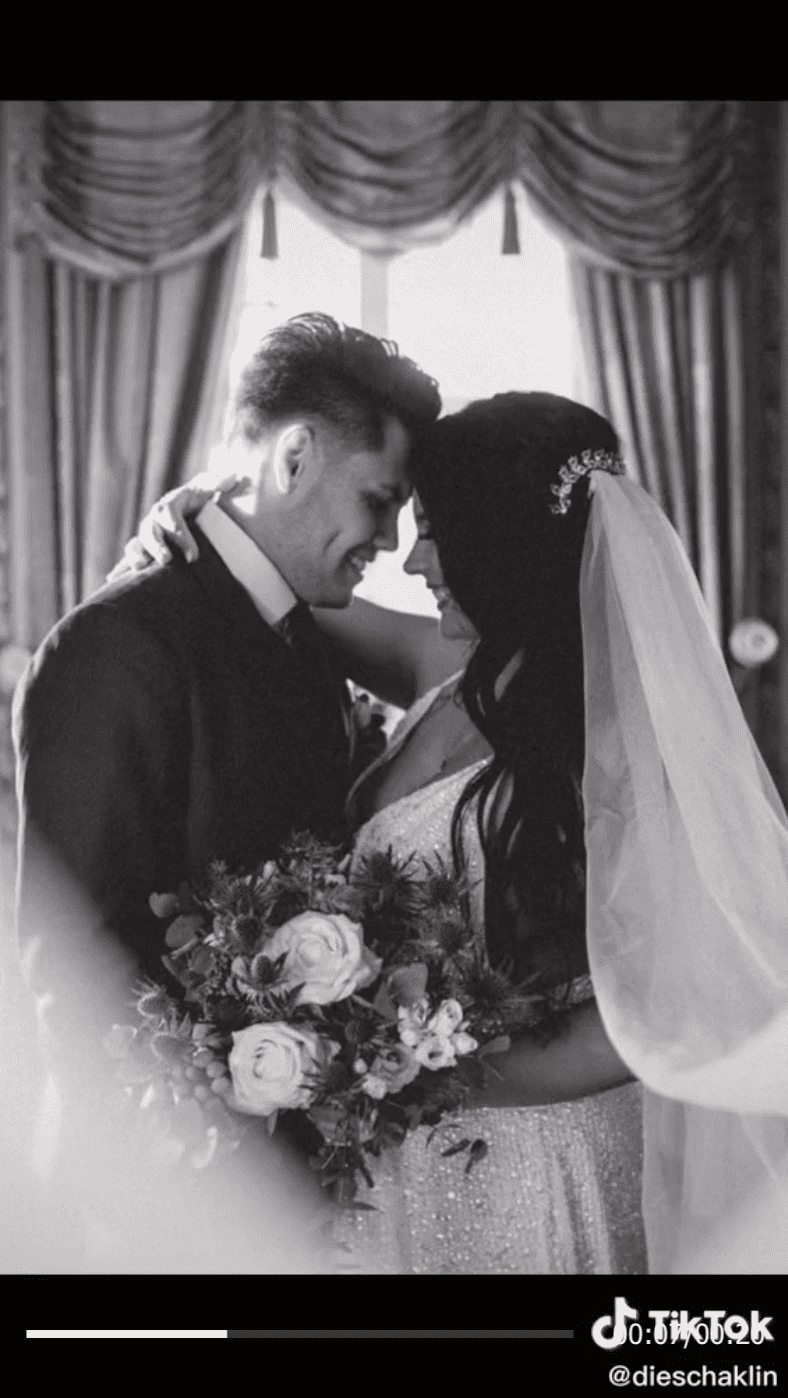 The groom and bride sharing an adorable hug. | Photo: tiktok.com/dieschaklin
A LUXURIOUS FAKE WEDDING
Holding a large bouquet of white roses, the TikToker looked happy and in love. The young bride even picked a groom for her fake wedding and hired a professional photographer to click the pictures.
While her staged wedding failed to draw a response from her ex, it has become a viral sensation and gained the attention of several netizens.
Fully committing to the lie, she could be seen embracing the groom, holding hands, posing by their wedding cake, and beside the door frames. A stunning shot showed the bride standing next to a horse, giving legitimate rustic wedding vibes.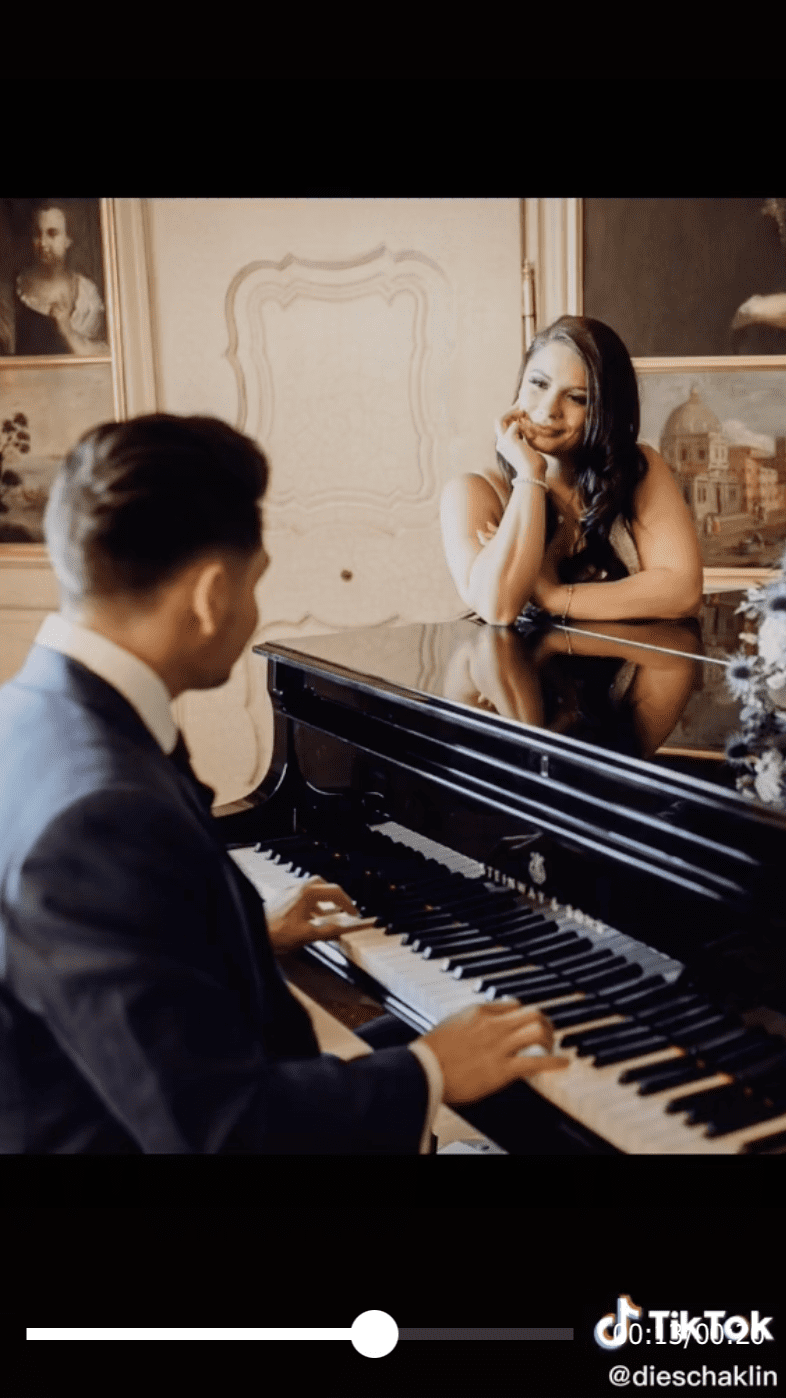 The groom serenading the bride on the piano as she lovingly looks at him. | Photo: tiktok.com/dieschaklin
The groom serenaded her on a grand piano in another adorable shot while she lovingly gazed in his direction. But despite all her efforts of throwing the most convincing luxe wedding, she didn't hear from her ex. She captioned the TikTok video:
"Worst part is, he watched my story and still didn't reach out (sic)."
The average price of booking a professional wedding photographer in the UK is around £1,590 ($2120.08), implying that the TikToker spent way too much on throwing the perfect fake wedding.
ONLINE REACTION
While her staged wedding failed to draw a response from her ex, it has become a viral sensation and gained the attention of several netizens. So far, the 20-second long clip has 2.3 million views and 466K likes. One user commented:
"Why would he reach out on your wedding day (sic)?"
A second one wrote: "Should've done an engagement shoot lol once the wedding happens it's too late (sic)." Another user joked: "The horse is a paid actor." Indeed, the TikToker's supposedly fake wedding looks too real not to be real.
Please fill in your e-mail so we can share with you our top stories!