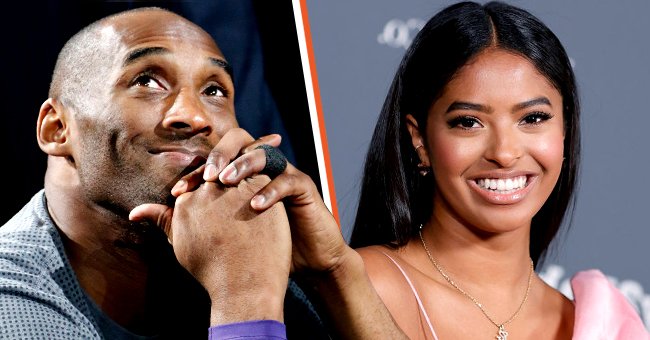 Getty images
Kobe Bryant's Daughter Natalia Shows off Modeling Skills in a Suit as She Quit Sports after Her Father & Sister's Deaths
Kobe Bryant's daughter, Natalia, has found a new passion in modeling after quitting sports. Her change of heart came after the death of her father and younger sister.
The 18-year-old is showcasing her newfound love for modeling to her fanbase of more than 2.7 million followers on Instagram. Her recent post follows her appearance on Beyoncé's campaign for her new collection named "Halls of Ivy."
In the Beyoncé shoot, she posed in a houndstooth crop top and an oversized black and white suit, completing the look with luscious pigtails and long blue nails.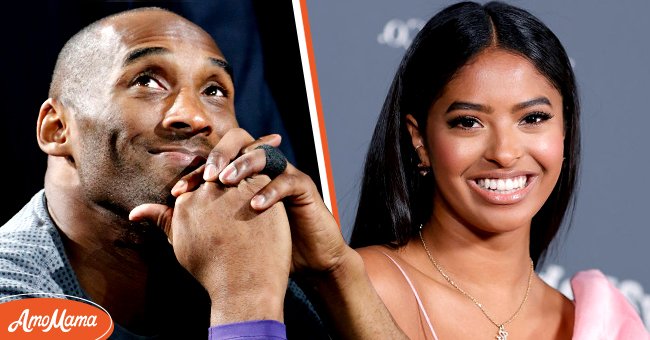 Left: Kobe Bryant #24 of the Los Angeles Lakers watches tribute at AT&T Center on February 6, 2016 in San Antonio, Texas. Right: Natalia Bryant attends the Baby2Baby 10-Year Gala presented by Paul Mitchell on November 13, 2021 in West Hollywood, California. | Source: Getty Images
Her mother, Vanessa Bryant, is proud of the steps she's taking and commented on Natalie's Instagram post, saying how much she loved what her daughter was doing.
NATALIE'S LOVE FOR SPORTS
Natalia's love for sports became apparent when her mother took her to the 2012 London Olympics. She was nine and was inspired by Misty May-Treanor.
Treanor, who played and won beach volleyball, became one of the most successful players in history. Natalie loved it, and with her mother's encouragement, she began playing volleyball and soon became a middle-blocker.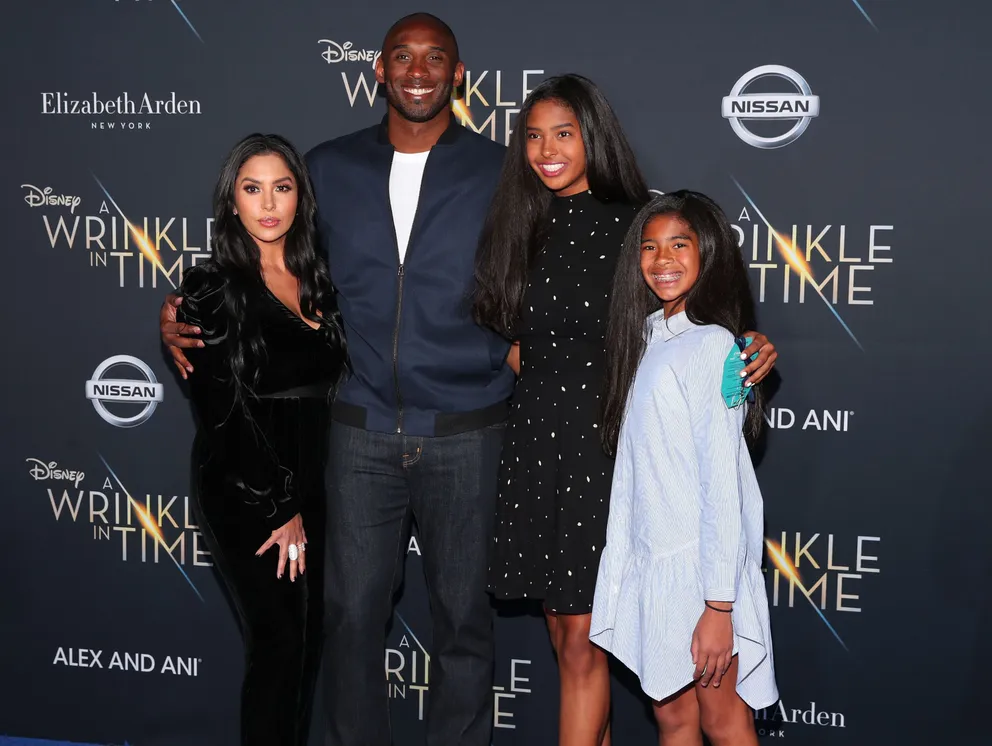 Vanessa, Kobe, Natalia, and Gianna Bryant at the premiere of "A Wrinkle In Time" on February 26, 2018, in Los Angeles, California | Photo: Getty Images
She often attended University of Southern California volleyball games with her sister, father, and mother. In November 2019, she attended the USC versus Oregon match with her father.
Seeing the teams go at it inspired her to play volleyball in college, but two months after the match, her father and sister passed away in a fateful helicopter accident.
The loss suddenly changed her view of the world. Speaking to Teen Vogue, she disclosed that she still loved the sport but had to quit due to everything going on after her father and sister's demise.
She has since decided to take a break from playing a sport she loved so much. Since she signed with IMG Studios, Natalia has been busy with her new ventures. She adds:
"I love the sport. I quit volleyball after the accident because I was so ... a lot was going on at that time. I knew I didn't... love volleyball as much as they love basketball."
And even though she has taken on a new interest, she still holds the memories of her father and sister close. Asked how her family was doing after their heartbreaking loss, she says they are doing their best, given the situation.
Natalia adds that they strive to keep Kobe and Gianna's memories alive for her little sister and strive to live each day the way Kobe and Gianna would have wanted them to. Though bittersweet, she enjoys talking about her father.
Please fill in your e-mail so we can share with you our top stories!