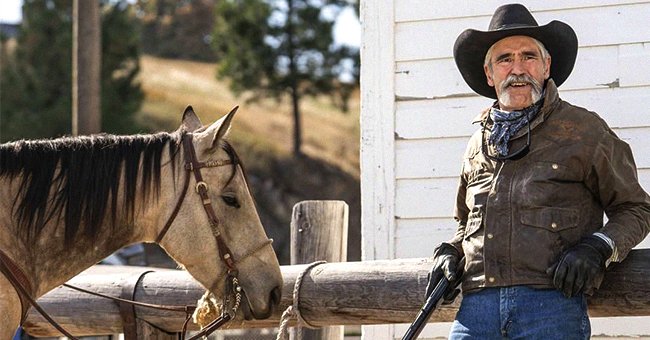 Instagram/forriejsmithcowboy
'Yellowstone's Lloyd Pierce Is Actually a Real-Life Cowboy Who Once Fell off a Horse
Veteran actor Forrie J. Smith knew very early on in his young life that he wanted to be a stuntman after an unfortunate incident falling off from a horse.
Forrie J. Smith is a seasoned cowboy and a legacy Hollywood stuntman. When he was only six years old, he fell off his horse in front of his mother and immediately told her he wanted to be a stuntman.
Smith grew up in Helena, Montana, where he learned the ropes of the rodeo and how to master his horsemanship. He was introduced to the rodeo by his father and grandfather, which stuck with him early on.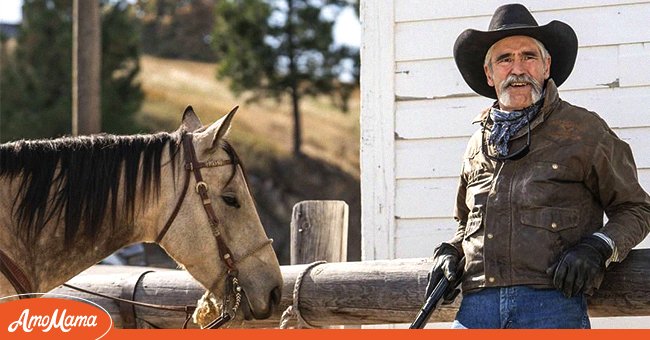 A screengrab of "Yellowstone" star actor Forrie J. Smith | Source: Instagram/@forriejsmithcowboy
HIS RODEO LIFE & CAREER
At age 8, he began competing in rodeos, spent 52 years doing it but stopped there. Smith described his overall experience afterward by making a funny comparison stating:
"Mind was writing checks that his body couldn't cash."
The westerner has competed and won in rodeos over the North American continent and Australia. After retiring from his rodeo life, he pursued a career as a stuntman in Hollywood, where he spent the next twenty-five years working on sets of films.

Pictured: From (L-R) Actors Steven Williams, Keith Cox, Wes Bentley, Kelly Reilly, Gil Birmingham, Kevin Costner, Cole Hauser, Kelsey Chow, Luke Grimes, Kent Alterman and Sarah Levy attend Paramount Network's "Yellowstone" Season 2 premiere party at Lombardi House on May 30, 2019 in Los Angeles, California | Photo: Getty Images
STARRING IN 'YELLOWSTONE'
Smith featured in movies like 1987's "Desperado," "Rambo III," (1988) "Hell or High Water" (2016), and "Tombstone" (1993). He credits his rodeo experience to his success as a stuntman.
His thriving career as a stunt performer ultimately led to him landing the role of Llyod Pierce as a series regular on the TV hit show "Yellowstone."
Smith was brought on the series as a full-time character in season three after appearing as a recurring character for the first two seasons.
In August 2020, he shared what it is like being a cowboy and playing one on TV. He gave props to the show's co-creator Taylor Sheridan saying:
"I give Taylor a big kiss on the cheek for bringing our culture to the forefront and making a great show out of it. It means a lot to me."
Smith said he is glad the series tells their story and gets it out there. When asked to rate his fellow co-stars on their skills playing cowboy, he refused to do that.
Smith explained that being a cowboy is about having an attitude and morals, sharing that the team was interested enough to talk to him about it in the show's first season.
He said one of the things he told them to give them an idea about their culture "is that we're helping feed our country. We're helping feed America. It's not just about making money and being a big shot."
Smith continued saying that he was taught about that concept from a young age and believes sharing his stories helped inform those on set that "being a cowboy and a horseman are lifetime endeavors."
He is more grateful for the opportunity that he gets to learn in the process, adding one never quits learning because not every day is the same. Smith gave a scenario whereby one's plans may fall through in a day, mainly when working with cattle, and would be forced to make another plan.
"And the same with horses, horses are all different, just like human beings. And yet, you might have a plan, but he might not work in that plan today. So being a cowboy is a lifetime endeavor," he highlighted.
HIS MOVIES
Since breaking into Hollywood over twenty years ago, the "Blind Justice" star has appeared in over one hundred different productions.
His other television and movie credits as an actor or stuntman include "Lucky Luke," "Midnight Texas," "The Lazarus Man," and "2 Guns."
AWARD NOMINATIONS
In celebration of some of the milestones in his career, Smith took to his Instagram on November 6, 2021, to reveal that he had been nominated for the 22 SAG Awards in three categories by MTV Entertainment Group-Via.
The first one is for Outstanding Ensemble in a Drama Series in "Yellowstone," for Best Supporting Actor in a Drama Series Critics Choice Award. And lastly, in Overall for Best Drama Series.
According to Smith, the official nominations will be announced on January 12, 2022. Upon learning about the nominations, he shared how excited he is about the news writing:
"I am thrilled, and you all deserve so much gratitude for helping my talents and efforts get acknowledged by my peers! Thank you all so much, and I can't wait until the end of February 2022."
TAKING PART IN OFF-SCREEN EVENTS
Apart from his flourishing career as a stuntman and actor, Smith also spends his time participating in other events involving his love for horses.
He and his fellow castmates from "Yellowstone" joined Fort Worth-area celebrities in riding to the herd for a good cause in the Careity Celebrity Cutting.
Smith brought his professional skills to the Careity festivities in the famed Will Rogers Coliseum. The event raises funds for services Careity provides to cancer patients.
The special occasion was held on December 3, and he said the atmosphere reminded him of his bull-riding days. "I've been behind the bucking chutes feeling the pressure before, so it's going to be alright. I know how to handle it," he said before his run at the event.
Smith revealed to Quarter Horse News that he told someone earlier that day that when one is rodeoing, and they drew the good stock that everyone else wins on, there is a lot of pressure.
The TV star added that he was confident that he would do good on that eventful day based on his background and horsemanship. He was given the Beechfork Ranch mare called Chyna, and he was praised by its owner Madison Crum Smith for riding it.
But Smith was disappointed to lose a cow in the last seconds of his run and returned to the edge of the arena to cheer on his co-stars, Jefferson White, Jennifer Landon, and Mo Brings Plenty. The three of them have previously partaken in Careity events.
Please fill in your e-mail so we can share with you our top stories!