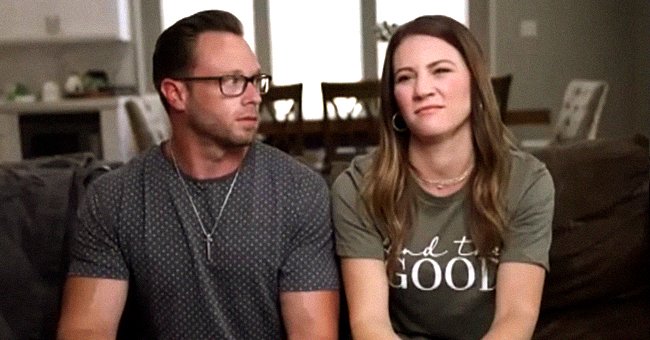 YouTube/Entertainment Tonight | Instagram/adambuzz
'Outdaughtered' Adam & Danielle Busby Could Not Touch Quints for a Week after They Were Born
Danielle and Adam Busby almost never had the quintuplets because their first date failed to happen. Luckily, the pair was willing to try again and ended up married with six children!
On Adam and Danielle Busby's blog, "It's a Buzz World," the latter recalled how the couple fell in love. Their first date was a dismal failure that put Danielle off, but fate had other plans.
In 2003, the would-be couple met while working together in a Target store for months when Adam found the courage to speak to Danielle. His first words to his future wife were to hit on her.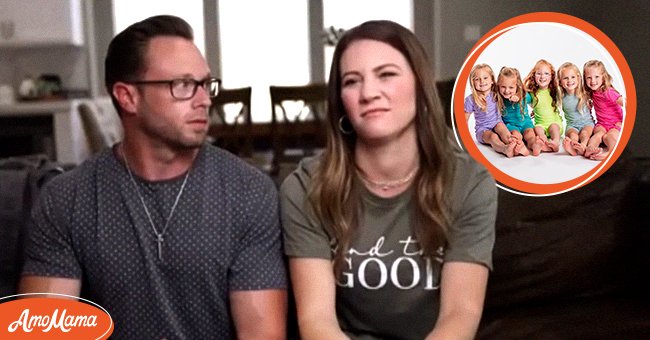 Adam and Danielle Busby during an interview with Entertainment Tonight on March 31, 2021, and the couples' quintuplets in an Instagram image shared on May 5, 2021 | Photo: YouTube/Entertainment Tonight | Instagram.com/adambuzz
THEIR FAILED FIRST DATE
After a few weeks, Adam and Danielle started eating their lunches together, and he finally asked her out on a date. The plan was for Adam to pick up his date after work, and he called her when she got home.
He surprised her by sharing how he'd decided to hang out with his friends, and that phone call ended very quickly. Danielle was not impressed, recalling her thoughts as such:
"At this point I'm thinking, this guy…who does he think he is, ditching me…I'm done with him."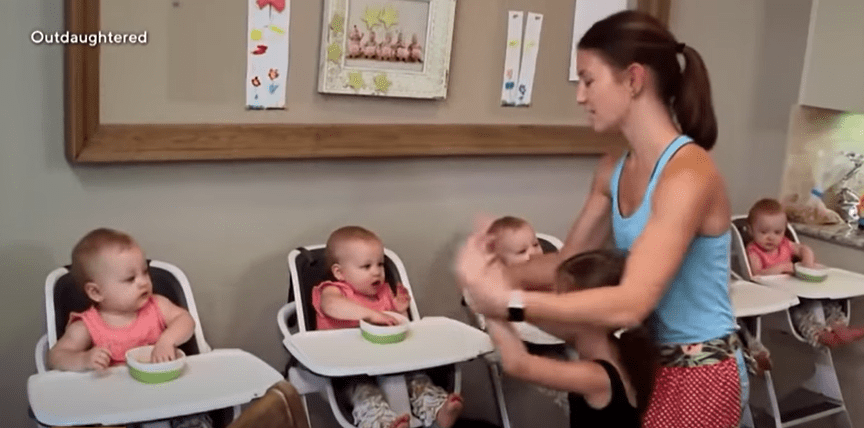 Danielle Busby with her daughter Blayke and quintuplets on their TLC show, "Outdaughtered," during an interview with Entertainment Tonight on March 31, 2021 | Photo: YouTube/Entertainment Tonight
THE SECOND DATE
Somehow, Danielle had some interest in Adam because they agreed to go on a second date for dinner at Casa Mañana.
This time he picked her up after he got off work but needed to go home to change first. Adam took Danielle to his parent's house without telling her that it was his family home!
BIZARRE MEETING WITH ADAM'S FAMILY
Danielle was left in the living room while her date went to change. She was forced to meet his parents and sister when they came in to question her. As they left for the date, she found out Adam's family was coming along!
It happened to be his sister's birthday, and the family was heading out to dinner. Strange enough, Danielle still went, and later that evening, Adam asked her to be his girlfriend, and she agreed!
THE ENGAGEMENT AND WEDDING
After dating for two and a half years, Adam asked his girlfriend what she wanted for her birthday. Danielle asked for either a bracelet, necklace, or a ring for her right hand.
Adam surprised her by buying an engagement ring and proposing in a romantic setting the day after her birthday! The couple ended up tying the knot six months later with a small ceremony on April 5, 2006.
BECOMING PARENTS
The "OutDaughtered" reality stars struggled with fertility issues. Danielle had irregular ovulation, and her husband's sperm count, testosterone levels, and motility were low.
Blayke, their oldest daughter and child, was conceived through artificial insemination after the sixth cycle. To get pregnant for the second time, Danielle took a drug, Femara, that was used to treat infertility in women.
PREGNANT WITH QUINTS
After a couple of months of trying, the TLC stars received a positive test, and Danielle's fourth ultrasound showed they were pregnant with quintuplets! But it came with some challenges.
The five children [the Busby quints] became the first set of surviving quint girls in the US.
Doctors asked the happy parents to reduce the number of babies to give the remaining ones a chance to survive, but the Busby's could do it. By then, little Blayke was already three years old.
QUINT SCARES
The quints were born prematurely and spent several months in the NICU. However, the Busby's had to deal with their daughter's having heart murmurs, but the issue was treated immediately.
Danielle was only able to hold one of her daughters after a week. While being interviewed by Hoda Kotb on the "Today" show in April 2015, Danielle described the emotional experience, saying:
"It was an emotional downpour.''
The five children, Olivia Marie, Ava Lane, Hazel Grace, Parker Kate, and Riley Paige, became the first set of surviving quint girls in the US. They've all grown into healthy little girls, and fans can follow their journey on the family's reality show.
Please fill in your e-mail so we can share with you our top stories!