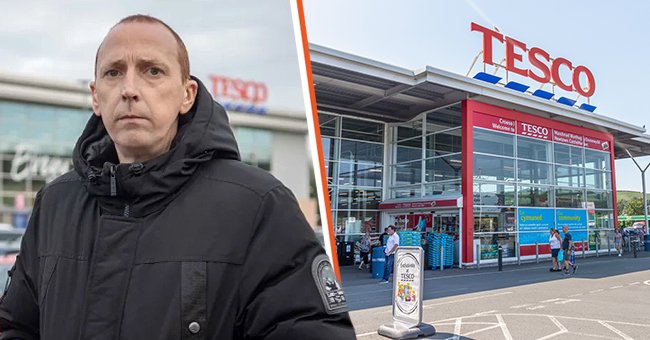 twitter.com/TheSun | Shutterstock
Terminally Ill Dad Says He Was Banned from Entering a Supermarket to Collect Vital Medication
A terminally ill father, Kirk Bishop, and his fiancée had their day ruined after a security guard of a Tesco store prevented the former from getting vital medication due to suspicion of shoplifting. Here is the whole story.
A former carer, Kirk Bishop, was prevented by a security guard at a Tesco store in Hednesford, Staffordshire, while attempting to collect important medication.
Last month, the sick man was diagnosed with stage four kidney cancer. On December 7, around 6 pm, the father of four visited the store to pick up drugs but received a terrible surprise — he was accused of being a thief.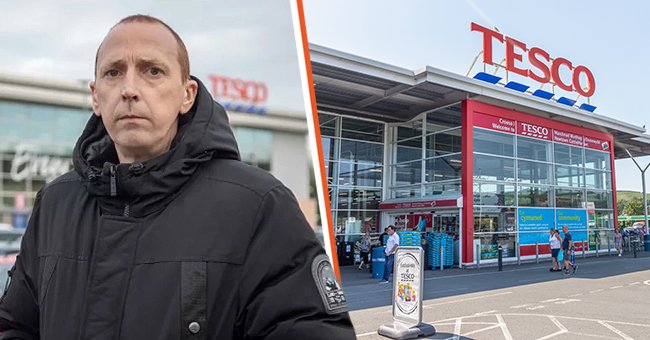 A picture of Kirk Bishop having an interview in front of Tesco [left] and the entrance of a Tesco store [right] | Photo: twitter.com/TheSun
Bishop, present with his fiancée Elizabeth Larner, said he was surprised to be told that he was banned from the store. He told a reporter that he was stunned and could not fathom what the guard was saying. When asked why Bishop was banned, the man said someone had identified him as a shoplifter.
Bishop described the accusation as "totally ridiculous" as he tried to explain to the security guard that he was innocent and was not wanted by the police for anything.
Larner, who was already furious about what was happening, explained that they frequently shopped at that supermarket without any issue.
In addition, Larner said she tried explaining to the guard that her man had terminal cancer, but he paid no attention and insisted on Bishop leaving.
The spokesperson also relayed that they were investigating the incident with their security guard agency.

A netizen's comment on the viral post | Photo: Facebook/thesun
The couple insisted on seeing a manager and then asked for an immediate apology when he arrived, but none was forthcoming. Angry, the pair forgot about their shopping and stormed out of the store, noting that they would never shop there again.
She explained that her fiance was very ill, and it was the last thing they needed in their lives after everything they had been through as a family in the past few weeks.

A netizen's comment on the viral post | Photo: Facebook/thesun
Also, it was a supermarket where they had shopped many times, and for Bishop to be accused publicly was very embarrassing. Larner said they were upset and needed an apology from Tesco.
The news eventually got to the ears of heads of the store, and a spokesperson for Tesco apologized to Larner and Bishop for the inconveniences.
The spokesperson also relayed that they were looking into the incident with their security guard agency and would love the couple to return to the supermarket to receive a proper apology.

A netizen's comment on the viral post | Photo: Facebook/thesun
Since its occurrence, Bishop and Larner's story has gone viral. It was shared on the official Twitter page of The Sun and has received a few likes, retweets, and a comment.
Please fill in your e-mail so we can share with you our top stories!