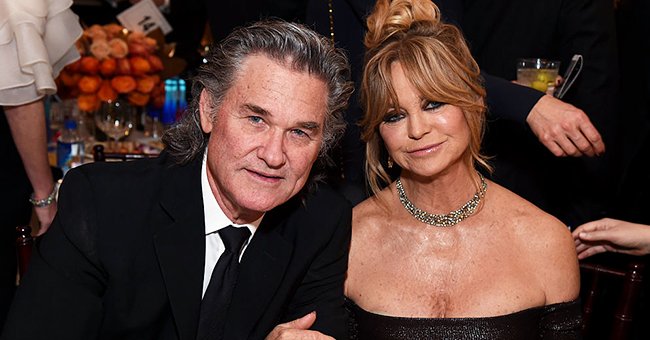 Getty Images
Kurt Russell Took over the Role of a Father to Goldie Hawn's Kids after Their Biological Dad Abandoned Them
Kurt Russell's ability to perform great in any role set him apart from his peers. He is no longer a frequent face on the big screens these days. Russell is a great father, and he inherited Goldie Hawn's kids when their biological dad abandoned them.
Kurt Russell has been around for a long time. He was a former child star who began his acting career in the Elvis Presley film "It Happened at the World's Fair" that earned him an Emmy nomination and "The Travels of Jamie McPheeters."
Born in Springfield, Massachusetts, to an actor dad, Russell inherited the acting genes and was so passionate about the craft that he secured a 10-year contract with Walt Disney.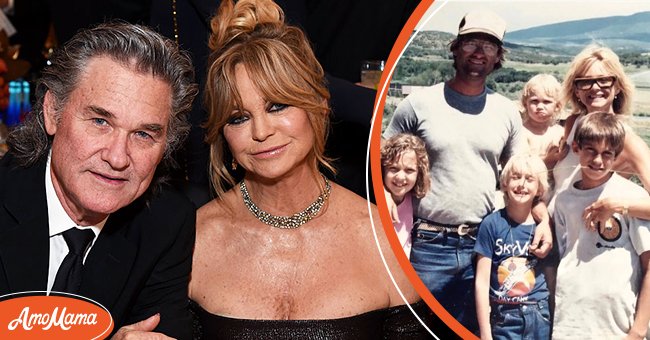 Kurt Russell (L) and Goldie Hawn attend the 74th Annual Golden Globe Awards at The Beverly Hilton Hotel on January 8, 2017 [left] Kurt Russell and Goldie Hawn together with their four children Oliver, Kate, Boston and Wyatt [right]. | Photo: Getty Images
During this time, he starred in a host of productions, including "Follow Me, Boys," "The Computer Wore Tennis Shoes," "The Barefoot Executive," and "The Horse in the Gray Flannel Suit."
Simultaneously he showcased his love for baseball, and like his father, Rusell was an impressive ballplayer in the minor leagues. However, in 1973, after sustaining a shoulder injury, he gave up the dream.
Russell focused on acting and transitioned from a child star to one of the most sought-after actors of his generation, appearing in hit movies like "Overboard," starring Goldie Hawn, and "Silkwood," with Meryl Streep.
The Academy Award nominee could take on any role; it did not matter if it was comedy, action, or suspense-filled. This versatility in showbiz is similar to his reality. Russell has been a beloved partner to TV icon Goldie Hawn for 38 years.
They share a son, Wyatt Rusell. Apart from being an excellent parent to their son, he extends the same degree of love and acceptance to Hawn's kids, who their biological dad abandoned. Here is everything about the perfectly blended pack!
THE LOVERS FORMER RELATIONSHIPS
At the initial stage of his success, the actor acted with Season Hubley in the Elvis Presley film when they were teenagers. But a few years later, they became romantically involved and married in 1979.
The couple's union was short-lived, and they welcomed a son, Boston, before parting in 1983. On the other hand, Hawn was also married to Bill Hudson after divorcing her first husband, Gus Trinkonis.
Bill and Hawn split in 1982. They were already parents to son Oliver and daughter, Kate. The actress was a single mother for a short time before luck came her way.
She decided to commit to Russell in the years that followed, and while they are yet to share wedding vows, their romance has flourished to a magical experience for them as lovers and parents to their kids.
THE GENESIS OF HAWN AND RUSSELL'S BOND
Hawn and Rusell did not connect the first time they met while working on "The Only, Genuine, Original Family Band" in 1966. The actor was a teenager and managed to gain the attention of 21-year-old Hawn, yet nothing happened.
Shortly after Russell's divorce in 1984, they featured in "Swing Shift." This time, he was older, so entering into a relationship was not a problem for either party. Two years after the romance kicked off, Hawn gave birth to their son, Wyatt.
The attraction was not instant, as Kate detailed that her mother became smitten when she brought the actor home and sat next to her kids. This impressed the mother of two, and she vowed never to be with another actor, which Russell also agreed to.
Decades after their only child was born, they maintained the quality of their relationship, supporting each other and working on films. In " Overboard, the lovers once showcased their romance as a married couple in "Overboard."
According to Hawn, watching the movie several years later made her remember why she fell head over heels for the younger actor. She said:
"You know how sometimes you forget why you fell in love? I remembered everything and why I fell in love."
LOVING HAWN'S KIDS LIKE HIS OWN
Undoubtedly, Russell had loved his partner's kids the first day he met them, not out of necessity to be with their mom, but due to his compassion for family, exemplifying his childhood lessons.
KATE HUDSON'S INTERPRETATION OF HER DAD
This fatherly affection is recognized and appreciated by Oliver and his sister. They waste no time in showing it online. When Russell turned 70, Hawn's only daughter shared a throwback with the entire family.
She celebrated the man she calls dad with a caption that outlined how many sacrifices he made during her childhood, adding that she loves him endlessly.
A few months later, she uploaded a father-daughter snap honoring him on Father's Day on her Instagram. She lovingly hooked his hands in an embrace and, as expected, raved about his qualities as an award-winning dad. She quipped:
"Our great loyal protector. Our dependable authentic captain. Our wild, sometimes untamed adventurer father! […] a childhood and adulthood of adventure."
OLIVER ALSO LOVES RUSSELL
Having a loving father was something Hawn's kids cherished, and Russell fit the shoes well. Even though he loved them, guiding them with advice, he was a unique disciplinarian!
Oliver recalled being arrested for shooting paintballs at adults during an interview. When the news reached home, Russell did not keep him grounded but asked the teenager to paintball his car and drive it around. According to Oliver:
"He has this philosophy where I knew what I did was wrong, so why ground me? Just destroy your car and you will have to drive it for as long as you have this car."
In the family? Yes! Despite his strict measures, the kids and Hawn are in awe of him. They also have a warm relationship with their kids. During quarantine, the family made new memories to last a lifetime.
IS BILL HUDSON IN THE PICTURE?
Sources claimed that Bill abandoned his family, which they have confirmed. For 2015's Father's Day, the former couple's firstborn shared an unusual post. It was a throwback photo of him and Kate, smiling as they stood next to their biological dad. The post read:
Kate responded to the post with another update featuring Russell. She celebrated him as a father. This saga continued as Oliver padded his page with praises to Russell.
Their pronouncements angered Bill, who has three other kids. He broke the silence and relinquished any affiliation to the siblings. The estranged father claimed that their posts were malicious, adding that they should denounce his name and add Russell's.
Furthermore, he admitted that Hawn served him the bad parent card after meeting Russell. She began talking badly about him to the kids and successfully planted hate in their hearts to have a perfect home with the actor.
Although it made him feel horrible, the father of five stated that it did not mean he was unwilling to resolve things with them. After Bill broke the ice, Oliver revealed that they resolved things after being estranged for twelve years.
He explained that the post triggered a conversation and only showed a dark sense of humor. Russell wasted no time backing up his lover's son, adding that the family worked to settle their differences.
HEAVENLY BLISS WITHOUT THE WORDS "I DO"
Although Hawn and Russell have waxed stronger over the years with four kids between them, they are not married. The actress talked about having failed marriages, hinting that their kids were the only good thing that came out of it.
So they resolved to live as a couple, but first, with blessings from their kids. Thankfully, the kids agreed to their standard of living. Russell said:
"We said if this is ever an issue, if the kids feel we need to do this, then we'll get married."
Since the 1980s, they have not headlined any controversial news in their relationship and have blended their kids well enough to care for and support each other, a legacy that will be passed onto their seven grandkids.
Oliver is a loving father to his two kids and an ever-present husband to his wife, while Kate, a doting mom, has three kids from three relationships. Russell's son, Boston, who lives a private life, shares a child with his ex-wife. Wyatt, the couple's only son, is a father to a child from his second marriage.
Please fill in your e-mail so we can share with you our top stories!