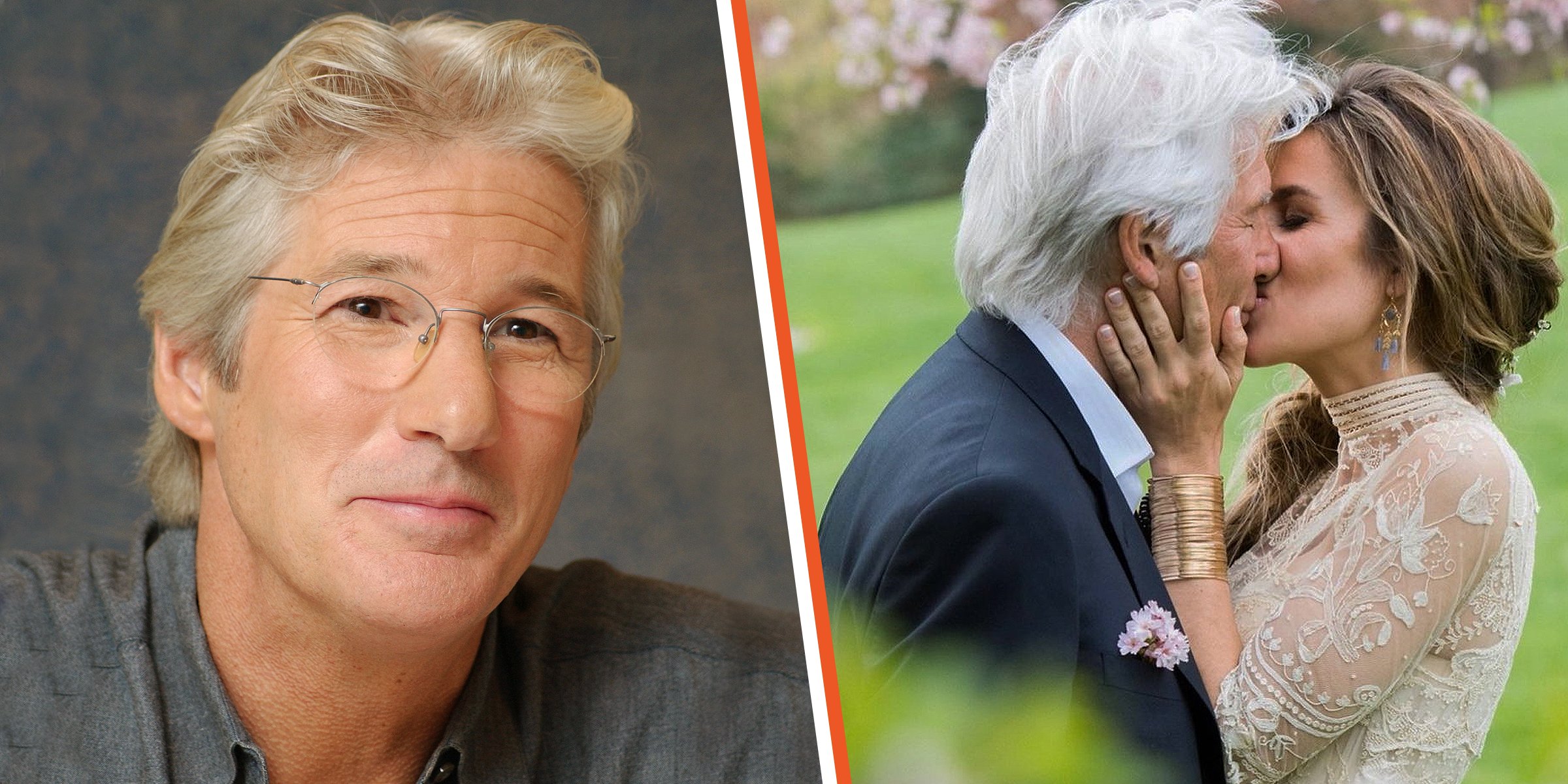 Richard Gere | Richard Gere and Alejandra Silva | Source: Getty Images
Richard Gere's Marriage to 33-Year-Younger Wife Who Once Slept on the Street Has 'Strong Karmic Energy'
The famous actor who has made a lot of money playing the heartbreak role in movies met his soulmate decades before their romance blossomed. Here are the details about her and their relationship.
After Richard Gere's first two marriages fell through, the actor decided he would no longer dabble in heart affairs or have more kids until he met that remarkable woman. His decision was easy considering how busy he's been as an actor.
Eventually, Gere realized he had finally found his soul mate and third wife, but after they welcomed their second child, he realized time was no longer on his side. Here is everything about the actor and his relationships: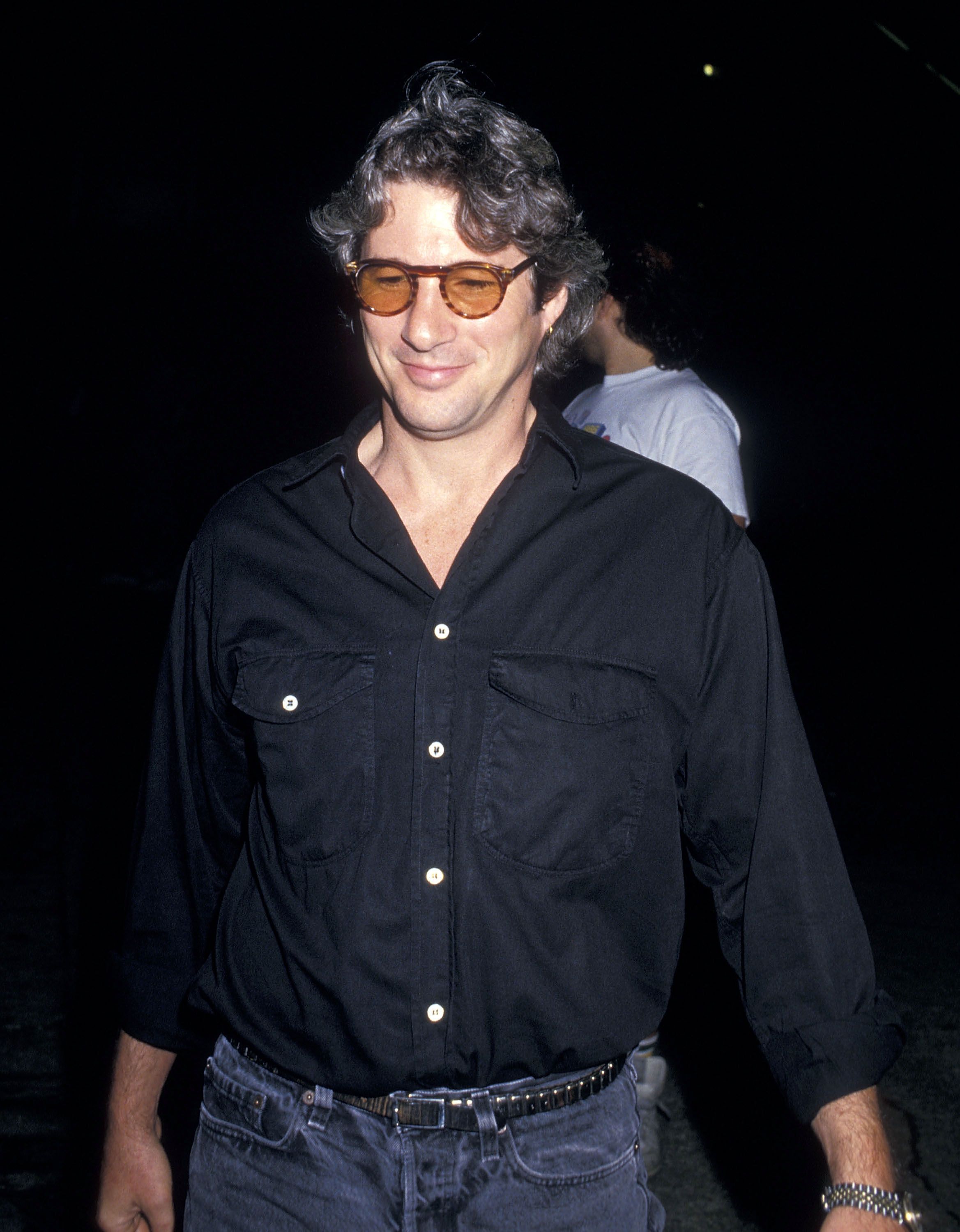 Richard Gere at a Madonna in concert for the Who's That Girl World Tour on July 13, 1987. | Source: Getty Images
Who Is Gere's Wife?
Gere was first married to a supermodel named Cindy Crawford from 1991 to 1995. After that relationship ended, the handsome actor tied the knot with Carey Lowell, and she welcomed his son, Homer.
The two, who tied the knot in 2002, enjoyed marital bliss for several years, but in 2013 they split up, and three years later, the contentious divorce was finalized.
Gere found love again in 2014 when he got reunited with Alejandra Silva and started dating. The couple tied the knot in a quiet ceremony in April 2018.
The couple shares several things in common, including their religion and deep love for humanitarian work. In fact, Silva is a Spanish activist who runs Rais Fundacion, an outfit working hard to outlaw homelessness in Spain in five years.
The socialite is very passionate about her work and has even admitted to sleeping on the street just to experience what the homeless feel.
Given the huge age gap between Gere and Silva, some would expect there to be some friction, especially since he's a Hollywood star.
However, Gere once revealed that because of their Karmic energies and how well they blend together, all the problems that could have threatened their relationship have disappeared to leave only their love burning bright as can be. He said:
"Our karma was attracted the moment we saw each other. I'm not ignoring our age difference and what it means to be with a Hollywood star, but when there's such a strong karmic energy, the problems disappear."
On the topic of love and how important it is to him, he said: "Who isn't it important to? I think that the whole world deserves to live with love, in all its meanings… So, yes, love is fundamental to my life."
As far as her history is concerned, Silva has a pretty impressive one. She entered her relationship with Gere with a son named Albert, who she shares with her former husband, Govind Friedland.
The couple was in a married relationship from 2012 till 2015. Friedland, a geologist, is the son of Chicago-born mining billionaire Robert Friedland whose company is valued at about $350 million.
Their divorce was reportedly handled in a "very civilized and very cordial way." Given her background as an elite in Spain, it is not surprising that Silva hooked up with such a person.
Her father, Ignacio Silva Botas, is a successful businessman who also served as the VP of the famous soccer club Real Madrid. The man moved his family to Madrid when his daughter was still young, so she got to attend the best institutions in the city.
Because of her father's affiliation to Real Madrid, she also established good relationships with some of the players, and at some point, she even got involved with famous footballer Roberto Carlos.
The publicist once opened up about how she had been lost before he came along to show her the light and her true path.
She Was a Teenager When They Met
Gere and Silva first met more than a decade before their marriage; At the time, Silva had been a teenager, and Gere had borrowed a boat from her dad to shoot a TV ad.
He became a family friend, but when they met again, she had become a woman, and he had been in search of his soul mate.
Silva, who thinks the universe has been conspiring to keep her and Gere together, said they were immediately attracted to one another when they reunited.
It didn't take long for them to figure out how right they fit, but they chose to keep everything under wraps until 2015 when they were pictured getting all lovey-dovey in Sicily — where they attended the Taormina Film Festival.
They seemed to be very much into each other, but it took years before they decided to commemorate their bond with a wedding ceremony.
The romantic affair went down in a ranch Gere owned, and they later kept the celebration going in May when they hosted a wedding party on Cinco de Mayo at Gere's estate in Pound Ridge, New York. Speaking about her favorite things about the actor, Silva said:
"What I love most about him is his humanitarian side. He's a very empathetic person."
Their Life Now
Silva loves Gere for plenty of reasons, some of which have already been mentioned. However, another factor contributing to how deep that love is has to do with what he's done for her.
Indeed, the publicist once opened up about how she had been lost before he came along to show her the light and her true path.
The couple welcomed their second child in 2020; they silently moved into a luxurious mansion he bought secretly that same year.
News of the pregnancy was revealed when Silva shared a photo of herself, heavy with their first son, visiting the Dalai Lama alongside Gere, who is a longtime friend of Tibet's exiled spiritual leader, Dalai Lama.
The arrival of their second child was a cause for joy, but it has also reminded Gere of how quickly his time is running out. Having had his second child at 70, the actor, now 73, is concerned he may not live to see his kids grow up.
When they had their first kid, he became aware of how difficult it would be to raise a young one, but that didn't stop him from making another baby with Silva, whom he promised at least 20 good years.
Despite his age, Silva says he keeps her on her toes, and sometimes she finds it hard to keep up with him, so hopefully, the talented man still has a couple of decades left to live.
Please fill in your e-mail so we can share with you our top stories!