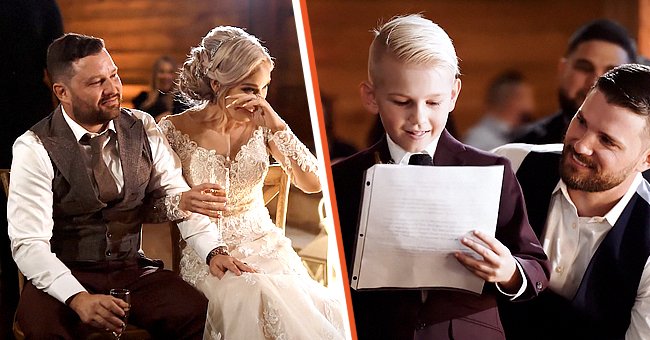 Dad Asks Young Son to Be His Best Man and He Gives the Sweetest Speech at the Wedding
After being asked by his dad to be his best man, young Jaden gave the most heartwarming speech at his parents' wedding. Continue reading to find out what the little boy said.
Choosing the maid of honor and the best man wisely at a wedding is essential. Usually, these two are the couple's best friends or closest siblings. Their roles are crucial because they give out a toast to the newlyweds most of the time. So, it must be someone who knows them from the heart.
On November 20, 2020, Bryan had a unique choice for his best man: his little son, Jaden. The child stood behind his dad as he watched him emotionally exchange vows with his mother, Whitney. The beautiful moment was captured by BSR wedding films and shared on YouTube.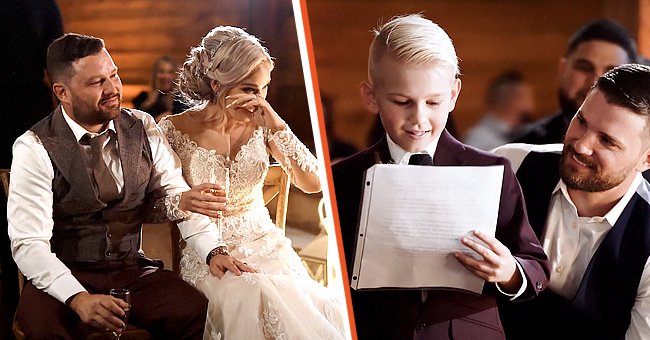 Bryan locking arms Whitney as they get emotional when listening to their son's speech [left]; Jaden reading the most heartwarming speech at his parents' wedding [right]. | Source: youtube.com/BSRWeddingFilms
BRYAN AND WHITNEY'S BEAUTIFUL WEDDING
The occasion, which occurred at Classic Oaks Ranch, Mansfield, saw the couple say their nuptials in front of a small crowd. The witnesses, alongside the groom, were filled with emotions as they watched Whitney walk down the aisle in the company of Jaden.
Afterward, the couple said their vows, recounting all the beautiful moments spent together and deciding to be intentional about raising their son. They promised to love, cherish each other and raise a happy family for the rest of their lives.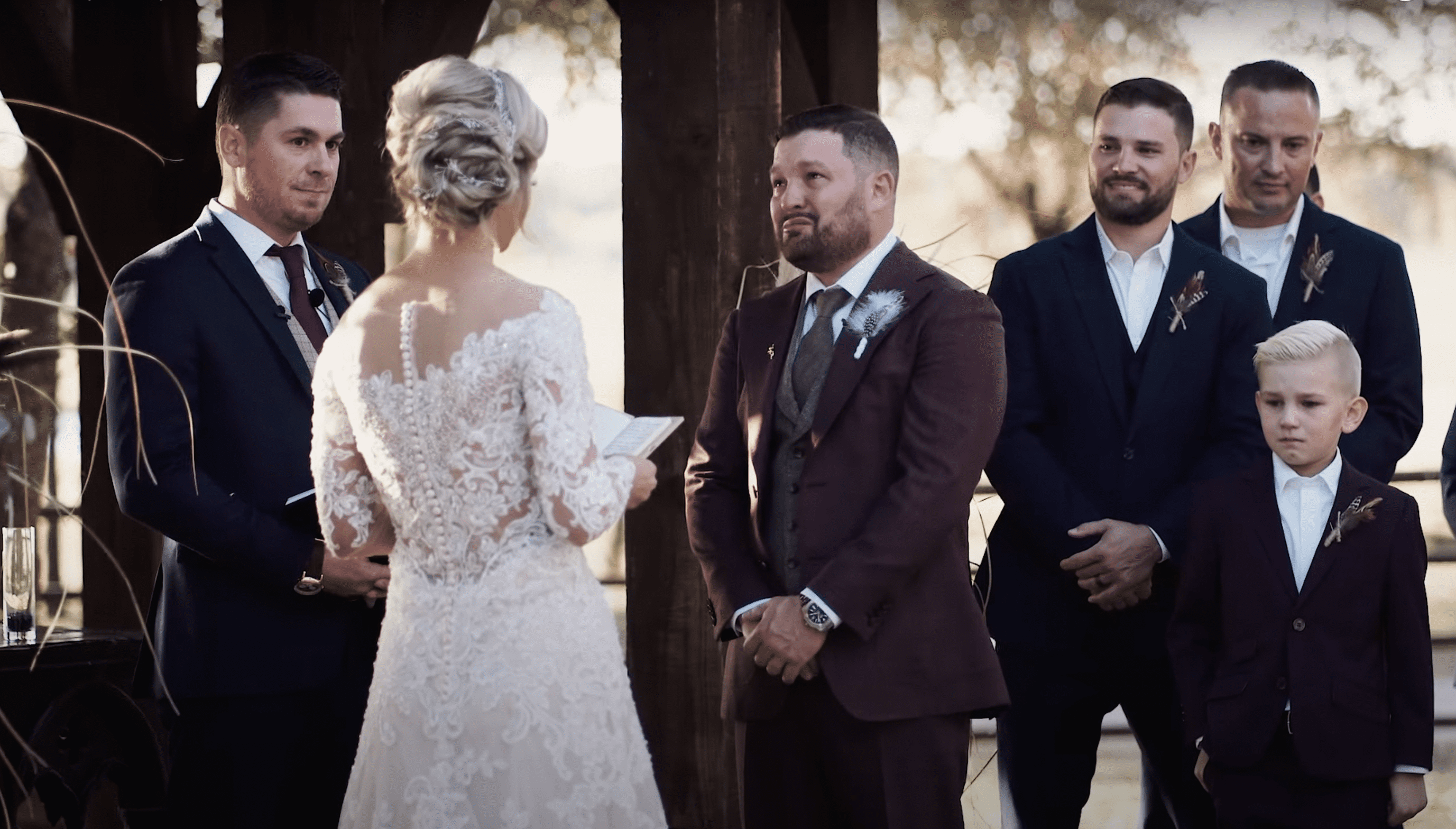 Bryan filled with emotions as his wife, Whitney read out her vows to him. | Source: Youtube.com/BSR Weddings Films
JADEN MELTS HEARTS WITH HIS WORDS
Since the video was shared on YouTube, it has garnered about 366,000 views, 19,000 likes, and almost 300 comments. The subscribers are hopeful that the couple's union will last a lifetime.
At the reception, Jaden gave a sweet speech that captured many hearts. In the boy's words:
"Hi everyone, I'm my dad's junior best man. I want to thank you all for being here today to celebrate my mom and dad. I wanna start by saying to my mom, I think you look so pretty. I love that we are goofy together, and you can throw the baseball really hard."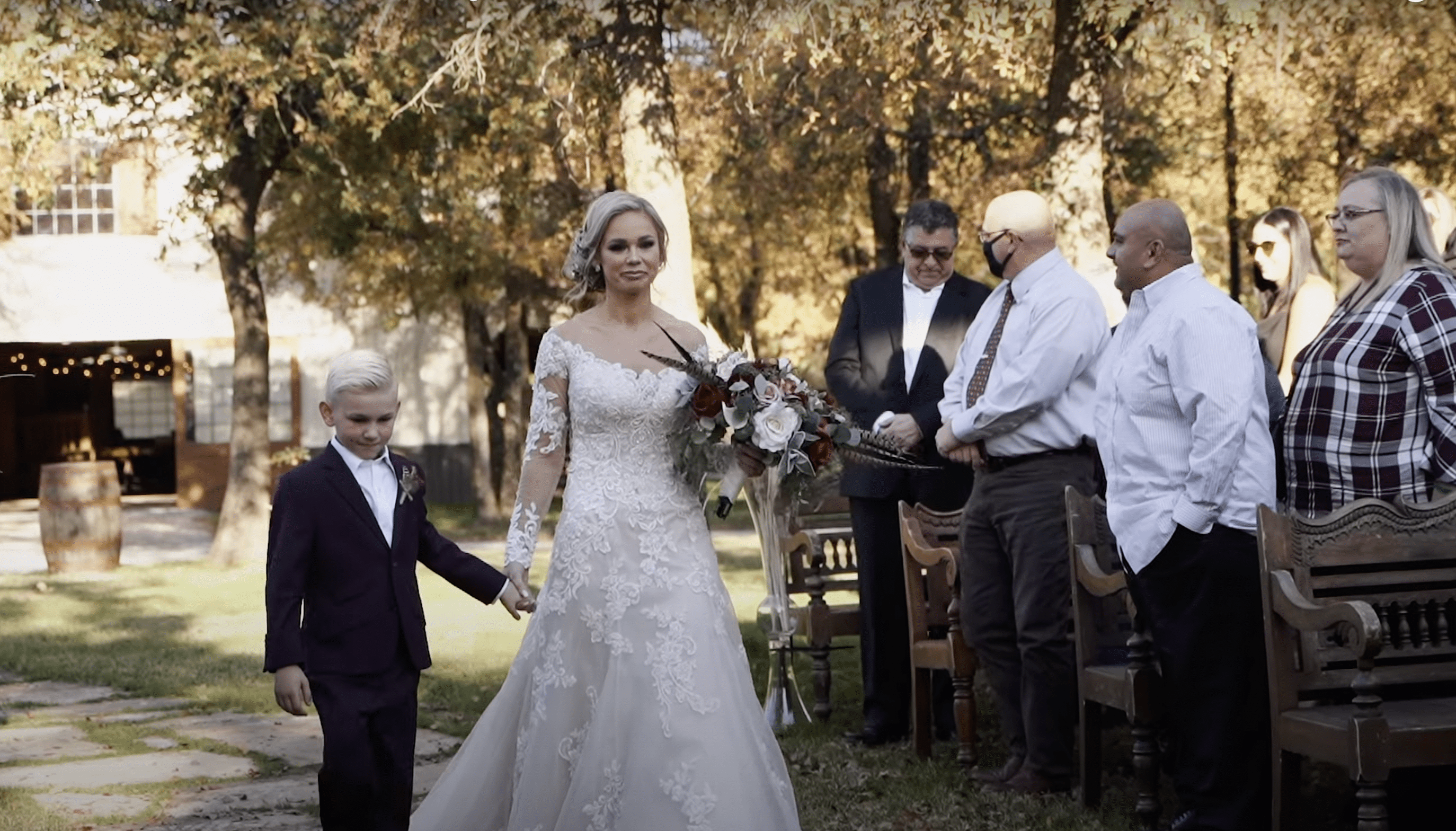 Whitney walking down the aisle while holding hands with her son, Jaden. | Source: Youtube.com/BSR Wedding Films
Furthermore, Jaden was grateful to have Whitney as his mother because she was very caring and available at all times. Speaking about his dad, the little boy said:
"When my dad asked me to be his best man, I thought it meant being his sidekick, and after he told me what it was, it made me feel special. My dad spoils me with video games, and we like to rough house in the living room."
Above all, Jaden loved his dad because he was as caring as Whitney. The young boy said he was excited about the wedding because he hoped to have a baby brother.
Also, Jaden noted that his parents had a lot of love and care. He concluded his speech by saying:
"I'm glad we are happy together. I love you guys."
VINCENT'S UNFORGETTABLE WEDDING SPEECH
In 2014, netizens witnessed a similar sight when Nick Del Bono asked his seven-year-old son, Vincent, to be his best man. Naturally, the little boy was excited about the role and prepared a three-page speech.
When the special day finally came, the little fellow walked confidently to the stage, held the microphone, and gave one of the sweetest speeches. He left the guests in stitches as he recounted funny details about his father.
Most importantly, the boy admitted that his father was a superhero. He gave a long list of the thoughtful things his dad had done for him. In conclusion, Vincent was happy to see his dad marry his stepmom, but he was most excited to welcome his baby brother.
Please fill in your e-mail so we can share with you our top stories!