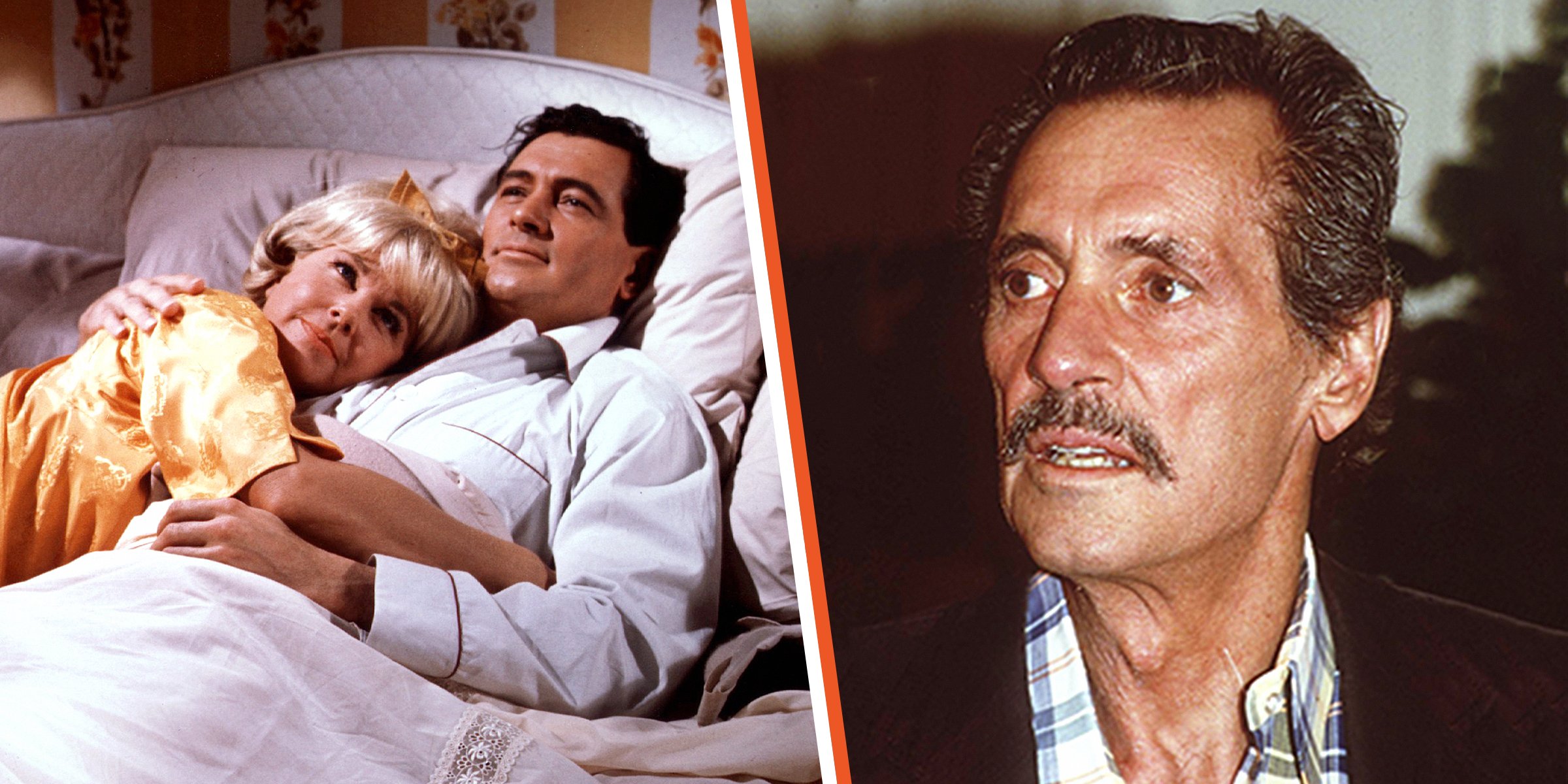 Doris Day and Rock Hudson | Rock Hudson | Source: Getty Images
Rock Hudson Visited Doris Day Before His Death While Hiding His Illness — The Actor's Final Months
Rock Hudson was married to a woman, but he had a huge secret that he was keeping while being portrayed as a heartbreaker heartthrob in his roles.
Before his death, he was ill and hid the illness from the media before it became public knowledge. His visit to Doris Day alerted the media of his condition. Months later, he died at 59.
Rock Hudson's birthname was Roy Harold Scherer Jr., and even though he did not excel academically, his charisma made him famous.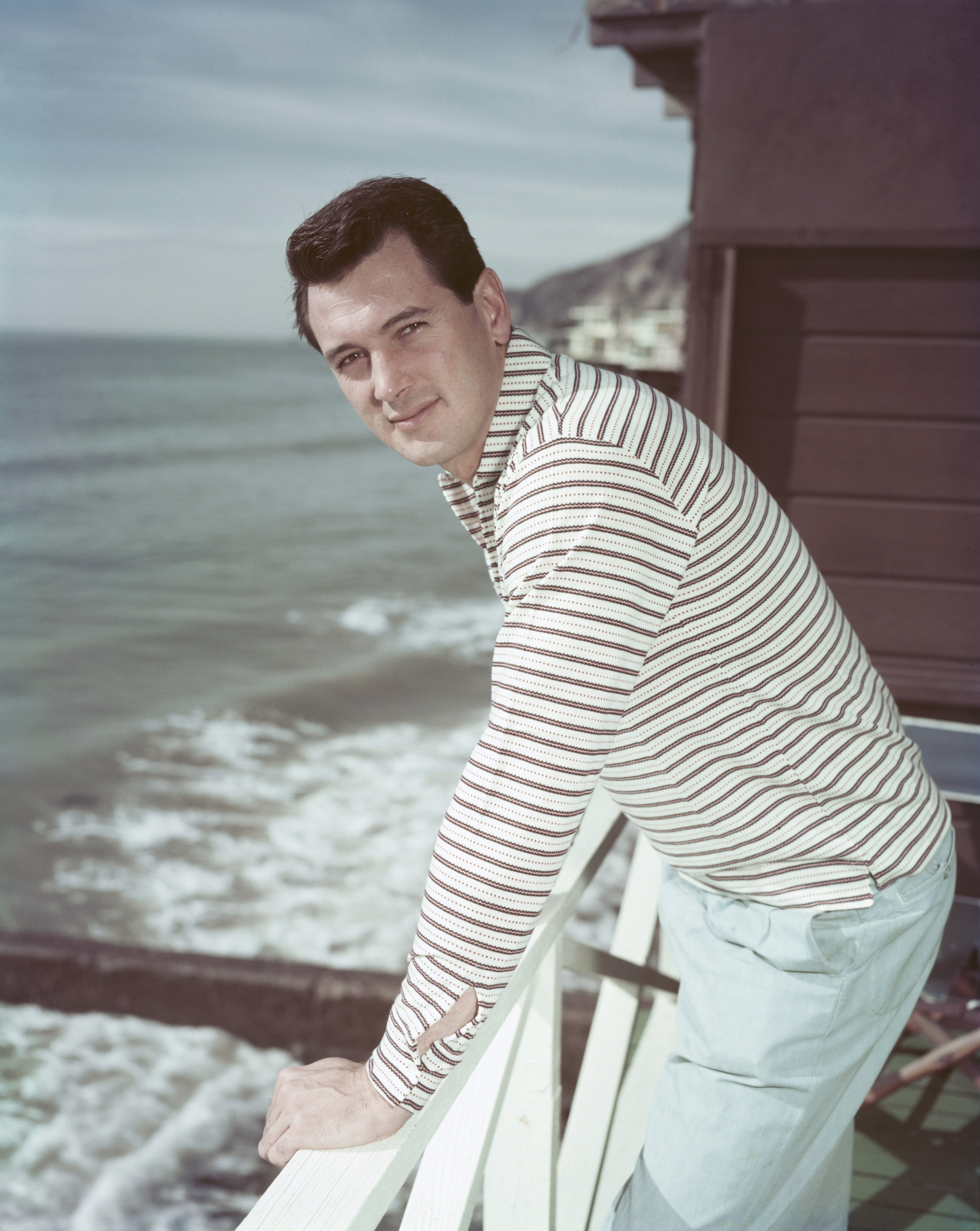 Rock Hudson posing on the deck of his Malibu beach house in 1958 | Source: Getty Images
He joined the U.S. Navy in 1944, and they discharged him in 1946. After his discharge, he moved to Hollywood to pursue an acting career with no professional training as an actor.
They began to notice him for his good looks and charm, and in 1947, talent scout Henry Wilson took Hudson on as his protégé and crafted the moniker "Rock" for the rock of Gibraltar and "Hudson" for the Hudson River.
Hudson broke into the business in 1947 and landed his first role in "Fire Squadron" with Warner Bros. In 1948, Universal Pictures bought out his contract with Warner Bros and offered him acting lessons.
He starred in "Magnificent Obsession," "Giant," "Pillow Talk," "Lover Come Back," "Send Me No Flowers," "Seconds," "Macmillan and Wife," "Dynasty," and more.
Rock Hudson posing for a picture while lying on the grass in 1955 | Source: Getty Images
HIS CLOSETED GAY LIFE & COVER-UP MARRIAGE
Hudson was married only once before his death. He married Phyllis Gates in 1955. She was his agent's secretary and has appeared in a few scenes in Hollywood as Willson's secretary.
In 1987, Gates released her book "My Husband, Rock Hudson." In her book, she revealed that she believed her marriage to Hudson was a love match because they lived together and dated before he proposed.
His friends revealed that the marriage was only a cover-up of a scandal that nearly happened over his sexuality. As he got older, everyone expected him to get married.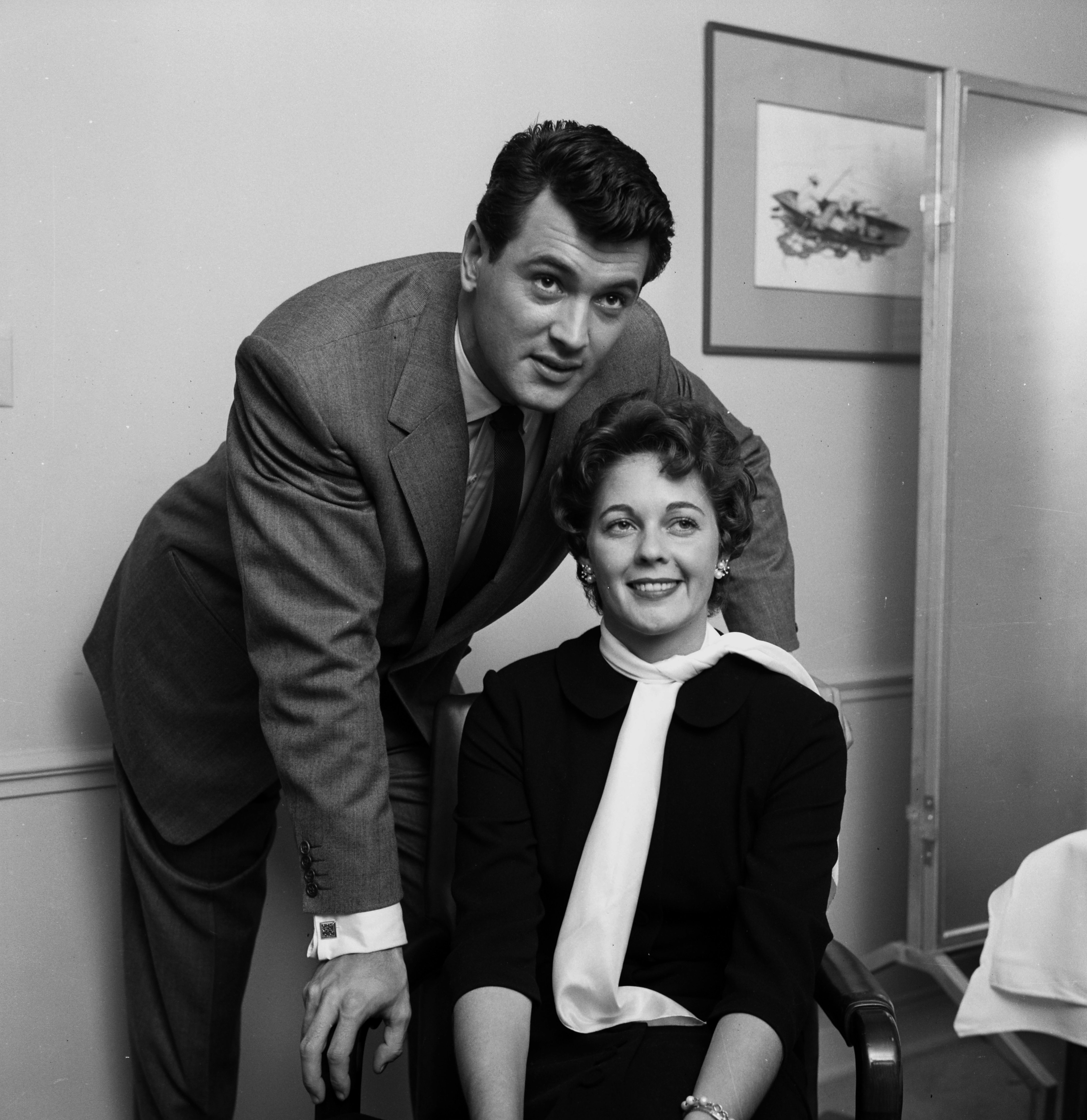 Rock Hudson and Phyllis Gates posing for a photograph at home in Los Angeles, circa 1955 | Source: Getty Images
After the scandal sheet of Confidential magazine threatened to expose Hudson's private life in the mid-1950s, the studio he was signed on to cut a deal that traded information on Rock for one on a lesser-known gay actor.
Hastily, they arranged a marriage ceremony between Hudson and Gates, and on November 9, 1955, they married at a courthouse two or three minutes before they closed to avoid reporters.
His lifetime friend and best man at the wedding, Jim Matteoni, recalled that they met Gates for the first time when Hudson was going to marry her.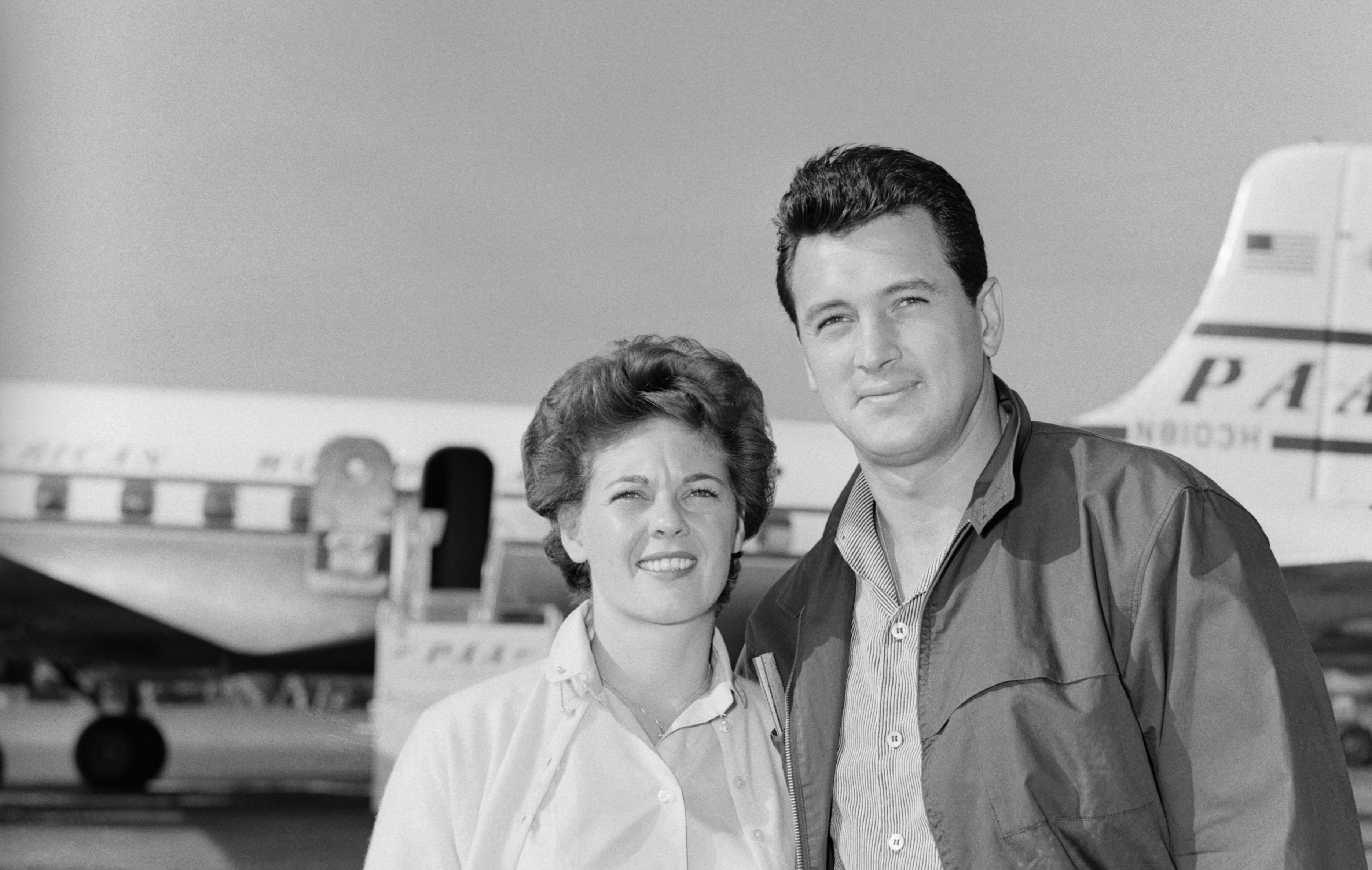 Rock Hudson and Phyllis Gates about to board a Pan American Clipper on the way to a honeymoon in Jamaica | Source: Getty Images
After the ceremony, they had to call one of the columnists to inform them. Less than three years later, the marriage was officially over, and no one knew what had gone wrong.
According to Hudson's friend Ken Maley, Rock and Gates were bitter that the studio had set up the marriage and promoted the wedding and the honeymoon.
Gates revealed to Irina Kirk, an author whom she wanted to ghostwrite her autobiography, that she was frustrated by her husband's lack of interest during the marriage.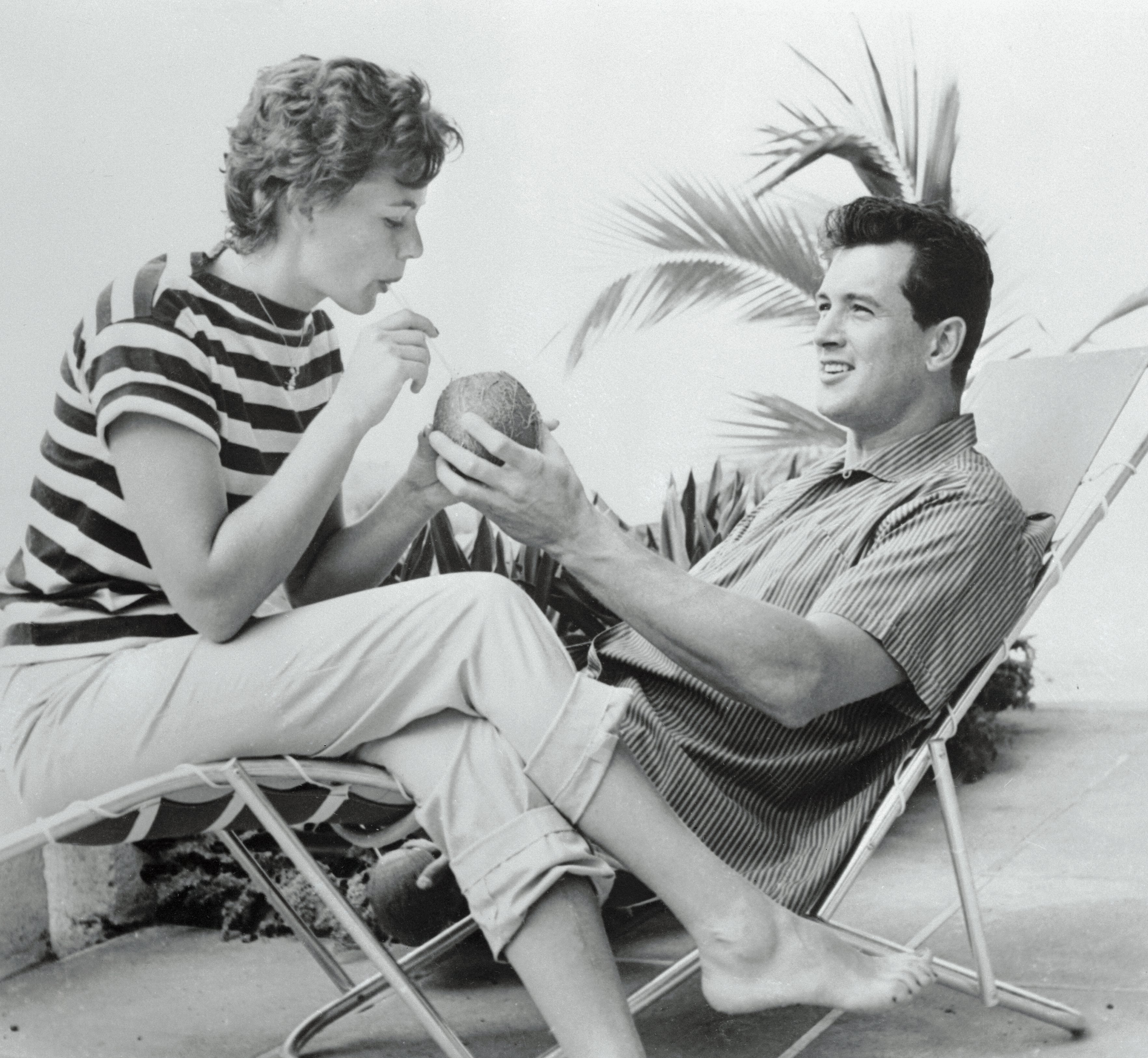 Rock Hudson and Phyllis Gates enjoying their coconut drinks while on their honeymoon in Jamaica | Source: Getty Images
She also consulted a psychiatrist to deal with the issue, and the psychiatrist ill-advised her to seduce her husband with frilly underwear.
On January 21, 1958, Gates confronted Hudson about his sexuality. She demanded to know if he was gay and accused him of picking up boys on the street.
His reply gave away his sexuality even though he denied picking up boys on the streets and bars. A detective Gates had hired to check on her husband secretly recorded their conversation.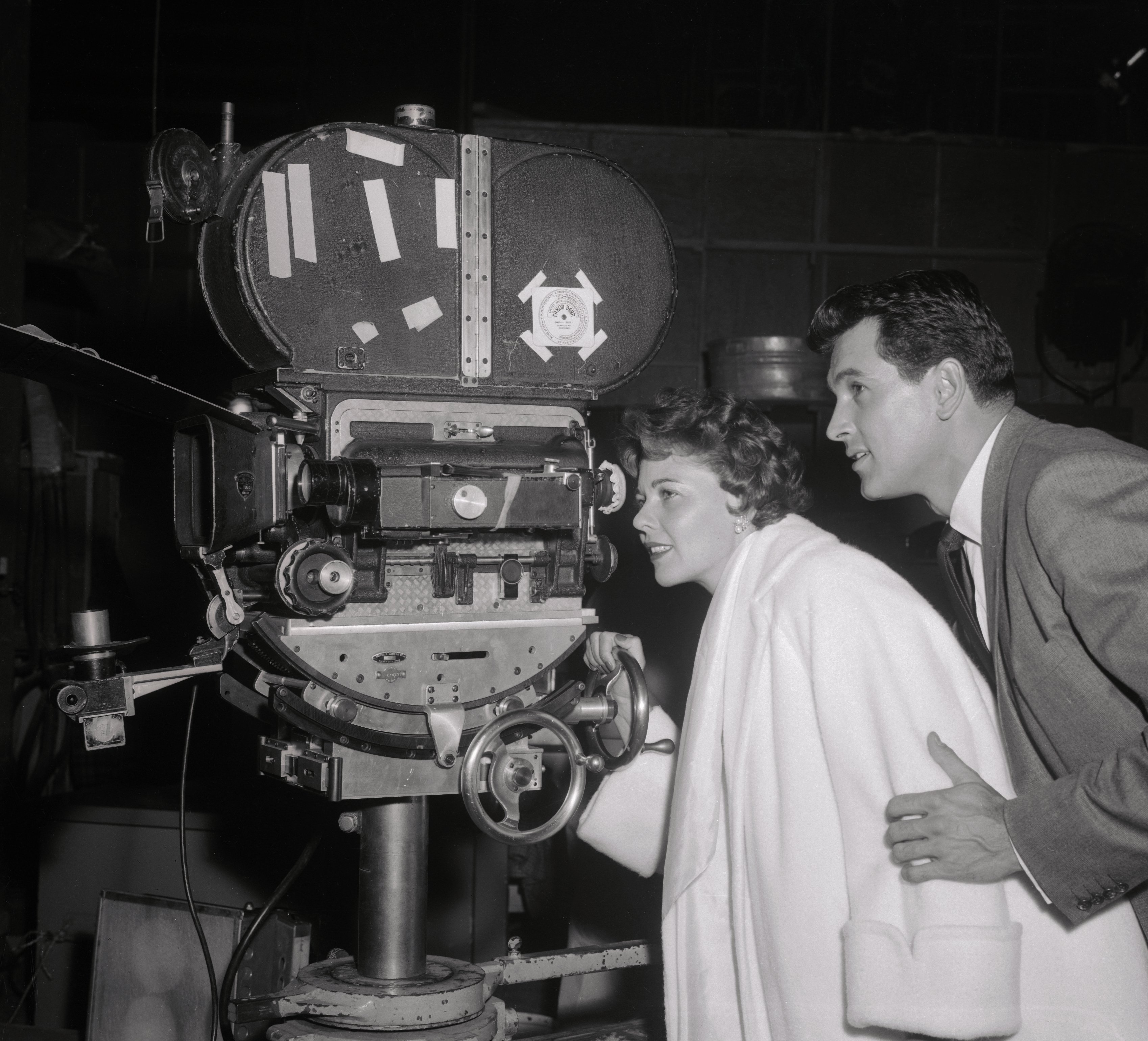 Rock Hudson and Phyllis Gates taking a look at the movie camera on the set of "Written on the Wind" | Source: Getty Images
When Hudson was away from Hollywood, he could openly go to some gay bars without getting recognized. He found a sanctuary in San Francisco and frequented gay discos with friends, unrecognized.
Due to his confidence in himself, San Francisco writer Armistead Maupin encouraged him to go public about his sexuality, and he rejected the proposal for business and personal reasons.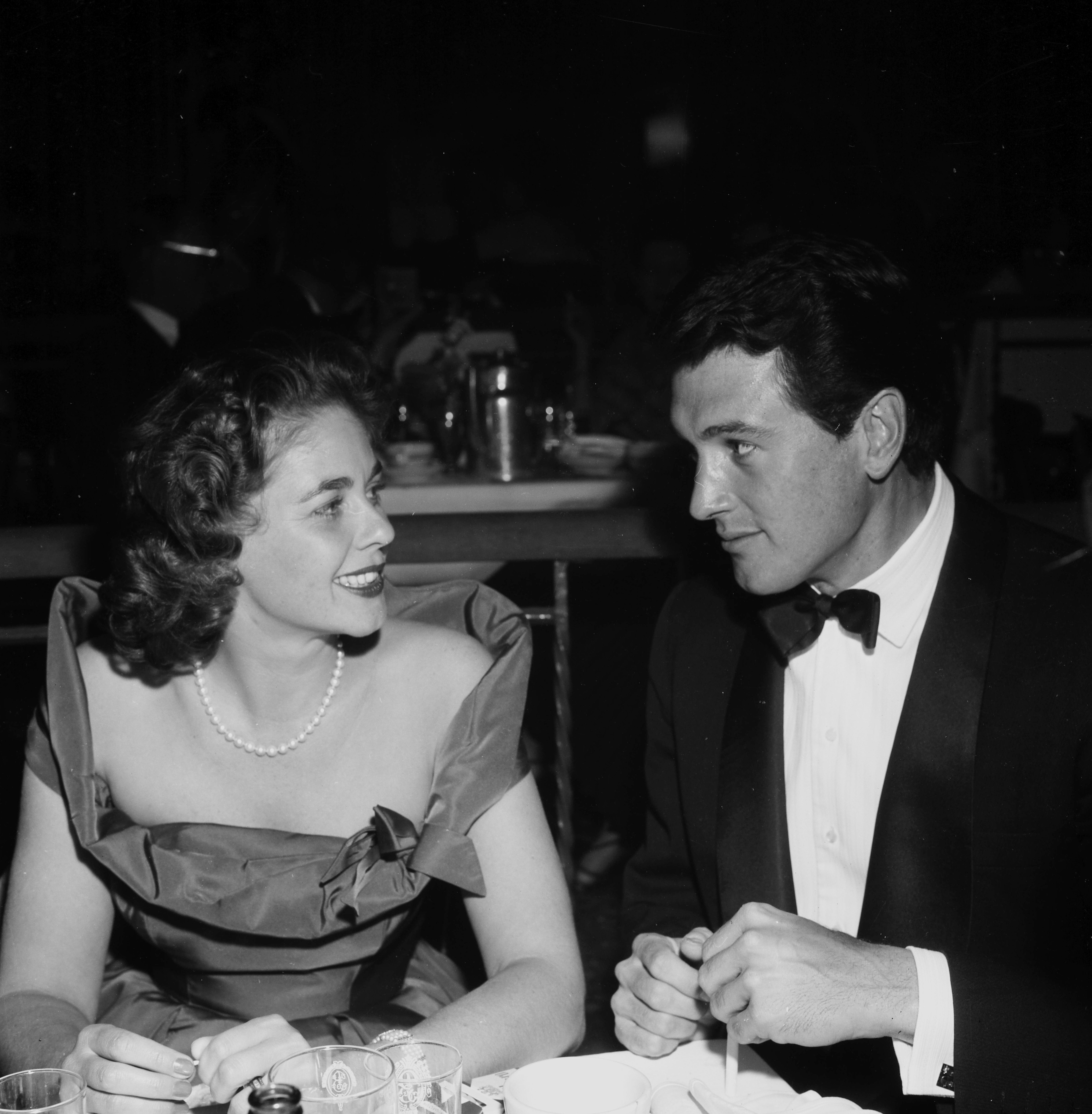 Rock Hudson and Phyllis Gates at the Screen Directors Dinner on February 2, 1957, in Los Angeles | Source: Getty Images
After Hudson discovered he had AIDS, he sent letters to his former lovers informing them of his condition as he wanted them to go to their doctors for a check-up.
Even though he had sent the letters anonymously through one of his closest friends, George Nader, one of the letter's recipients guessed the correspondent's identity, sold his story to one of the tabloids, and died six months later.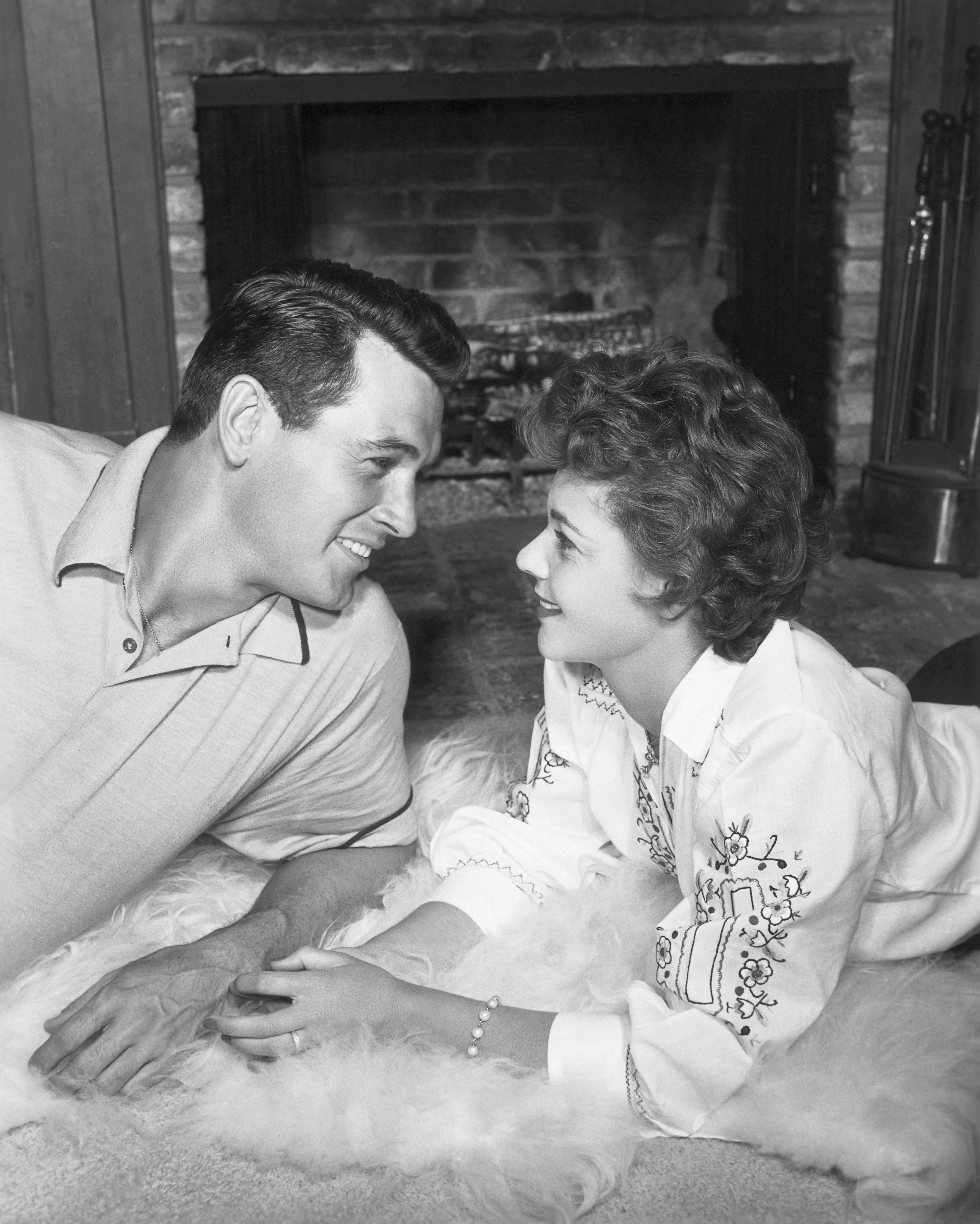 Rock Hudson and Phyllis Gates posing for a picture less than a month after they married in their honeymoon house in Hollywood | Source: Getty Images
Doris Day and Hudson first met in 1959 on "Pillow Talk." In 1985, he kept his promise to her when he appeared on her variety show even though he kept his illness a secret.
However, his health deteriorated fast, and his emaciated appearance alerted the world to his failing health before making his AIDS diagnosis public.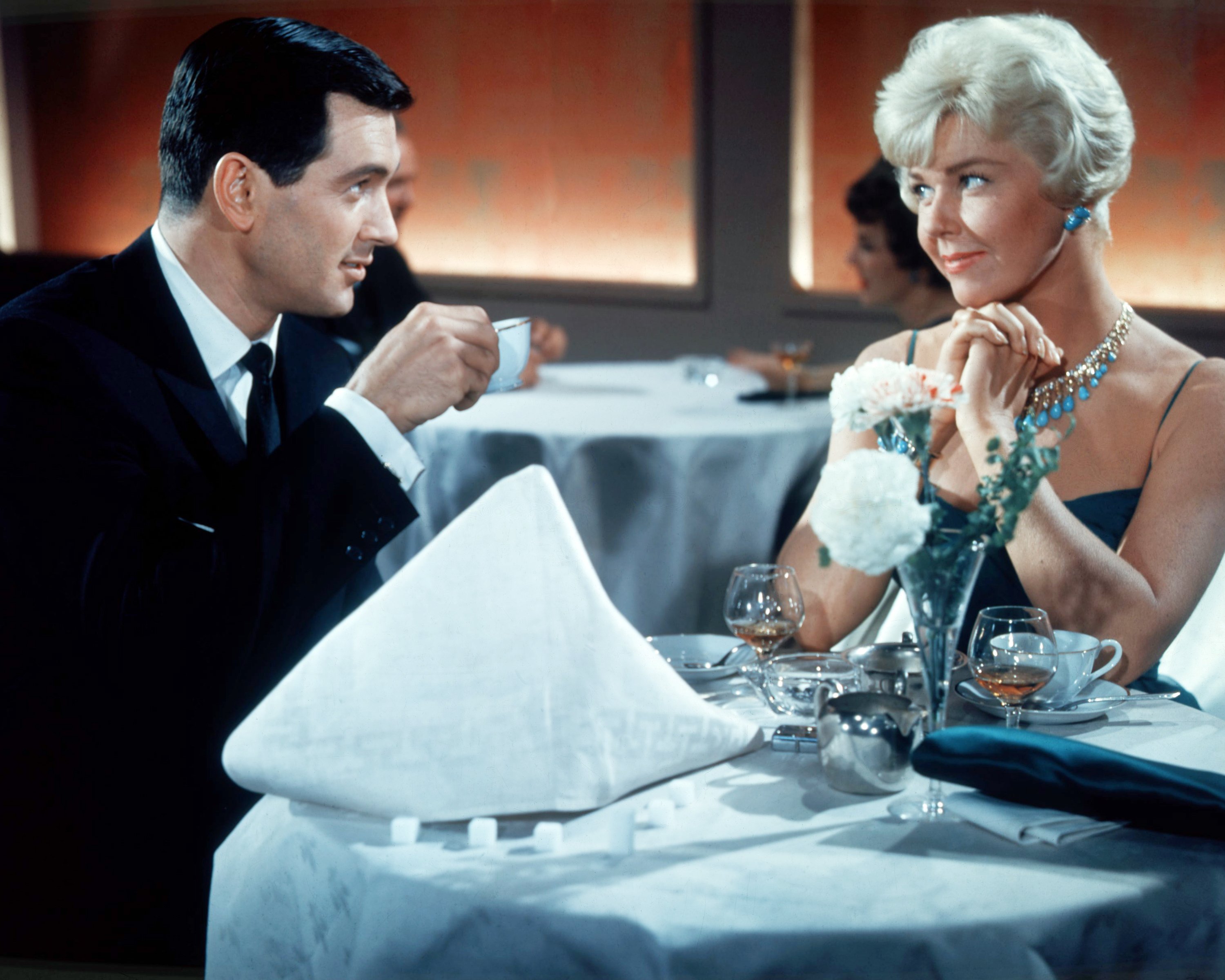 Rock Hudson and Doris Day on the set of "Pillow Talk" in 1959 | Source: Getty Images
After the show with Doris Day, friends revealed that Hudson hated that everyone thought he looked 'old' on the show. When Day saw him, she said,
"He was very sick. But I just brushed that off and I came out and put my arms around him and said 'Am I glad to see you."
She recalled that he would get so tired and weak. Day also said he couldn't eat even when she offered to feed him. When it was time to say goodbye, he hugged and held onto her while she cried.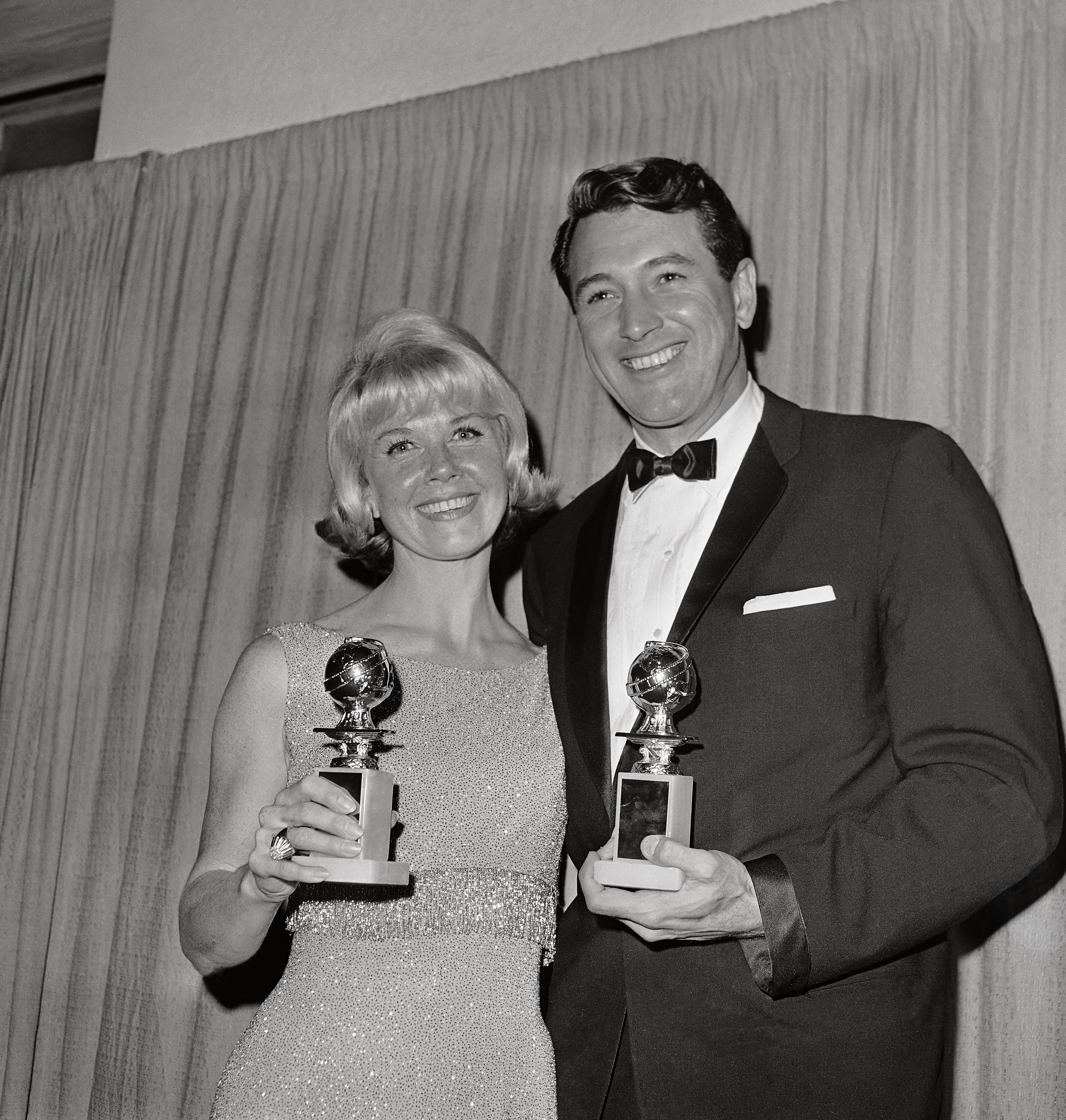 Rock Hudson and Doris Day pose for a picture after winning the Golden Globes | Source: Getty Images
FINALLY MAKING HIS DIAGNOSIS PUBLIC
On July 25, 1985, after his appearance on Doris Day's show, Hudson alerted the media about his condition after speculations that he had liver cancer.
After his announcement, he went on a trip to Paris, where he collapsed and spent eight days in isolation at the American Hospital.
When he returned to a Los Angeles hospital, it was in the dead of night. They had chartered a 747 jet, taken him out on a stretcher, and taken him by a helicopter to the UCLA Medical Center.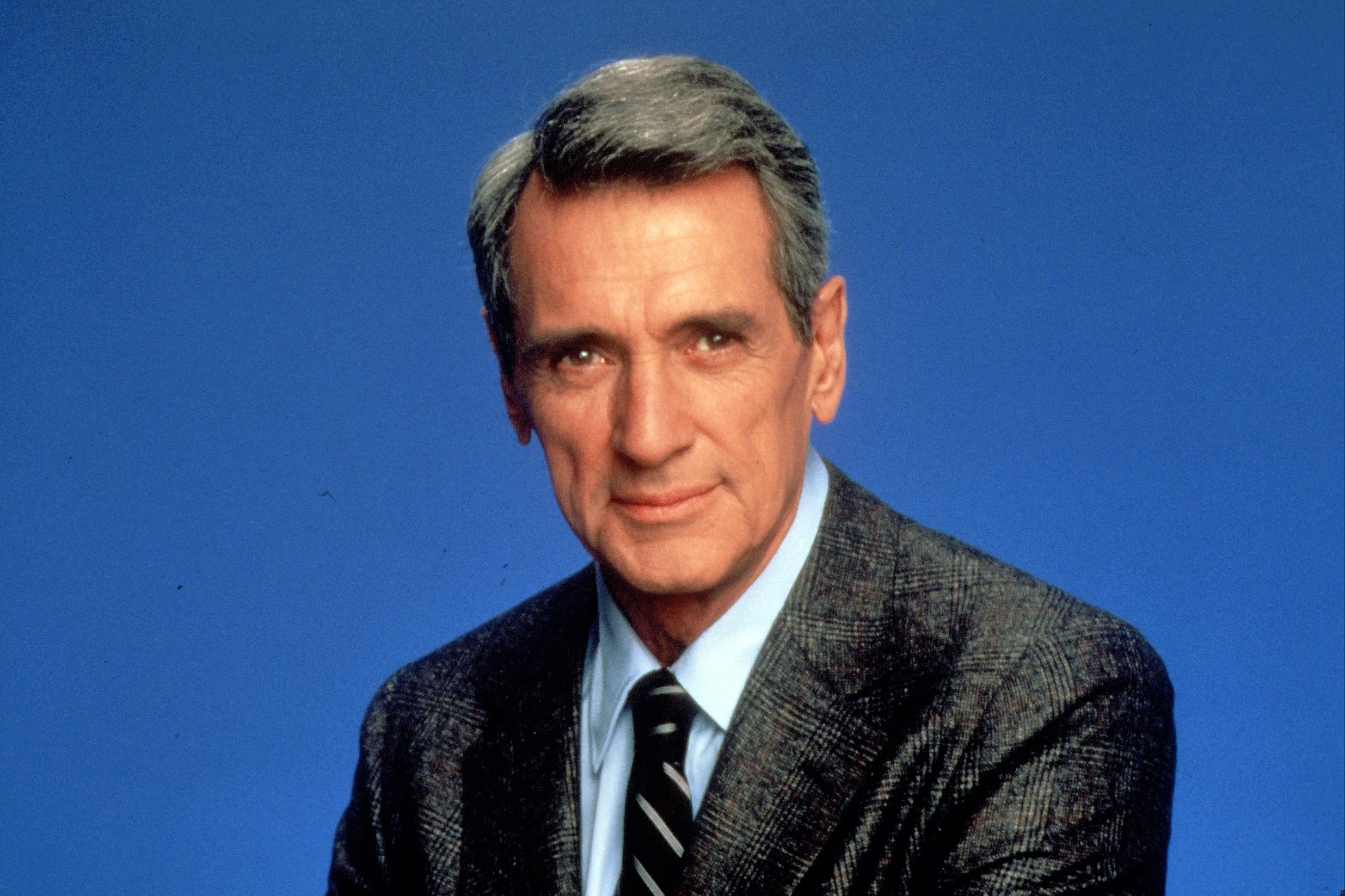 Portrait of Rock Hudson circa 1985 | Source: Getty Images
After his diagnosis, he had a message of hope which AIDS Project L.A. Chairman Peter Scott read years after his death. In his statement, he said,
"I am not happy that I am sick. I am not happy that I have AIDS, but if that is helping others, I can, at least, know that my own misfortune has had some positive worth."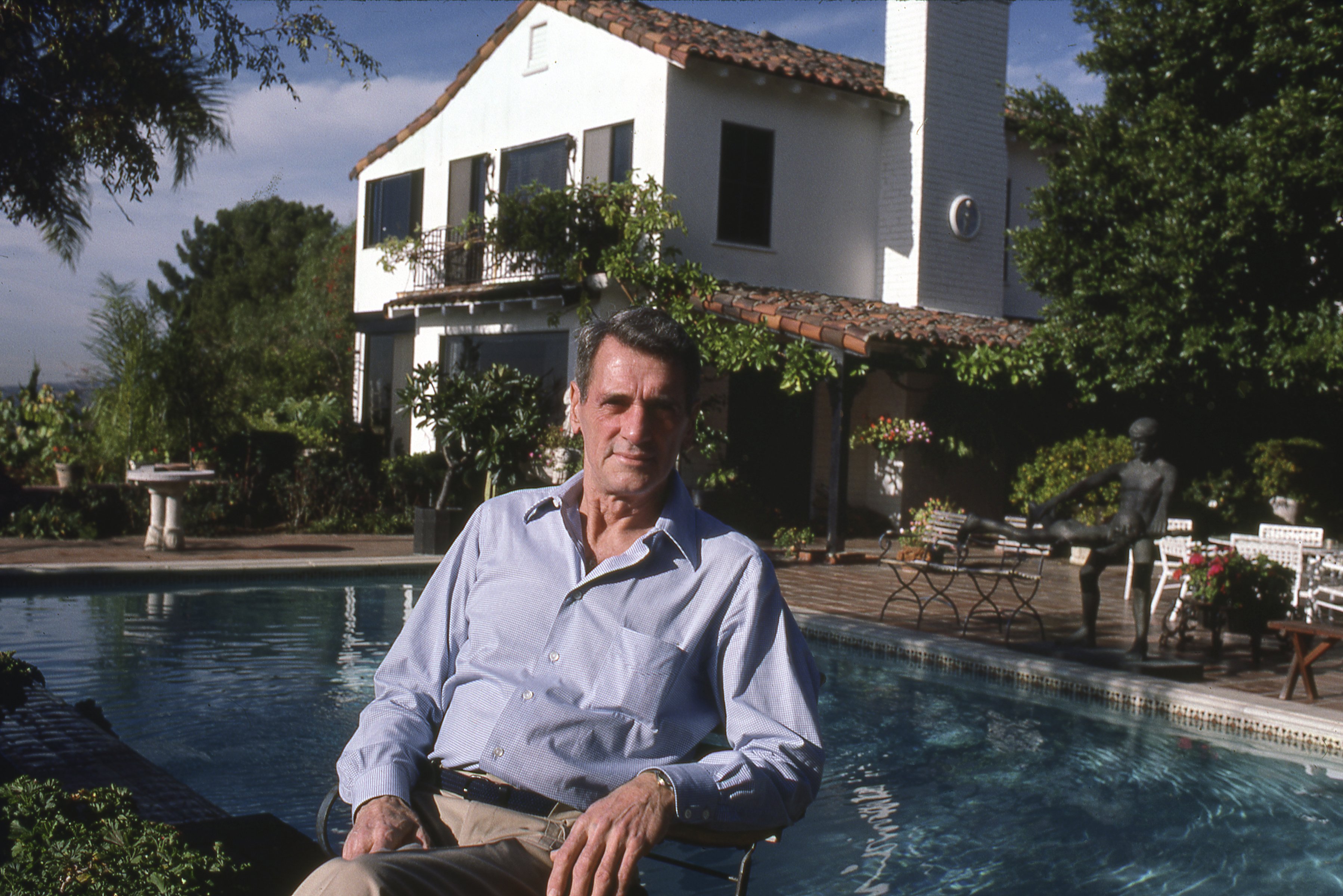 Rock Hudson relaxing by his pool in his Beverly Hills home in 1985 | Source: Getty Images
HUDSON'S DEATH AND LEGACY
A few months later, on October 2, 1985, Hudson died in his sleep at 59. His friends said he was courageous for being honest about his health.
They also thought that Hudson had shown that he was also entirely selfless by openly disclosing his condition. Doctors involved in AIDS research regarded his announcement as the most critical event in the history of the epidemic.
Its impact also became a crucial part of his legacy. Doctors also believed that Hudson's public announcement helped the public accept that AIDS is a significant public health threat.
Please fill in your e-mail so we can share with you our top stories!