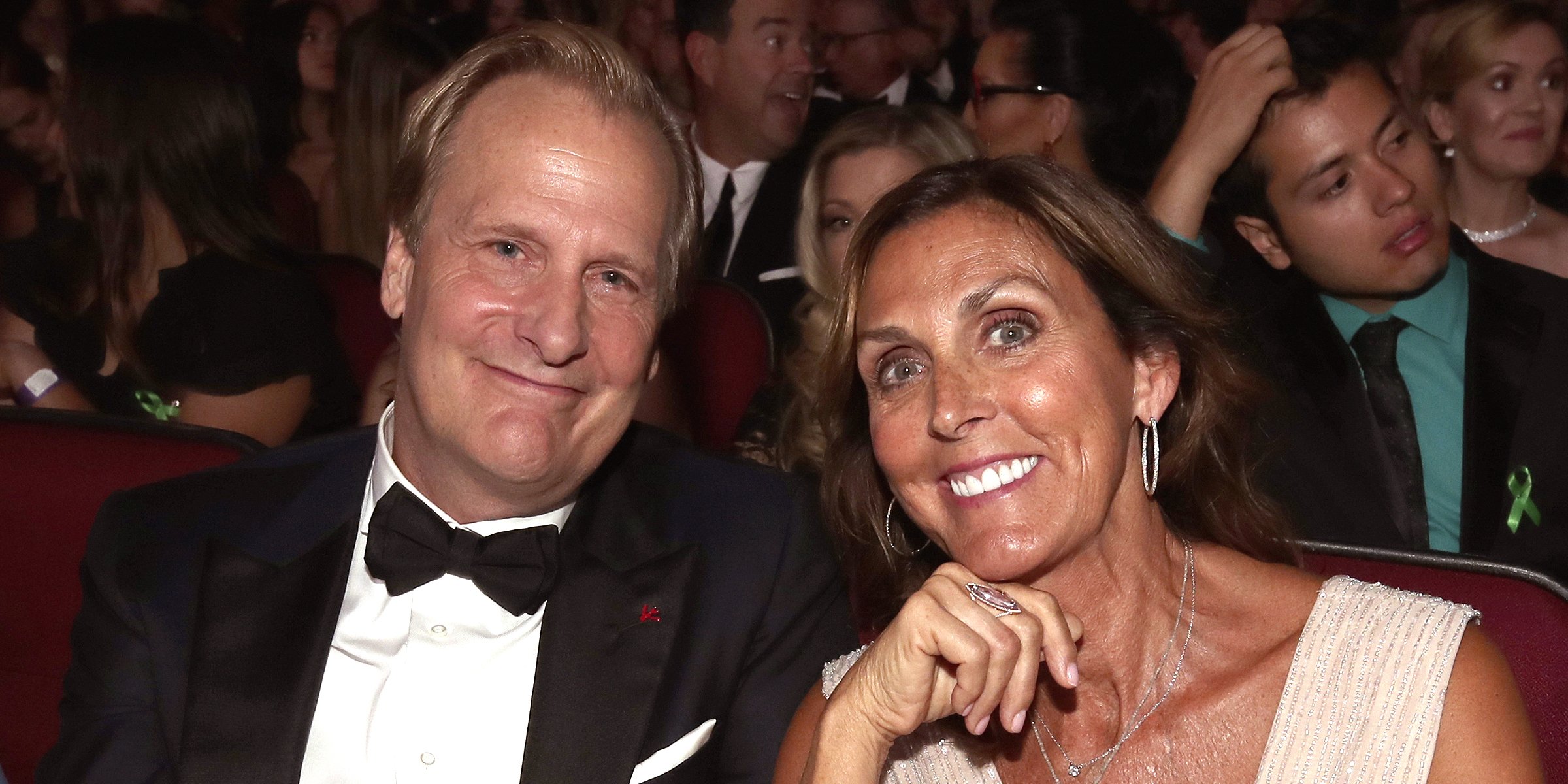 Getty Images
Jeff Daniels Once Forgot Wife-Of-42-Years Kathleen Rosemary Treado at a Truck Shop
Jeff Daniels is one of those celebrities who don't share a lot of their personal lives. However, one time he confessed that he once abandoned his wife, Kathleen Rosemary Treado, because he'd forgotten she was with him!
"Dumb and Dumber" actor Jeff Daniels fell in love with his wife, Kathleen Rosemary Treado, while they were in high school. The couple was so sure about each other that they tied the knot in 1979.
Daniels and Treado have been together in a happy marriage ever since. Although the Hollywood actor is in the spotlight, the pair prefer to keep their personal lives as private as possible.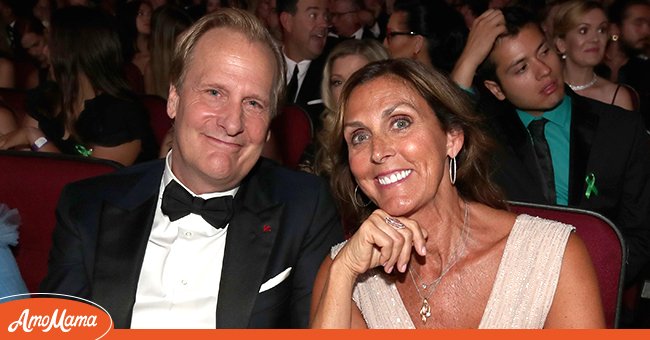 Jeff Daniels and Kathleen Rosemary Treado at the 70th Annual Primetime Emmy Awards on September 17, 2018, in Los Angeles, California. | Source: Christopher Polk/NBCU Photo Bank/NBCUniversal/Getty Images
For instance, Treado has a personal Twitter account where she hardly posts. She also doesn't share much about her family life with her husband and their three children.
SHARING A SNEAK PEEK INTO THEIR LIVES
Although Daniels likes to keep his personal life personal, during a September 2021 appearance on "LIVE with Kelly and Ryan," he shared a little about his wife. He revealed that Treado still kept one sweet ritual after many years of marriage.
The star said his wife packed his lunch for him daily! The actor's wife would make sure he eats healthy by packing things like an orange, a salad, a plum, and some water, with Daniels lovingly admitting:
"Kathleen takes great care of me."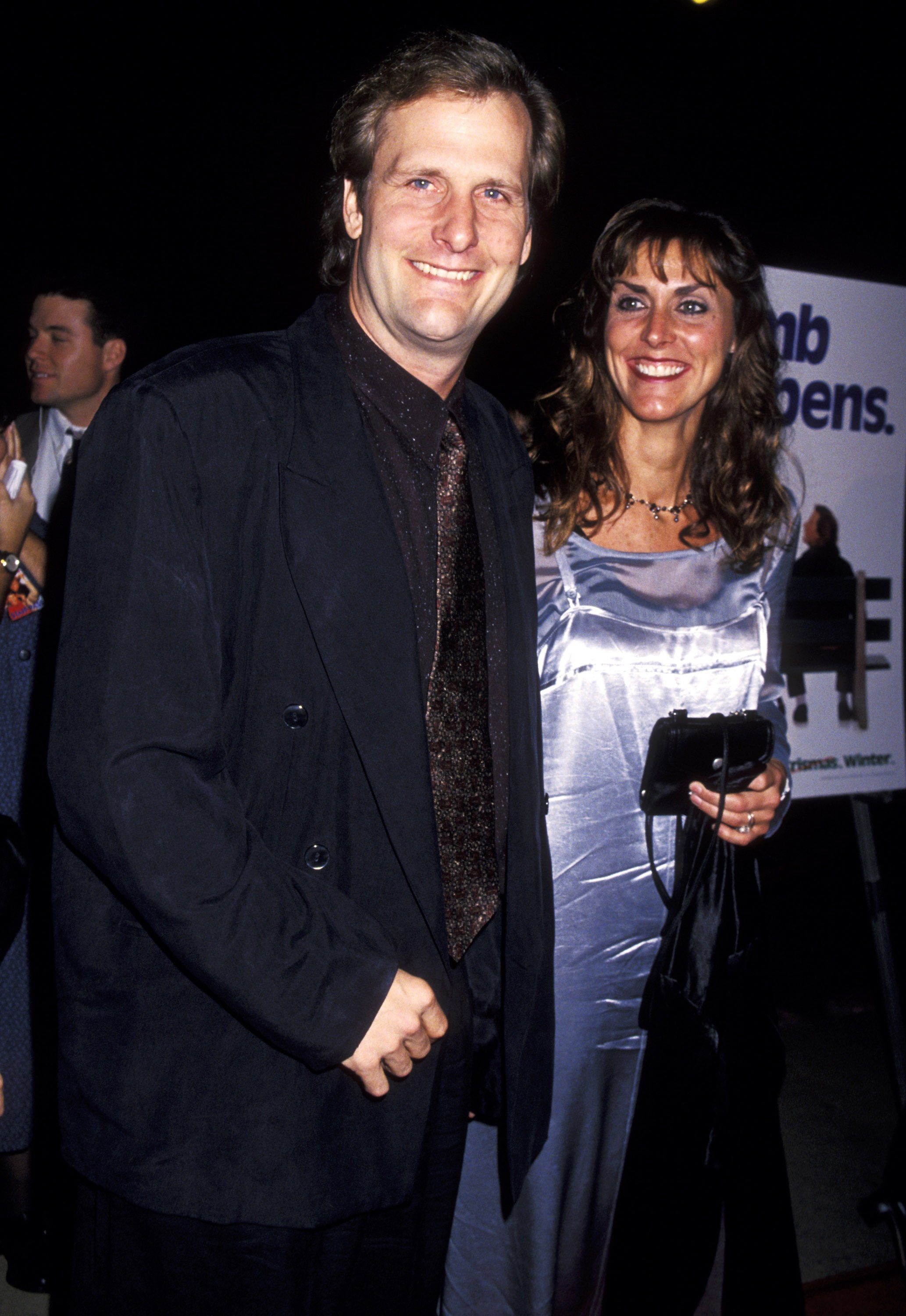 Jeff Daniels and Kathleen Treado during the "Dumb and Dumber" Hollywood premiere in California on December 6, 1994. | Source: Ron Galella/Ron Galella Collection/Getty Images
The star also shared a hilarious story about when he was filming the series "American Rust" in the middle of July 2021. Daniels recalled how Treado called him and said "pickleball," and he was confused cause he'd never heard his wife say that word before!
His wife explained how she was getting lessons to play pickleball and has a coach. The actor said the call was so bizarre to him because he felt like his wife was confessing to something as crazy as drinking paint, and he kept wondering who this new person was on the other line!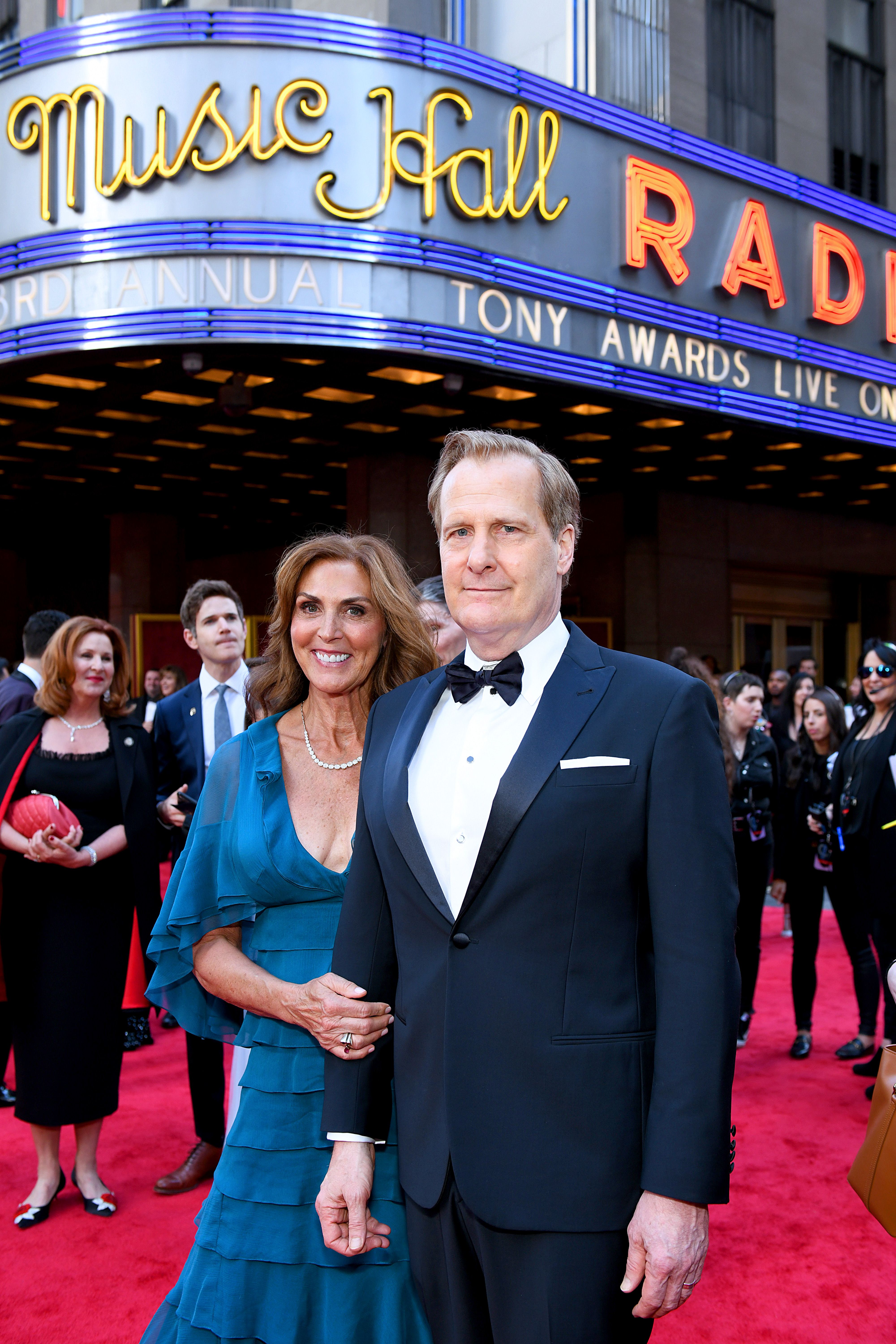 Kathleen Rosemary Treado and Jeff Daniels at the 73rd Annual Tony Awards on June 9, 2019, in New York City. | Source: Jenny Anderson/Getty Images
In May 2016, Daniels shared another hilarious story about his family while being interviewed on "The Tonight Show Starring Jimmy Fallon." The two-time Emmy Award winner revealed that he once went on a trip in a rented RV with his family.
He advised Jimmy Fallon to do a headcount when traveling in the vehicle because he once left his wife at a truck stop after gassing up and impatiently driving away. While driving on the highway, one of his children asked, "dad, where's mom?"
Daniels focused more on driving the RV well, which he described as a vast building, and had forgotten his wife at the truck stop! He had to turn back to collect her and didn't share how she reacted when they returned.
Luckily for him, Treado didn't hold the incident against him, and they remained together. In fact, in 2021, the couple celebrated a massive milestone in their long-term relationship!
CELEBRATING 42 YEARS TOGETHER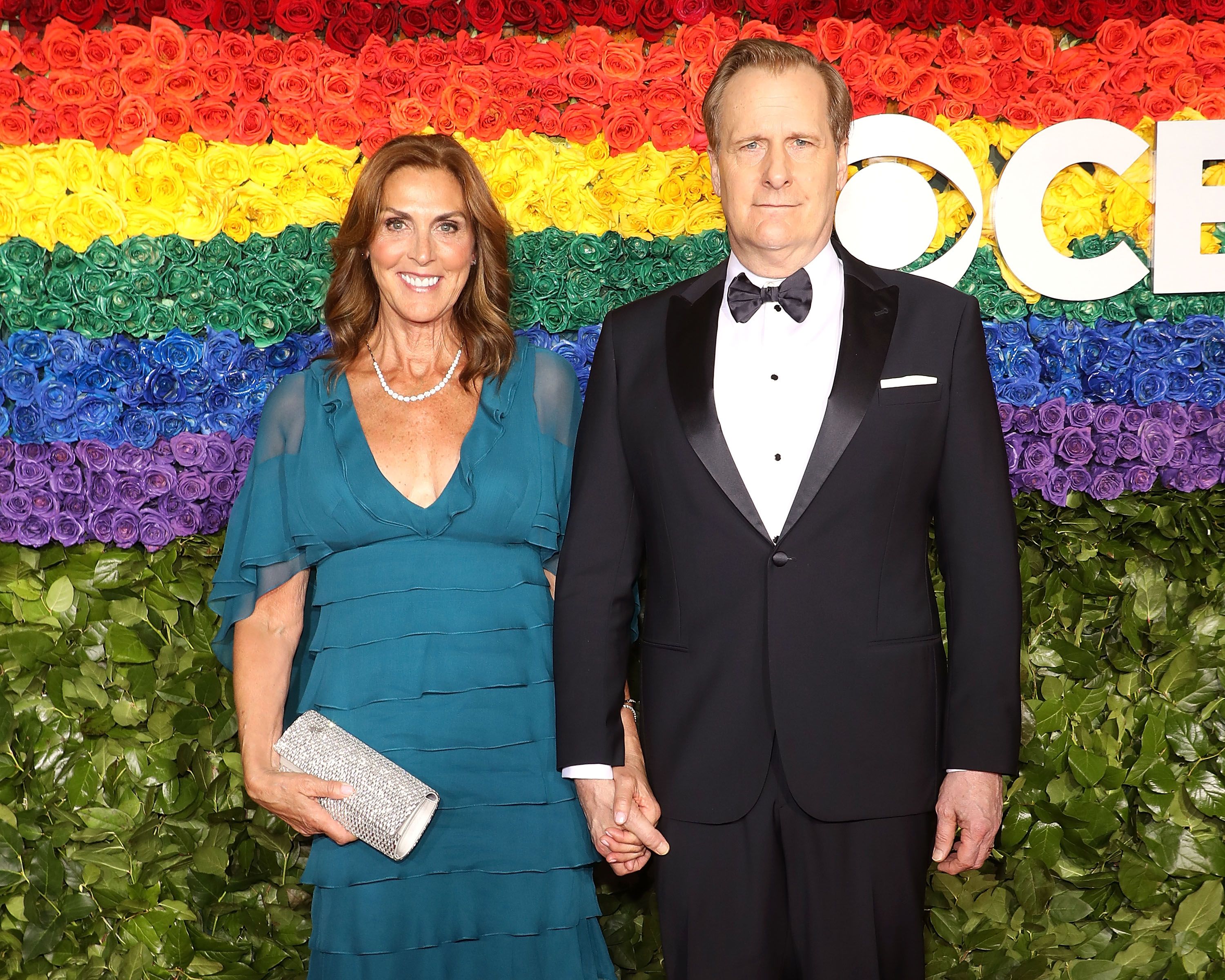 Kathleen Treado and Jeff Daniels at the Tony Awards on June 9, 2019, in New York City. | Source: Taylor Hill/FilmMagic/Getty Images
Having a forgiving, patient, and understanding wife led to the couple celebrating their 42nd wedding anniversary last year. During a Today Show appearance, Daniels spoke about his 45-year-long acting career and marriage.
He was asked to share the key to having a happy and long 42-year-long marriage, and this was what he hilariously said: "understanding that mansplaining is a real thing." The actor called mansplaining, the art of men talking over women about things they already know, a disease, and urging those suffering from it to get medication.
Daniels encouraged men to listen more and noted, "just don't speak as much, and you'll probably last long." In 2019, he confessed to People what was most important to him despite having such a successful acting career, stating:
"Kathleen's permanent. The family's permanent. Careers are job to job, you're hot, you're not."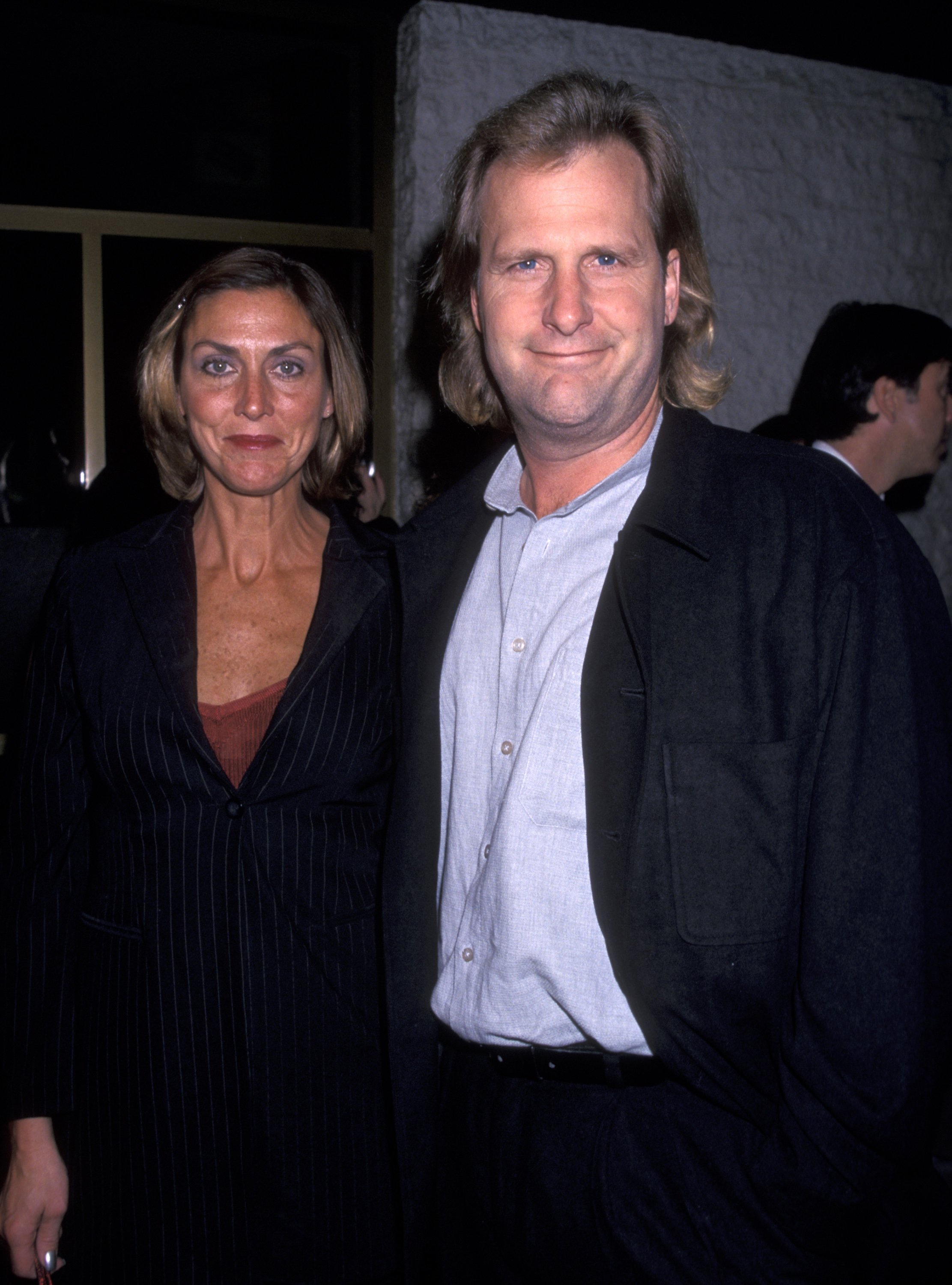 Kathleen Treado and Jeff Daniels during the "Pleasantville" Los Angeles premiere in Westwood, California, on October 19, 1998. | Source: Ron Galella/Ron Galella Collection/Getty Images
Broadway's "To Kill a Mockingbird" star was born and raised in Michigan. After living in New York for a couple of years after marrying his wife, they moved to the Great Lakes State in 1986, leaving Hollywood behind seeking a quieter life.
He [Jeff Daniels] said they saw his acting potential from seeing him taking the stage as a child and knowing exactly what to do.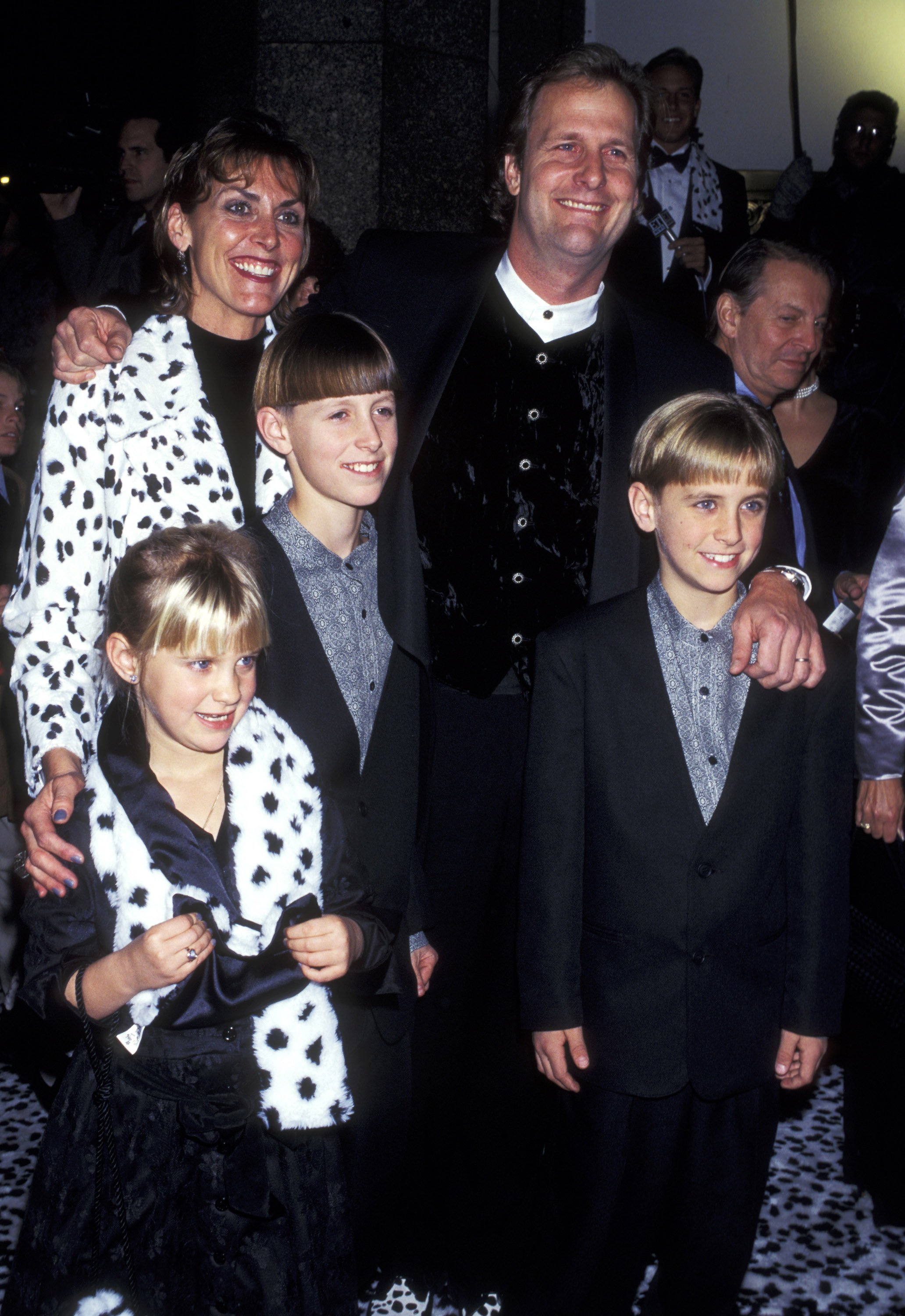 Jeff Daniels, Kathleen Treado, and their children Nellie, Benjamin, and Lucas Daniels at the New York premiere of "101 Dalmatians" on November 18, 1996. | Source: Ron Galella/Ron Galella Collection/Getty Images
In May 2019, he told People magazine that he made the move "to create as much a sense of normalcy as possible" for his family. He and Treado have two boys and one girl who are all in their thirties, Ben, Lucas, and Nellie.
Daniels hoped to keep his family as his number one priority, and he admitted to the publication that it worked. In May 2018, he opened up about his relocation to Closer Weekly, confessing how the Lower Peninsula slowed him down.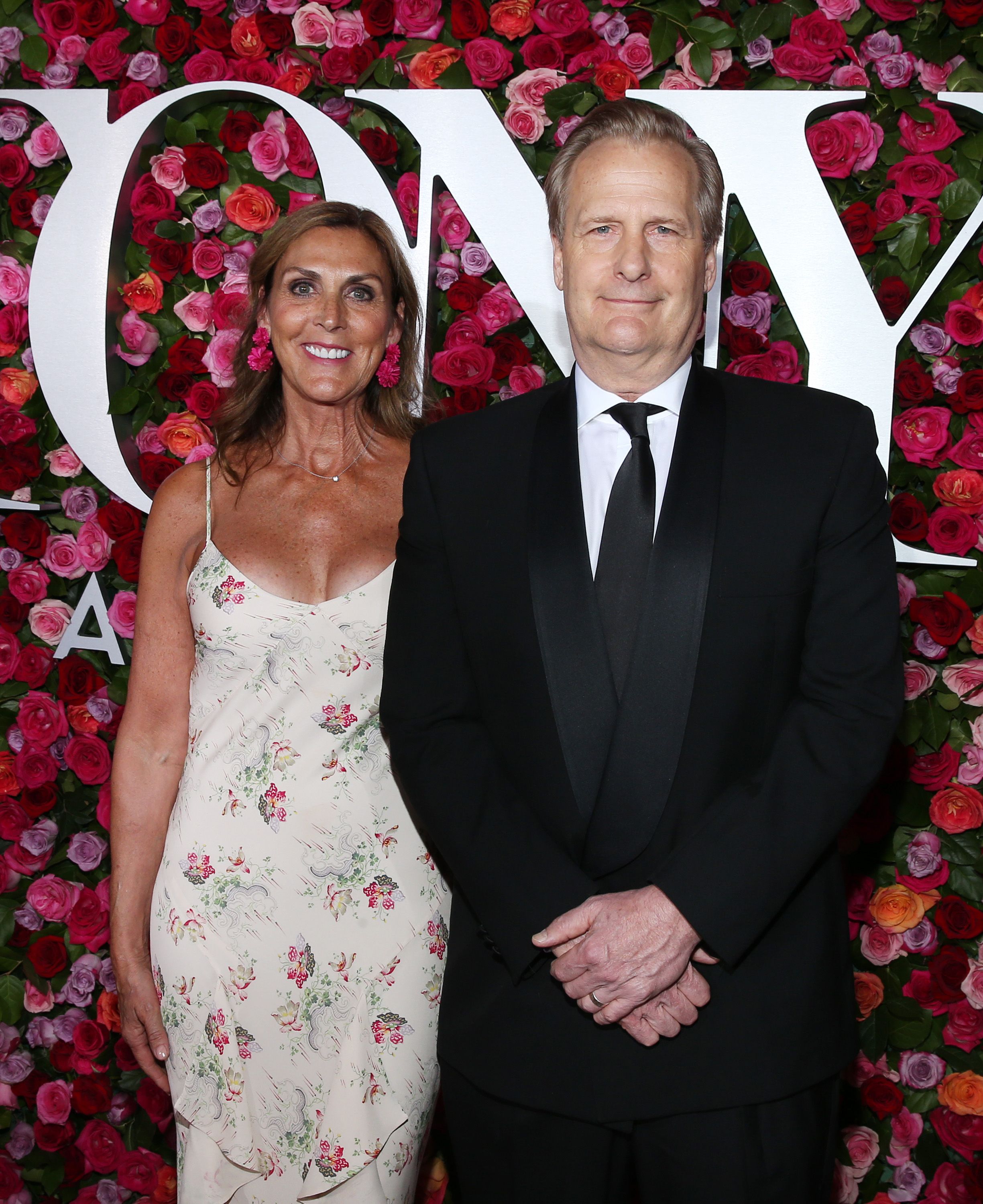 Kathleen Rosemary Treado and Jeff Daniels at the 72nd Annual Tony Awards on June 10, 2018, in New York City. | Source: Jemal Countess/Getty Images
At the time, the star said living in Michigan always reminded him that when he went back to Hollywood for a play or movie, "it's an extra dose of special." All three children were raised in the state.
Daniels left home and relocated to New York City from Chelsea, Michigan, in the late 1970s after studying at Central Michigan University for three years. His relocation to New York City was for the star to pursue acting with the Circle Repertory Company.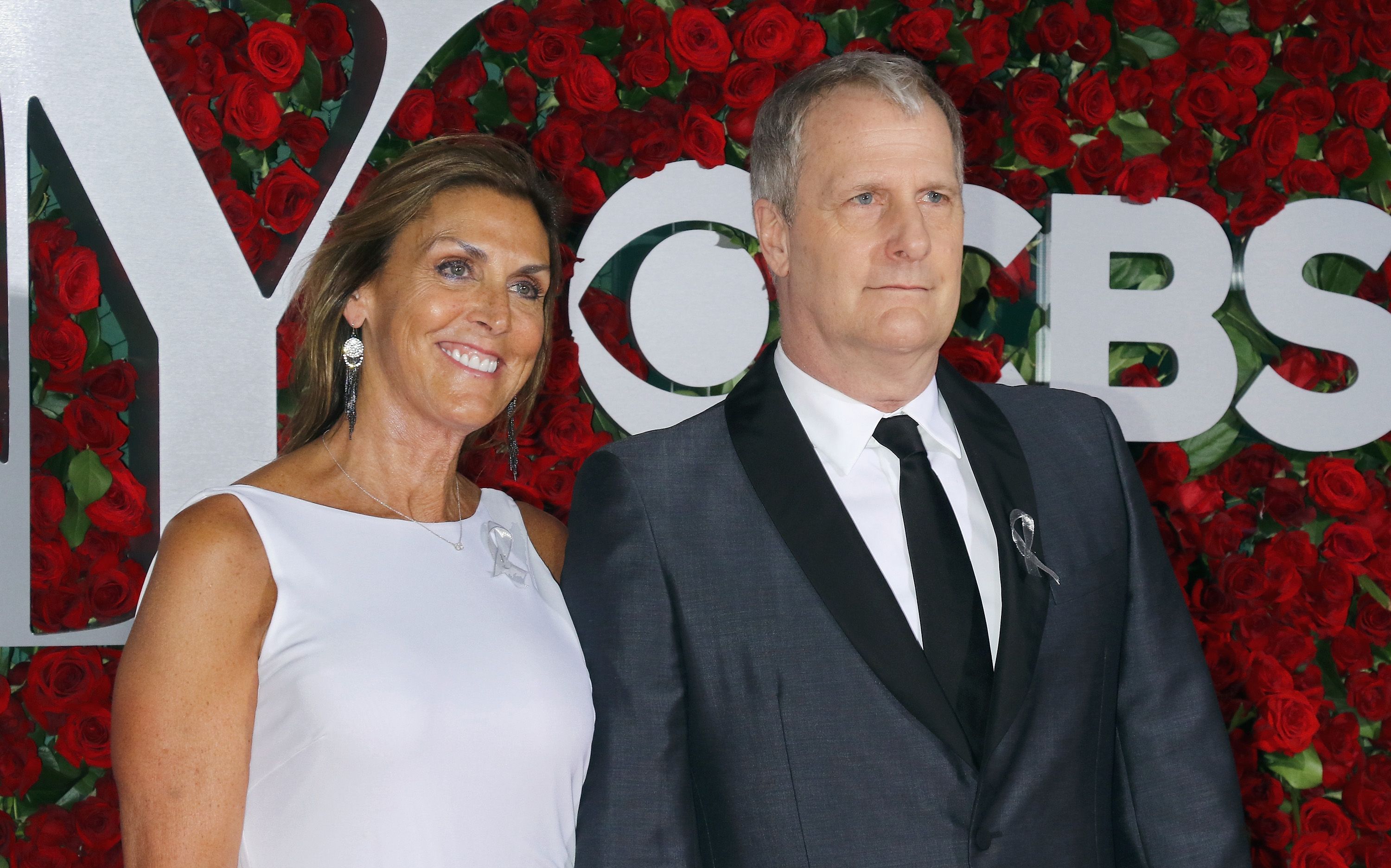 Kathleen Rosemary Treado and Jeff Daniels at the 70th Annual Tony Awards on June 12, 2016, in New York City. | Source: Jim Spellman/WireImage/Getty Images
The actor's parents, a lumber company owner and a housewife, fully supported him when he moved to pursue his dream of acting. He said they saw his acting potential from seeing him taking the stage as a child and knowing exactly what to do.
Daniels struggled for some years until he landed his first lead role in 1985's "The Purple Rose of Cairo." However, his breakout role came with a role in "Terms of Endearment" more than 35 years ago before moving back to his hometown.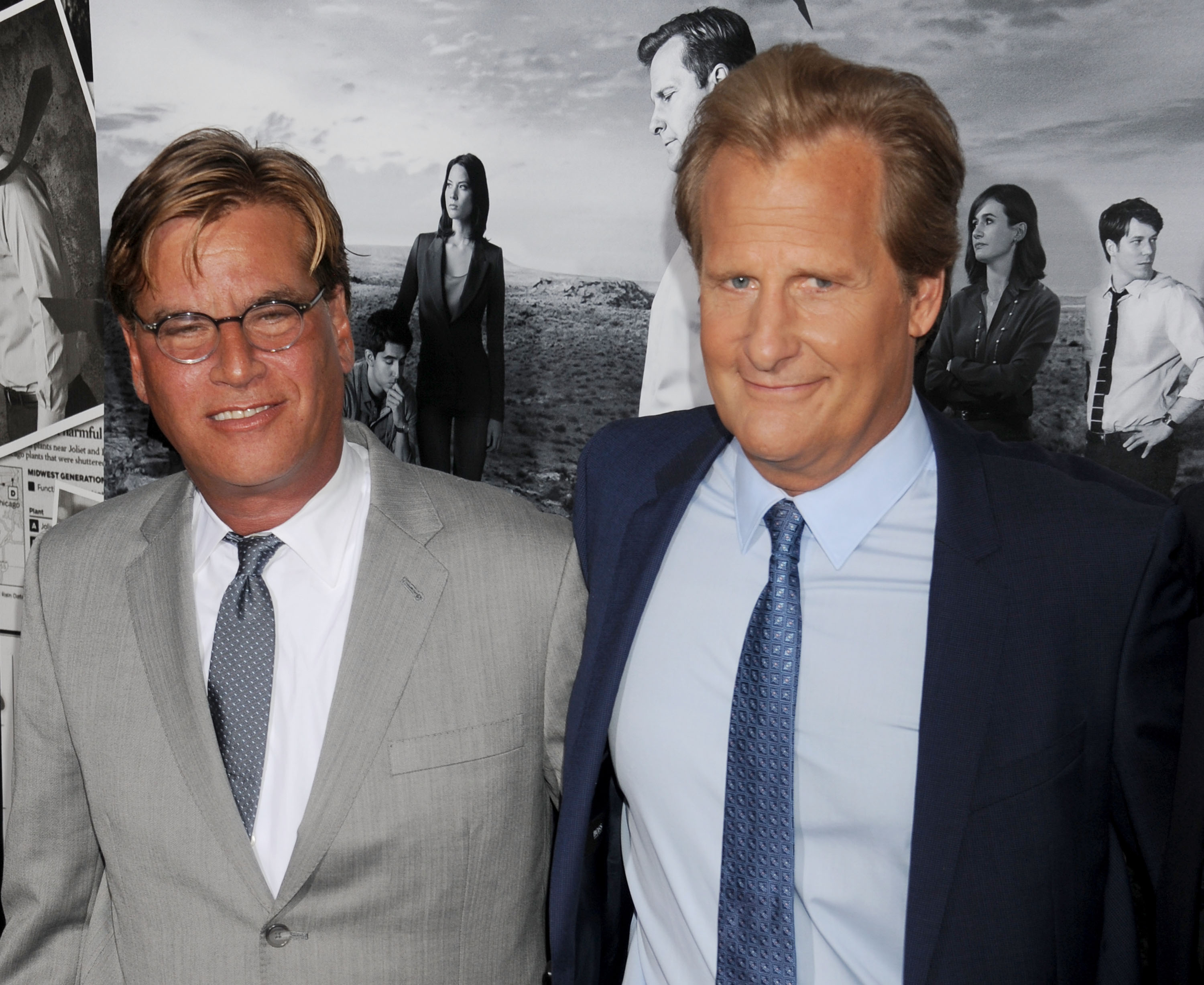 Aaron Sorkin and Jeff Daniels at the Los Angeles season 2 premiere of "The Newsroom" on July 10, 2013, in Hollywood, California. | Source: Gregg DeGuire/WireImage/Getty Images
By 2019, the actor had over 80 movies and television credits to his name, and he's still going strong. Daniels has even earned the praise of Aaron Sorkin, his "The Newsroom" creator, who described him as a great actor.
Sorkin said Daniels was "a methodical actor" who took enough rehearsal and preview time as he'd be given to building performance. He also described the "Fly Away Home" star as a person who was quite tough and a strong leader backstage.
Please fill in your e-mail so we can share with you our top stories!