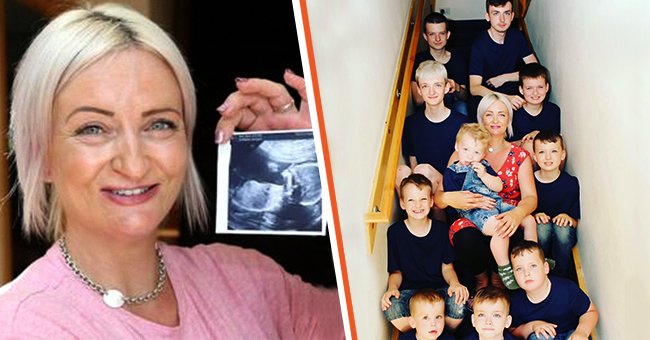 instagram.com/mrsbrett79 facebook.com/7NewsAustralia
Mom Who Gives Birth to 10 Boys in a Row Can't Wait to Find Out Gender of the 11th Baby
When a couple from Inverness, Scotland, discovered they were pregnant again, they were delighted. Their track record suggested they would be welcoming another boy, but the parents were gobsmacked after the gender reveal.
The joy of welcoming a new life into the world is one of the most exciting experiences, and finding out whether a little boy or girl is joining the family is another thrilling moment.
Over the years, the Brett family welcomed ten boys into their family consecutively, setting a record in the United Kingdom. However, for the happy couple, 2019 was an extraordinary year.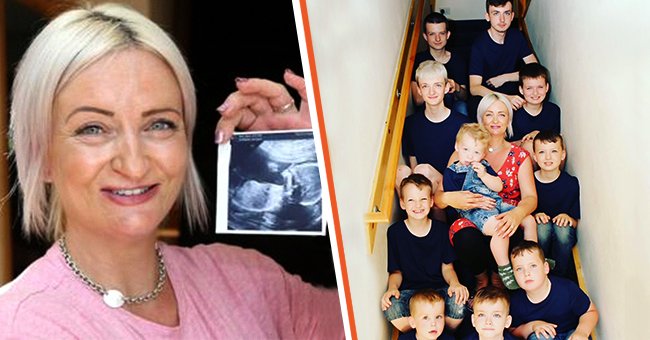 [Left] Alexis Brett shows her sonogram; [Right] Alexis who had ten sons discovers her 11th baby is a girl. | Source: instagram.com/mrsbrett79 facebook.com/7NewsAustralia
THEY WERE CONVINCED IT WAS A BOY
When a home pregnancy test confirmed that Alexis was expecting another baby, the parents were surprised but excited. They were also convinced it would be another boy.
The parents were so confident they almost neglected to ask their sonographer about the little one's gender. Alexis stated: "We barely thought it was worth finding out the gender because it's the same every time."
DISCOVERING THE SURPRISING NEWS
Davie and Alexis chose to have a gender reveal for loved ones because their sons were excited about the prospect of a new sibling. Inside the Brett home, it had always been a man's world, but fate was about to change that.
The mother explained the unforgettable moment they learned the baby's gender. She shared: "When we opened the envelope and found out we were having a girl, I thought they'd got it wrong."
SHE IS NOT OUTNUMBERED ANYMORE
The family was shocked when they realized their all-boy streak was broken, and the mother was utterly dumbfounded that she would no longer be the only female under their roof.
She said she would have been just as happy if it was another boy. However, Alexis added:
"I am thrilled that I'm not quite so outnumbered at home anymore."
The mother also revealed why she was so stunned by the revelation. She had started to believe she could not conceive a girl with her husband.
Alexis is a superwoman who manages her household efficiently, cleaning their home and feeding the family by herself. After years of caring for so many people, she has mastered the art.
Every week, the couple takes multiple trips to the grocery store to ensure their growing children always have enough to eat. Alexis also stated that her family was not receiving any benefits because her husband had a good job.
IT FEELS LIKE THEIR FIRST CHILD AGAIN
The mother is proud of her brood and loves watching her kids develop. After a lifetime of raising boys, Alexis admitted that welcoming a little girl was an adjustment.
"It feels as though we're doing it for the first time again. I'm already worried about learning to plait hair."
THE BABY GIRL'S UNEXPECTED NAME
The couple's chosen name for their baby girl caught many people off guard. They opted for a moniker not traditionally given to a girl and shared that they instantly fell in love with the name.
Alexis and Davie's baby girl was named Cameron. The mom stated they liked unusual names, noting that Cameron was more uncommon for girls.
"We did laugh and say people might just think that we couldn't think of any traditional girl's names though!"
THE BROTHERS ADORE THEIR SISTER
Brothers Campbell, Harrison, Corey, Lachlan, Brodie, Brahn, Hunter, Mack, Blake, and Rothagaidh, couldn't wait to welcome their newborn sister home.
While the mother initially found it strange to see pink babygrows and dresses in the closet, the sons were ready to embrace their sibling and the family's only daughter.
They were eager to help Alexis feed and change the baby, providing lots of love and supervision when needed. The mother undoubtedly requires all the help she can get and juggles the kids' schedules to the best of her abilities.
THEY ARE NOT PLANNING ON ANY MORE KIDS
Alexis rejected various claims that they had 11 children because they were trying for a girl. She said: "It just [worked] out as a lovely way to complete our family. We wouldn't change it for the world."
The doting mother also stated that there were no more plans to have another baby. While some joke that they were one boy away from having a football team, Alexis insists it won't happen.
Babies are godsent blessings and miracles that change lives for the better. Baby Cameron's birth proved that life's unexpected moments are sometimes the best. Click here for a story about a family who received surprising news about their identical twins.
Please fill in your e-mail so we can share with you our top stories!