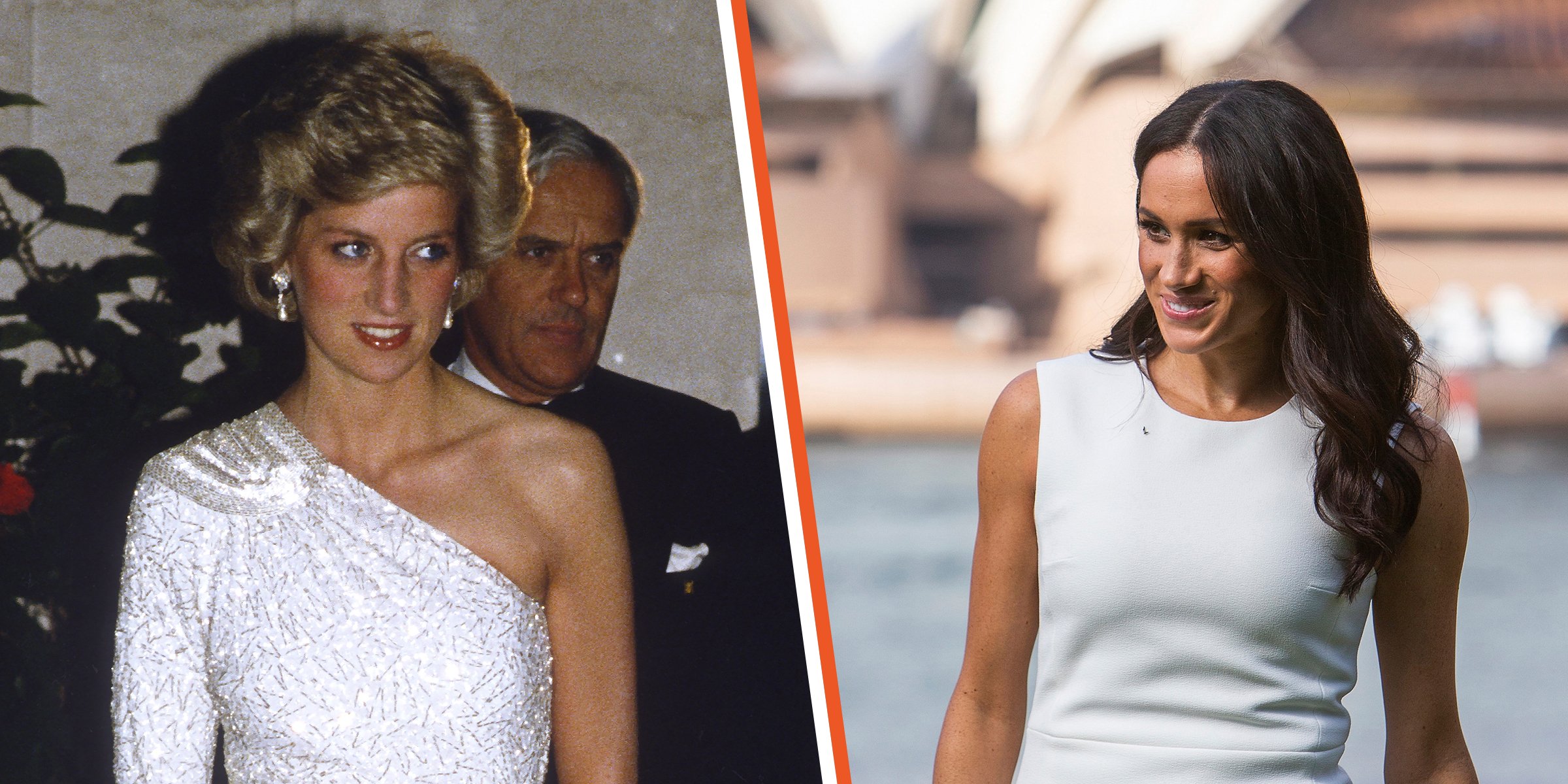 Getty Images
Meghan Markle Was 'Always Fascinated' by Royal Family & Wanted to Be 'Princess Diana 2,0,' Claimed Her Friend

Meghan Markle was an actress turned royal following her marriage to Prince Harry. Despite having different backgrounds, the duo fell in love. However, a former close pal to the Duchess claimed she wanted to be like another Princess Diana.
Before Prince Harry became a family man, he was conscious of the qualities he wanted in his future partner. In 2012, the Duke of Sussex declared that he would equip his spouse for life in the royal family. According to Harry:
"I'm not so much searching for someone to fulfil the role, but obviously, you know, finding someone that would be willing to take it on."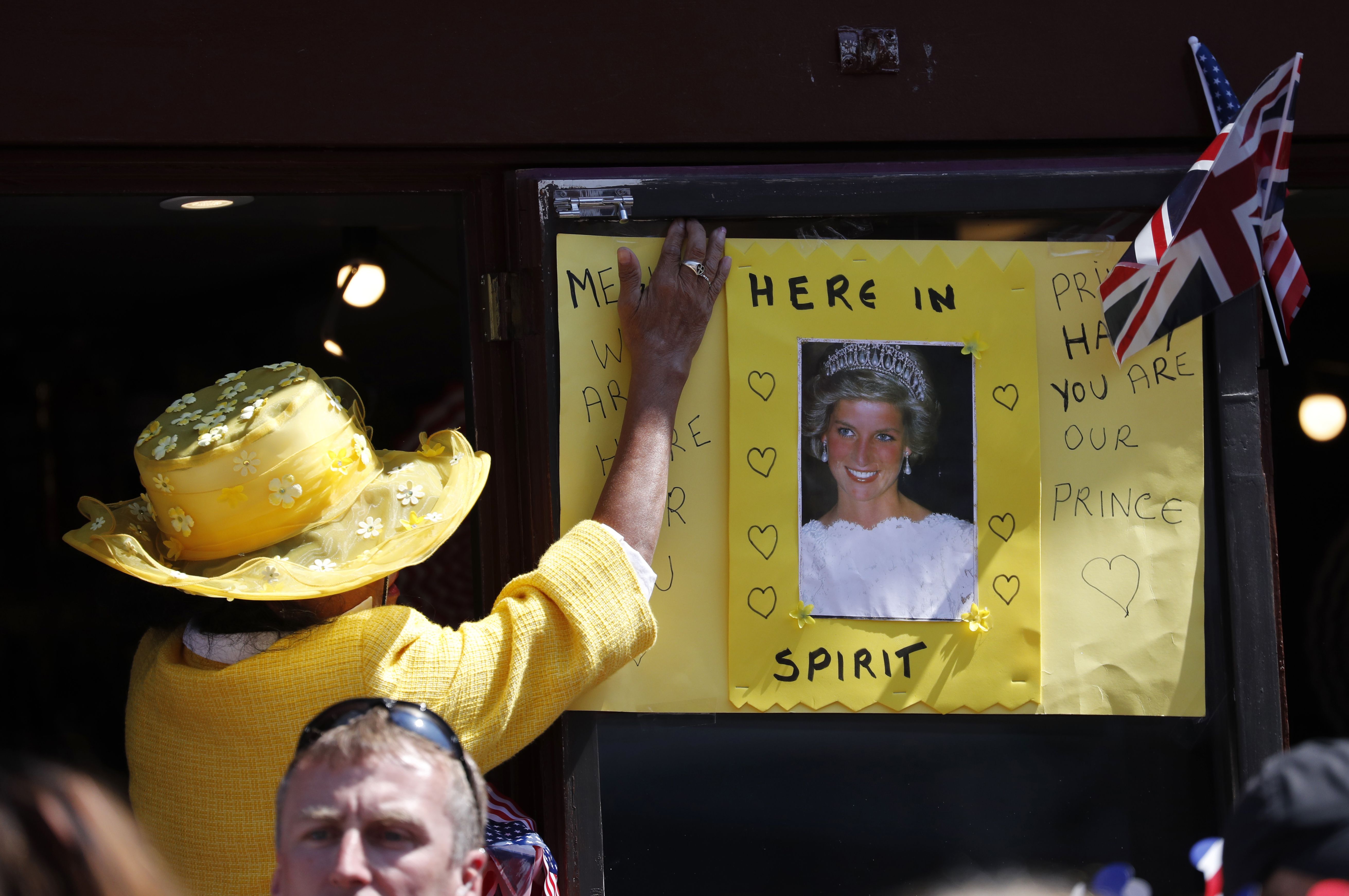 A Royal fan puts up a poster of Princess Diana, on Castle Hill during the wedding of Britain's Prince Harry, Duke of Sussex and Meghan Markle in Windsor, on May 19, 2018 | Source: Getty Images
Harry was intentional about planning his family from the start, especially after witnessing his mother's tragic death as a teenager. Following Princess Diana's death in 1997, Harry became a recalcitrant boy who accrued many controversies with his eccentric lifestyle.
Harry mentioned that his life witnessed "total chaos" due to her absence. However, he confessed that his "mummy" is always in his thoughts. Somehow, Harry's wishes for the right partner were heard by a genie as he went on to marry the woman of his dreams in 2018.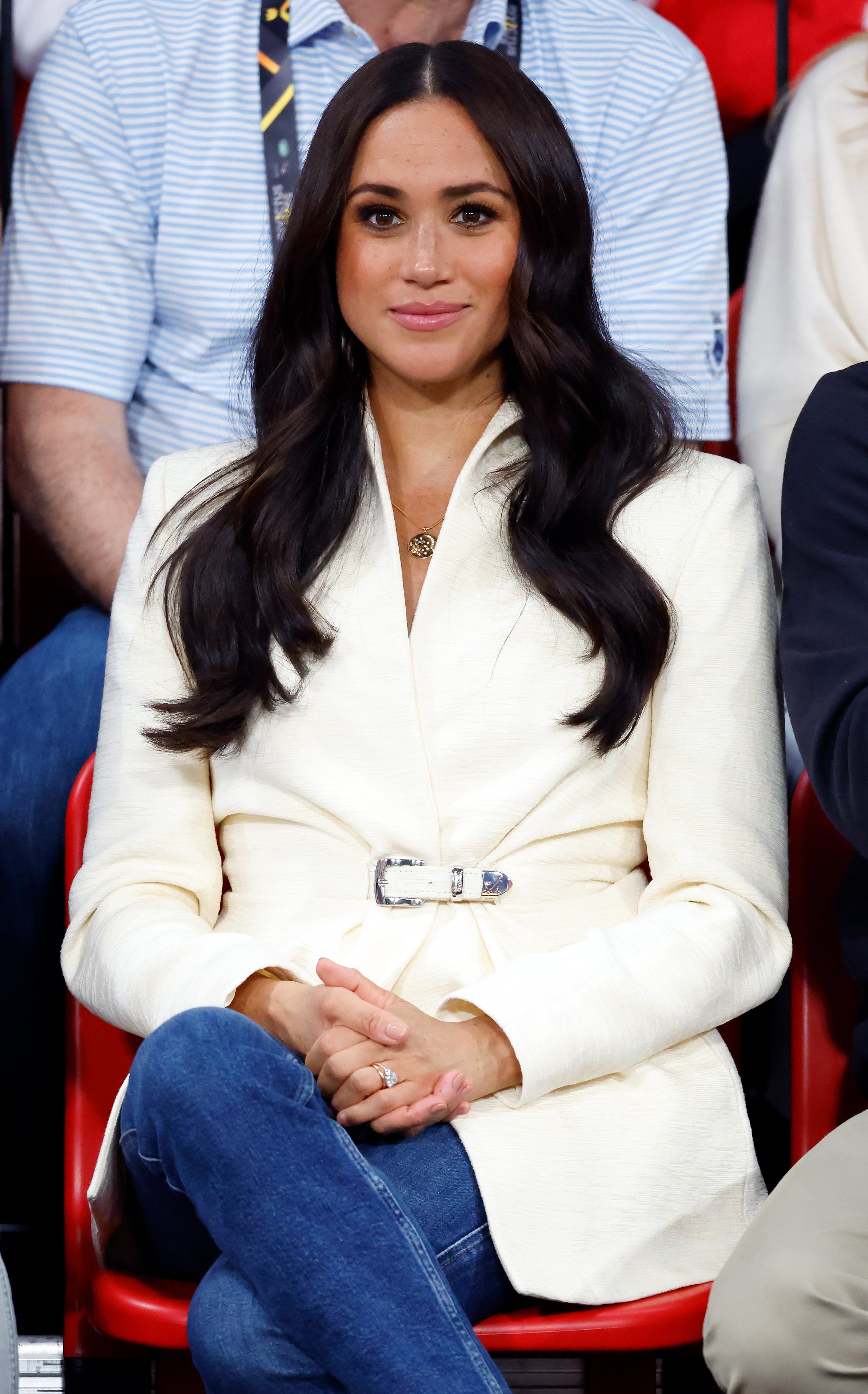 Duchess Meghan at a volleyball competition on day 2 of the Invictus Games on April 17, 2022, in The Hague, Netherlands. | Source: Getty Images
After falling in love with the American actress, Harry decided to introduce her to his family. First, she met with his grandmother, Queen Elizabeth II. A few months before the meeting, Markle began to gain all the knowledge she needed to appear gracious and well-mannered in front of the Queen.
She visited the Rose Tree Cottage in L.A., racked up some gifts, and acquired the etiquette for dining with the royal. In November 2017, the couple scheduled a one-hour meeting with the Queen. When they arrived at Buckingham Palace, they were received by the palace staff and escorted to the Queen's sitting room.
Markle noticed the bond between Harry and his grandmother at the royal palace and how the young Prince respected and honored her. She was also enchanted by the Queen's influence on her grandson. Once the meeting was over, Markle commended the Crown for being an incredible woman and voiced out.
This might have been Markle's first time inside Buckingham Palace, but not her first time in the area. Many years before her tour inside the English Palace, the American-born actress visited the U.K. and took a photograph in front of Buckingham Palace.
The then 15-year-old posed with another teenager named Ninaki Priddy. The girls maintained their friendship to adulthood. Priddy became Markle's maid of honor during her first wedding to Trevor Engleson.
Following Markle's relationship with Harry, Priddy made shocking revelations about her childhood best friend. She explained that Markle had always dreamt of a life in the royal palace and that her obsession was to become the new Princess Diana. She said:
"[Meghan] was always fascinated by the royal family. She wants to be Princess Diana 2.0."
It is not certain if this was ever Markle's intention, but during her younger years, she had been acquainted with the occurrences in the royal family, and Markle showed admiration for the people's princess.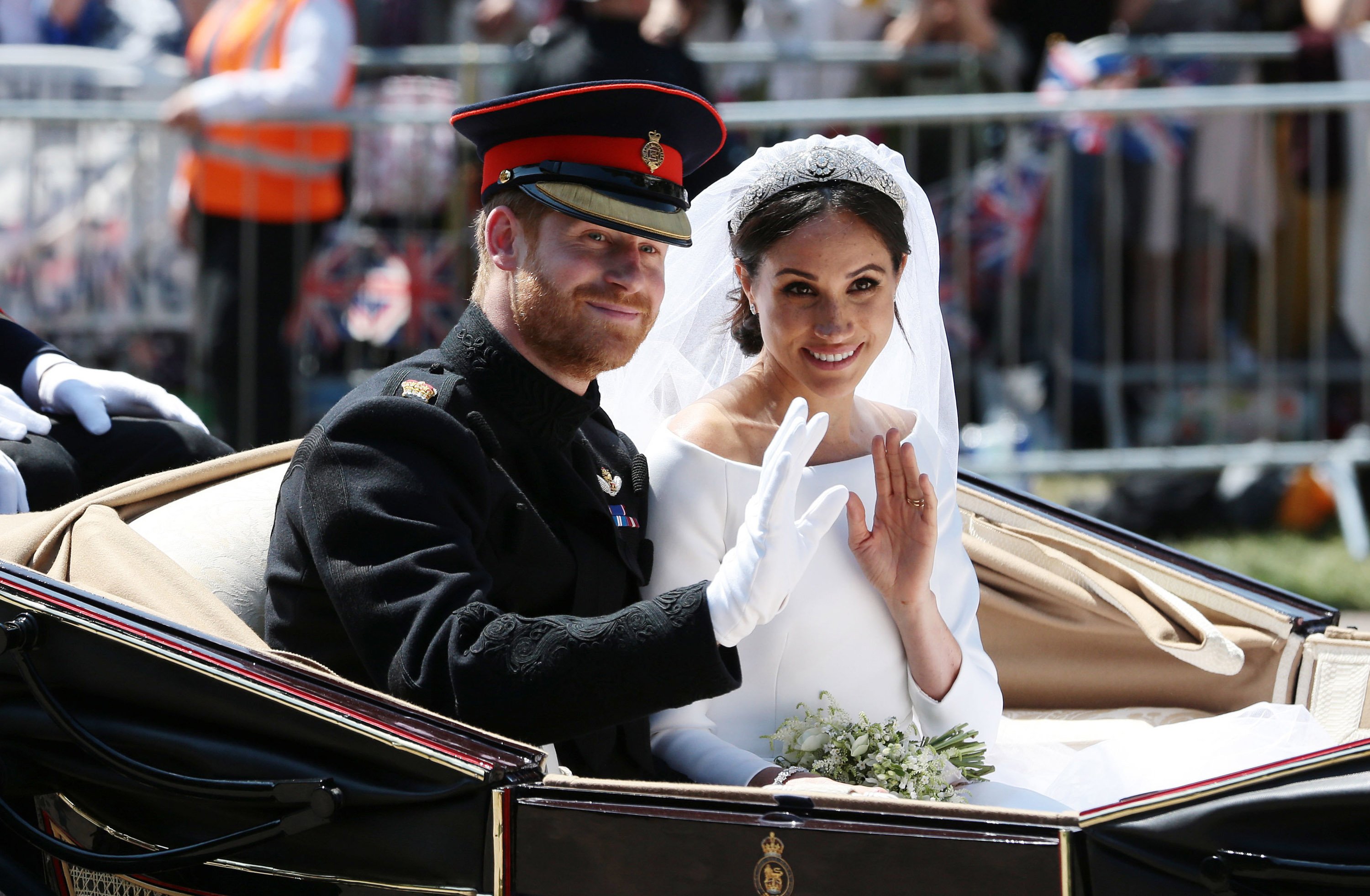 Prince Harry, Duke of Sussex and Meghan, Duchess of Sussex wave from the Ascot Landau Carriage during their carriage procession on Castle Hill outside Windsor Castle in Windsor, on May 19, 2018 after their wedding ceremony. | Source: Getty Images
In 1997, 16-year-old Markle, alongside her classmates, was emotional watching Diana's funeral. They wondered why such cruelty could have befallen the real-life angel.
After the funeral, Markle and another friend, Suzy Ardakani, played old videos of Diana's 1981 wedding to Prince Charles. The girls also felt motivated by the princess's standards that they gathered toys and clothes to give to the needy.
Family friends alleged that Markle was interested in Diana's life and that she got a copy of the "Princess Diana: Her True Story" biography from Suzy's mom, Sonia.
PRINCE HARRY AND MEGHAN MARKLE'S ROMANCE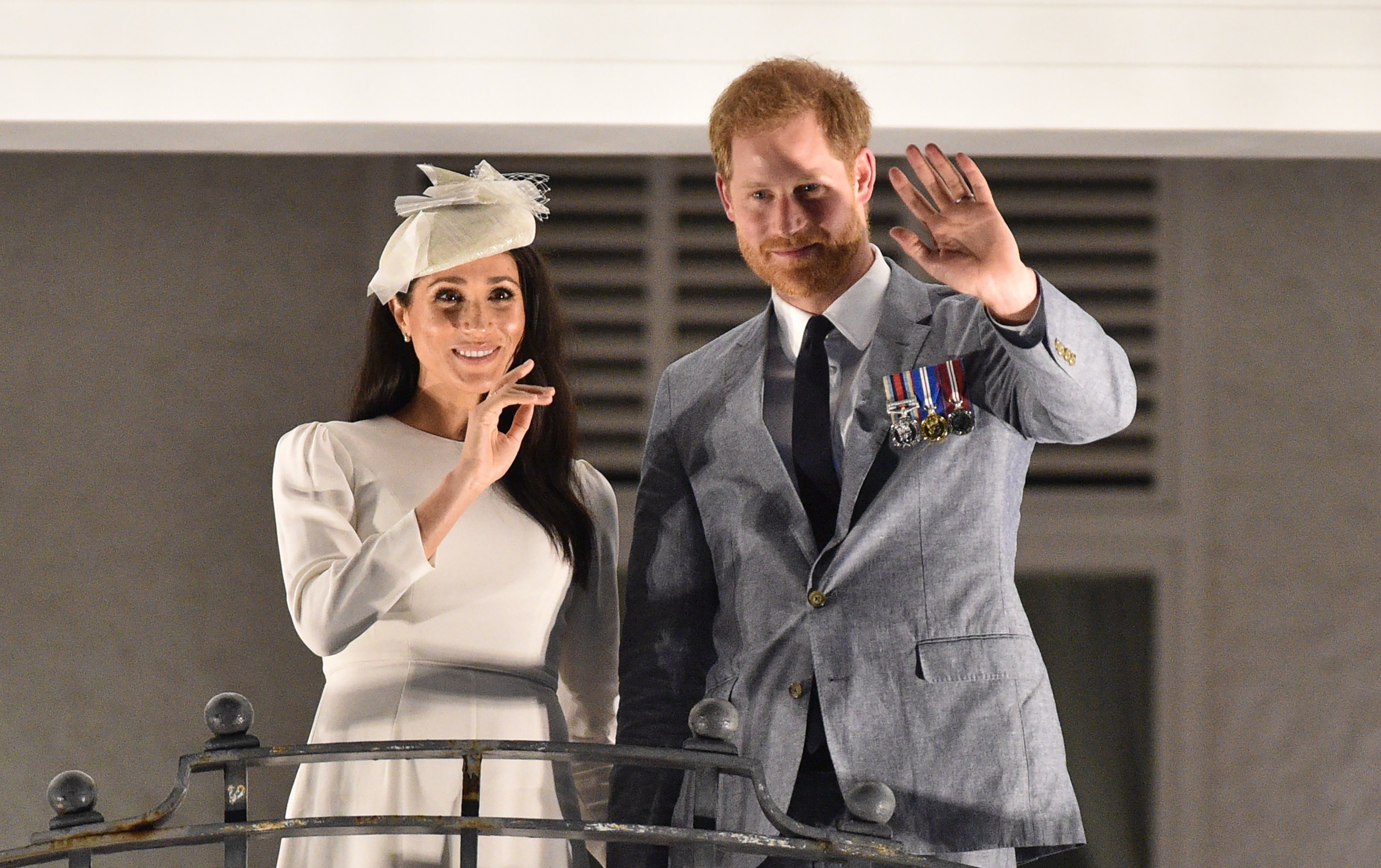 Prince Harry and his wife Meghan Markle pictured waving from the balcony of the Grand Pacific Hotel on October 23, 2018 in Suva, Fiji. | Source: Getty Images
Although Harry and Markle became acquainted in the U.S., their love story did not begin until a planned trip to Botswana, which is referred to as their love country.
When Harry proposed to Markle, he wanted to make it memorable, and remembering where it all began was significant. The Prince presented his beau with a customized band dominated by conflict-free diamonds from Botswana. For the couple, Diana's absence did not deter them from including her in their lives, either by references or decisions they made.
Other rocks on the engagement band included tiny diamond pieces from Diana's jewelry collection. This was to honor her presence in their lives, as he believed she would join them "on this crazy journey."
The Duke of Sussex was smitten by his lover, and after the sweet proposal, he mentioned that his mother would have loved Markle. In his words:
"They'd be thick as thieves, without question,' he said. 'I think she would be over the moon, jumping up and down – you know, so excited for me."
WERE THE COUPLE SIMILAR TO DIANA?
Harry has likened his wife to his mother more than once, revealing that they share similar traits. But is she Diana 2.0? During their first tour, the couple reportedly believed they possessed Diana's charm; Markle clung to her jewelry like totems.
Irrespective of the comparisons between the two women, many would agree that they both have distinct personalities. Diana, aka the people's Princess, was loved by many. She did not appear interested in fame or money, yet she spent her life impacting people worldwide.
The deceased Princess acted selflessly, and even though she refused to conform to the monarchy, Diana understood that the other royal members had a duty to be loyal to the monarchy to avoid losing its legitimacy.
She had no ill reports about other family members, except for her revelations about her ex-husband, Charles, the Prince of Wales. To a large extent, Diana depended on the public's sympathy and recognition.
On the other hand, Markle felt inspired by Diana. She revered her historical significance: iconic fashion styles, confidence, and humanitarian services.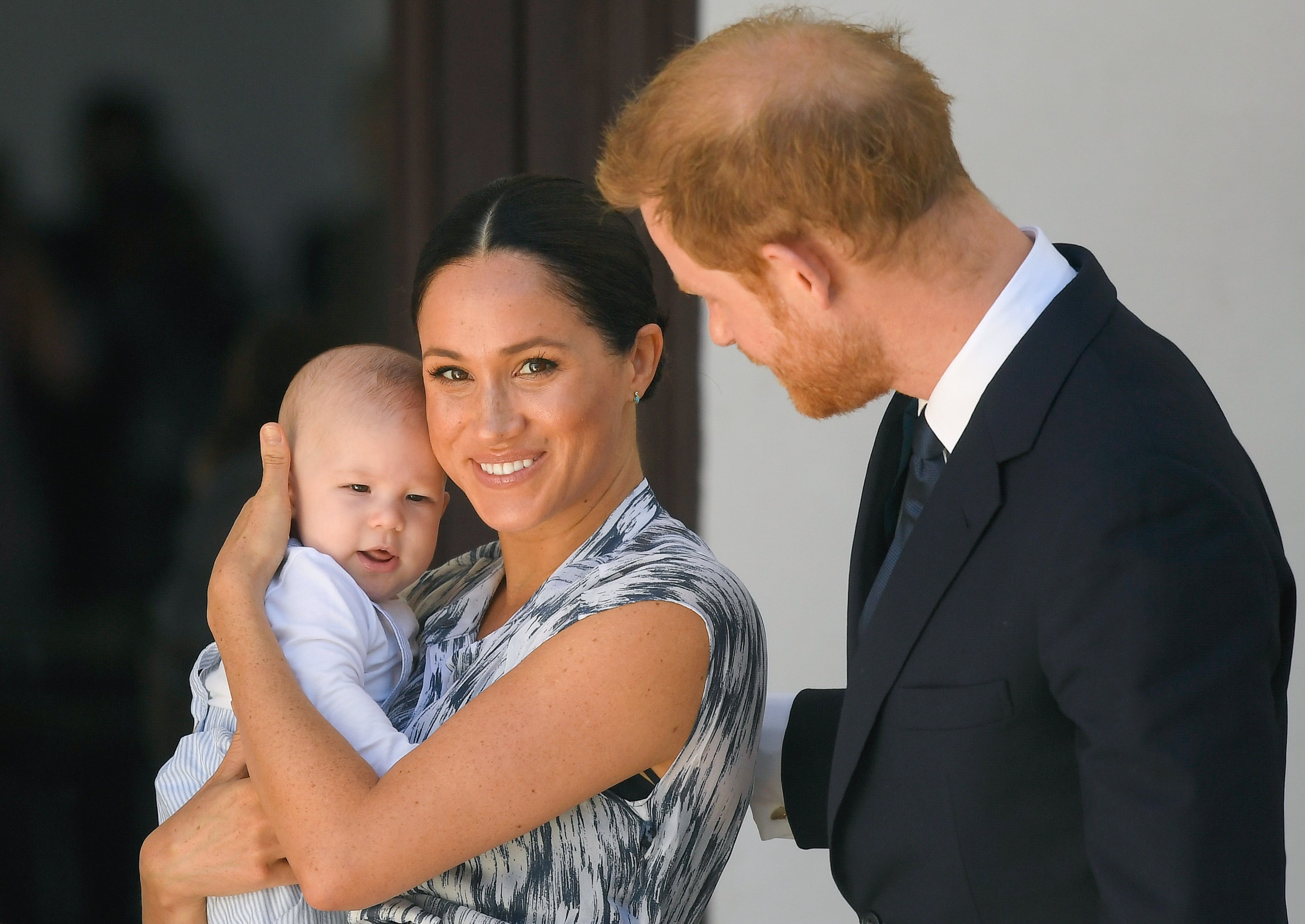 Prince Harry, Duke of Sussex, Meghan Markle, Duchess of Sussex and their baby son Archie Mountbatten-Windsor meet Archbishop Desmond Tutu and his daughter Thandeka Tutu-Gxashe at the Desmond & Leah Tutu Legacy Foundation during their royal tour of South Africa on September 25, 2019 in Cape Town, South Africa | Source: Getty Images
Unlike the deceased, who became a royal family member at a young age, Markle was already a full-fledged woman who had been through a divorce, had a successful acting career, and ran a blog site.
The Duchess of Sussex began her journey in the monarchy as a brave and confident woman who was used to not conforming to the narratives, breaking protocols, and challenging the system.
Please fill in your e-mail so we can share with you our top stories!