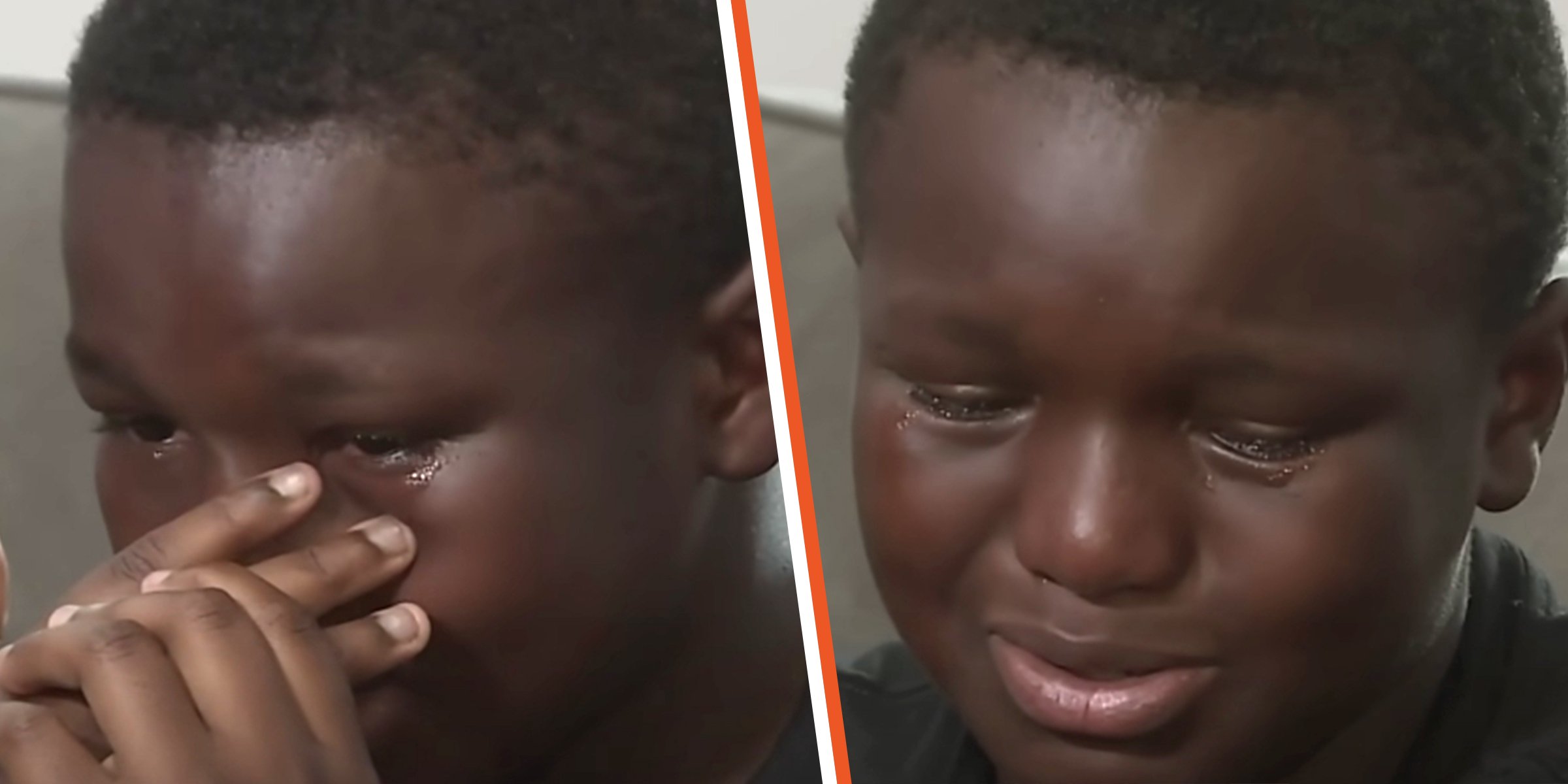 youtube.com/KPRC 2 Click2Houston
Texas Boy Lost Parents and Grandfather, Raises Little Brother Alone despite Their Damaged Home

After losing their parents and grandfather, two siblings were left to fend for themselves. Things became even more cumbersome when their home suffered severe damage in a hurricane and freeze. Astonishingly, a few kind strangers learned about their situation and decided to help.
Nothing is more painful than going on with your life after losing a loved one. Often, when we go through bouts of grief, loss, and trauma, our hearts might never stop aching, and the only option we have left is to embrace our pain and learn to live with it. But one might wonder if it ever gets easier.
For children, learning to live without their family's loving, caring, and supportive presence is an unimaginable scenario. Still, many kids endure this heart-rending situation and manage to stay strong in the face of adversity. The youngsters in today's story experienced something similar.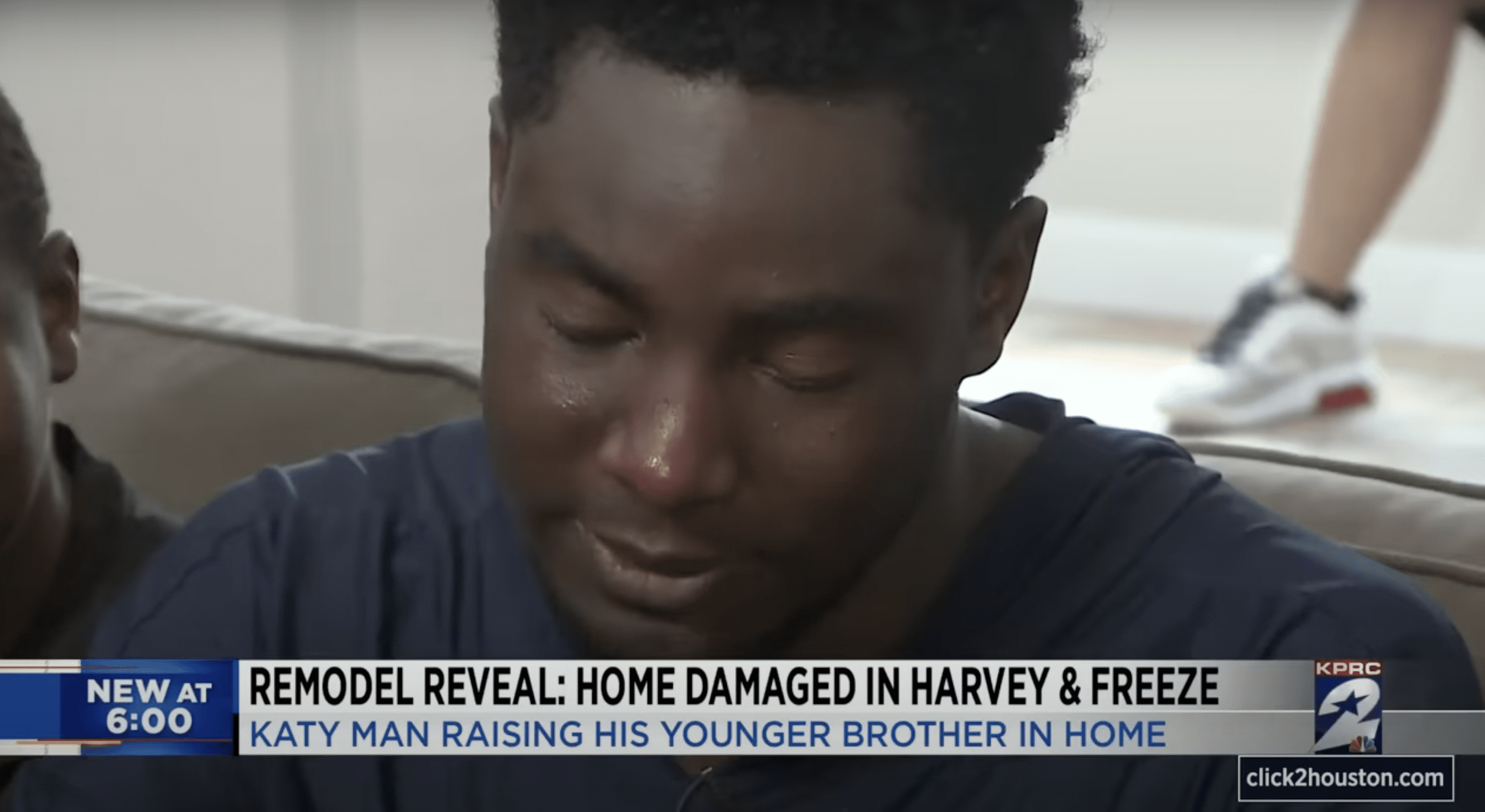 An emotional Jaylan Gray. | Source: youtube.com/KPRC 2 Click2Houston
THE TEXAS SIBLINGS
Jaylan Gray, 22, and Julian Nicholson, 12, lived in Katy, Texas, and happened to be the only family they had. The two brothers had fostered a profoundly heartwarming connection over time, particularly after the tragic loss of their mom, dad, and grandfather.
Ryan's heartwarming surprise deeply moved Molly, and she couldn't stop doting on him.
The past couple of years were incredibly difficult for the siblings. There were times when they struggled to come to terms with the irreparable loss, and their hearts ached for their family.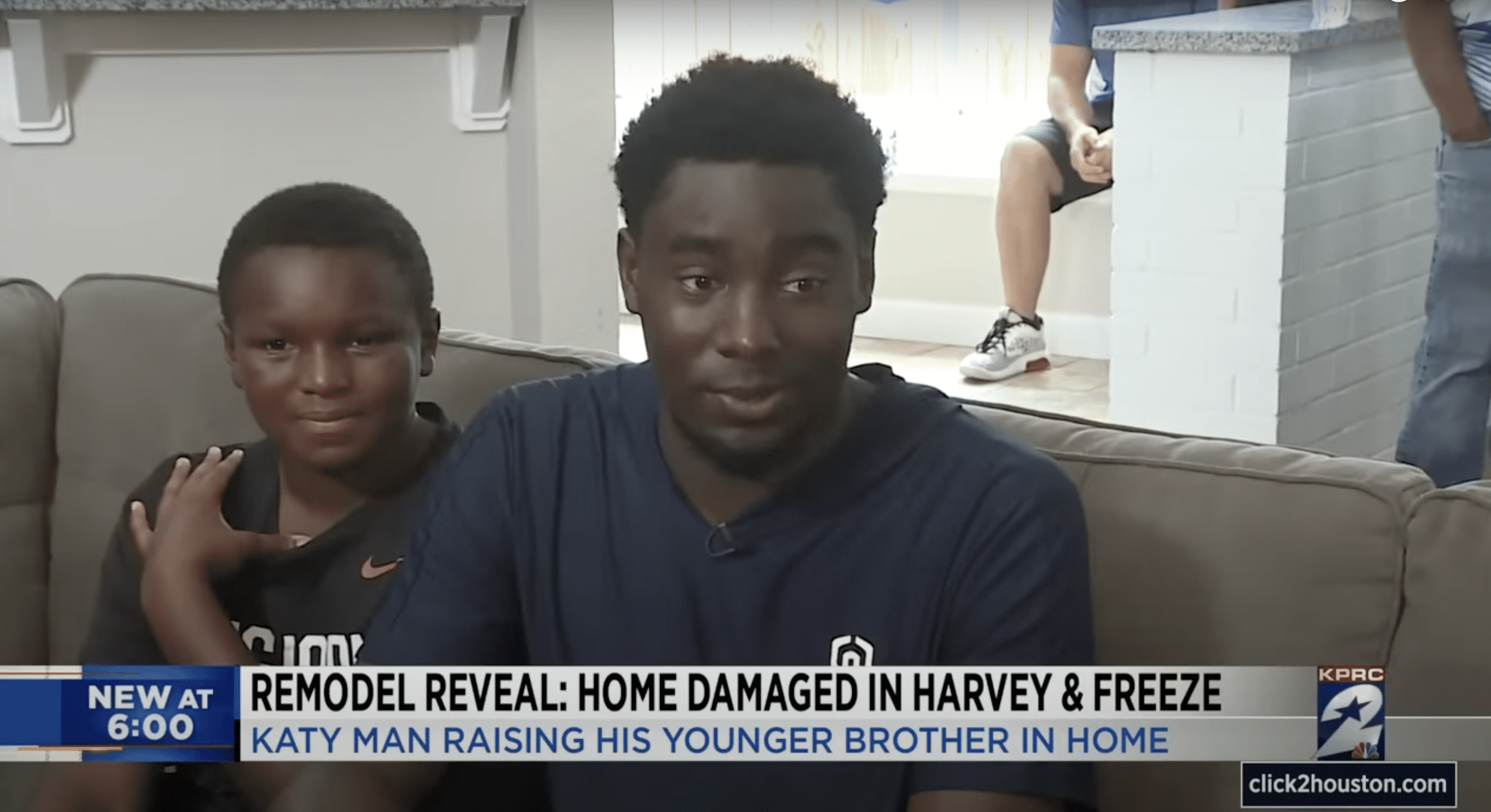 Julian Nicholson and Jaylan Gray. | Source: youtube.com/KPRC 2 Click2Houston
KEEPING HIS PROMISE
Being the older sibling, Gray felt protective of Nicholson. Before his mother's death, he promised her that he would always look after his little brother. He shared:
"[I] try my best to keep him in check, make sure he doesn't get in trouble, and make sure he's loved."
Sadly, their problems were far from over. The house they lived in suffered severe damage from Hurricane Harvey in 2017, followed by the 2021 freeze.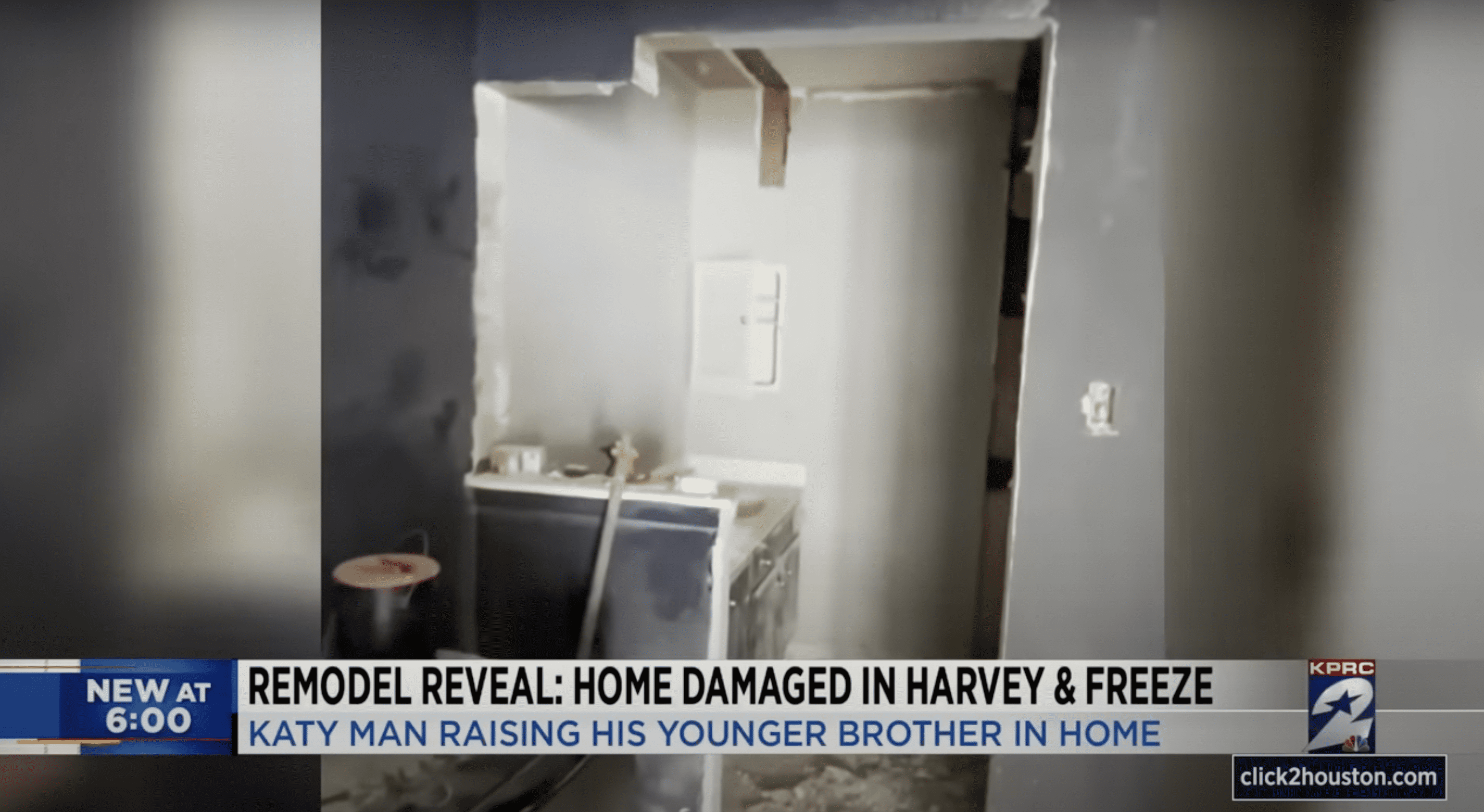 A glimpse of Jaylan Gray and Julian Nicholson's home after it was damaged by the hurricane and freeze. | Source: youtube.com/KPRC 2 Click2Houston
STRANGERS STEPPED FORWARD
After seeing their home in ruins, Gray said he was ready to sell it at one point because he felt he didn't have the strength to shoulder such a heavy burden. However, he worried for Nicholson and couldn't bring himself around to thinking what would happen if the roof over their heads was gone.
While Gray battled with a myriad of unsettling thoughts, he was utterly oblivious to the fact that help was nearby. Fortunately for the two brothers, the Disaster rebuild organization, Katy Responds, and several kind strangers sprang into action.
According to Executive Director Ron Peters, Gray and Nicholson's home was remodeled in three months. Lakewood Church, a megachurch in Houston, helped furnish the house.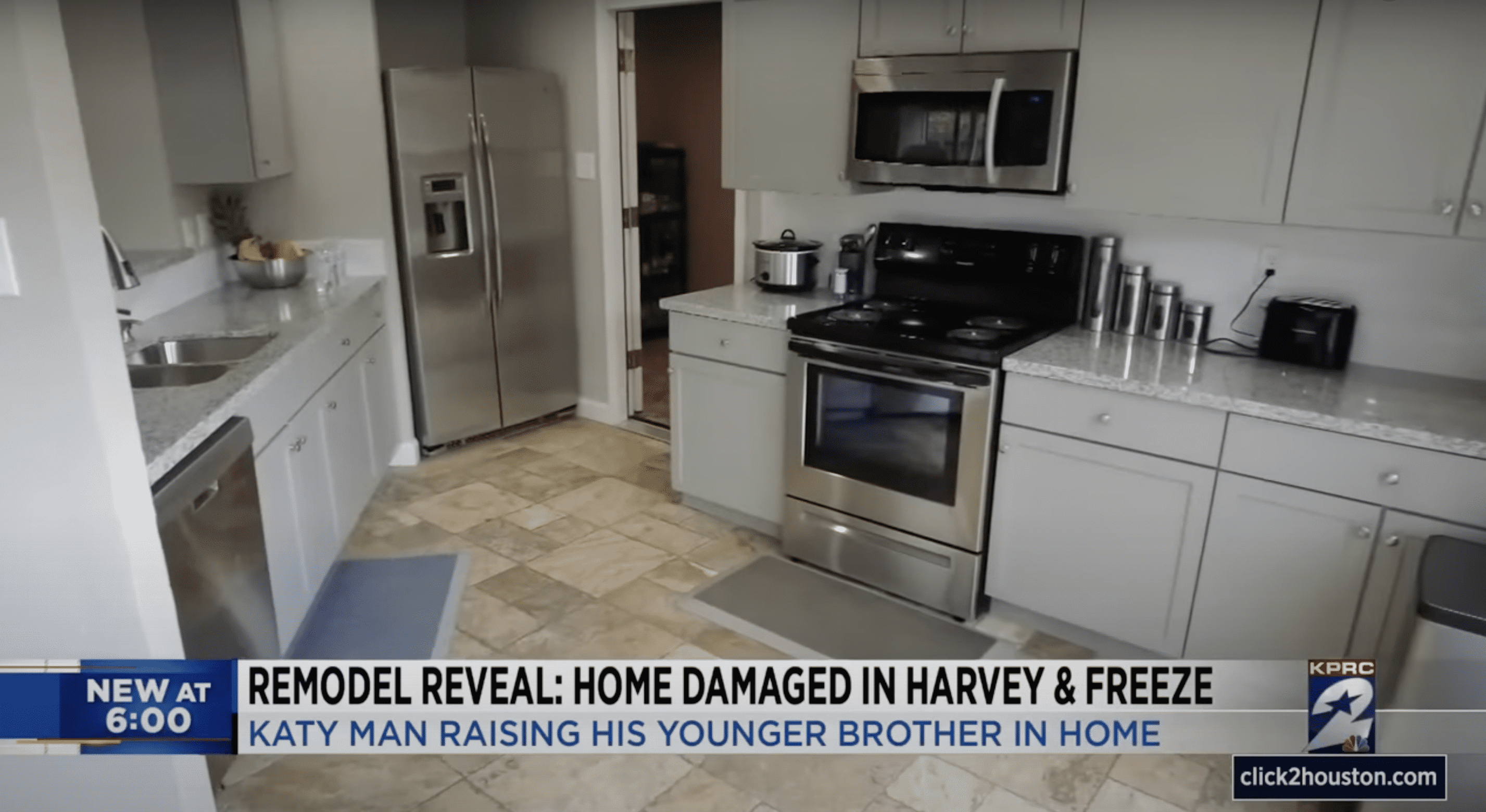 Jaylan Gray and Julian Nicholson's remodeled home. | Source: youtube.com/KPRC 2 Click2Houston
WELCOME HOME
Soon came the momentous occasion when the house was ready for the Texas brothers to take a tour. On Friday, August 12, Gray and Nicholson went to see their newly renovated place.
The brothers stared in utter disbelief and were reduced to tears as it dawned on them that the roof over their heads wasn't going anywhere.
An emotional Gray expressed that he was at a loss for words and didn't know how to thank the people who helped him and Nicholson in their difficult time.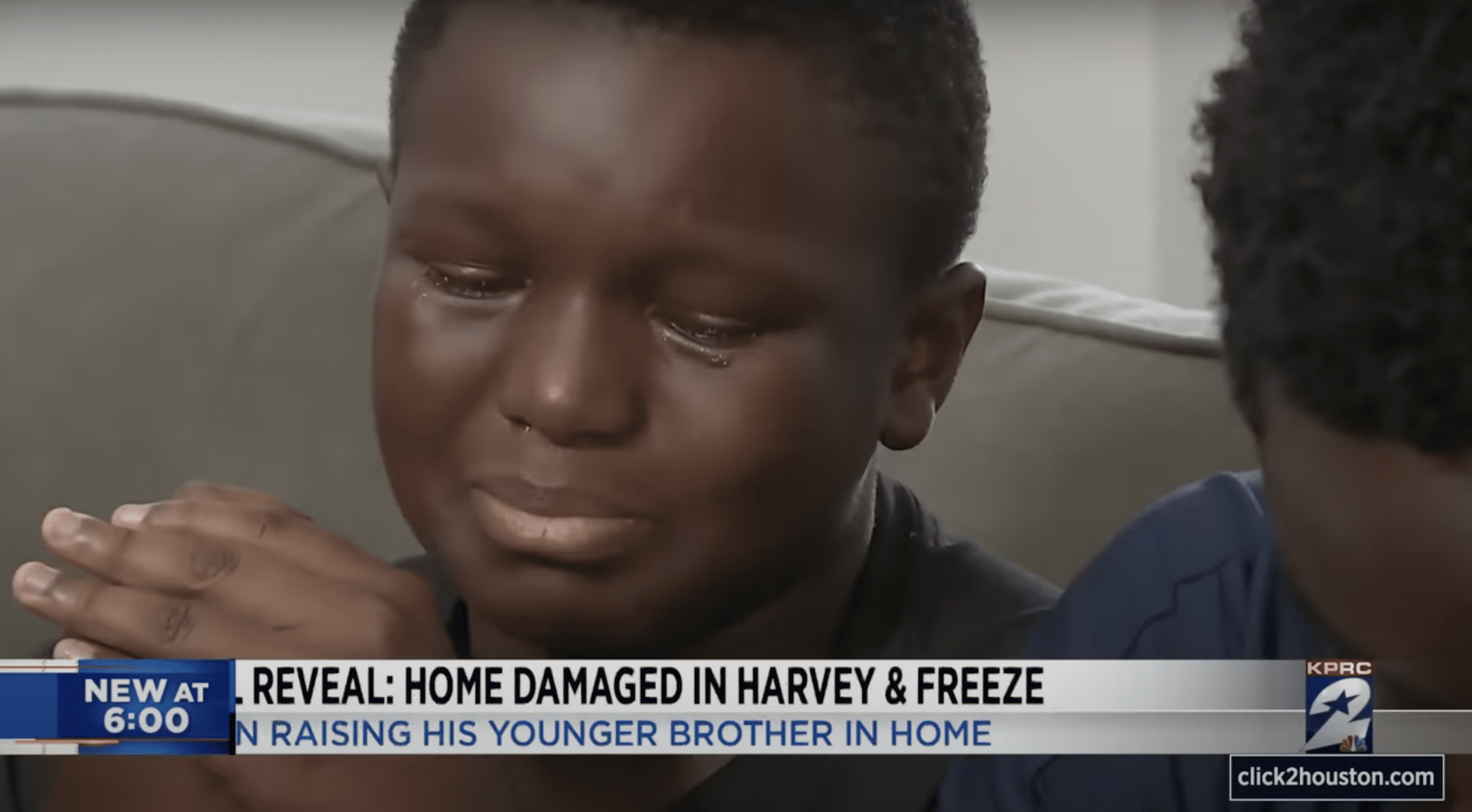 A teary-eyed Julian Nicholson. | Source: youtube.com/KPRC 2 Click2Houston
TOO MANY EMOTIONS
Katy Responds was founded in 2018 and has reportedly remodeled around 160 homes. Now that Gray and Nicholson don't have to worry about losing their home, they are ready to step into a new chapter in their lives. A teary-eyed Nicholson confessed:
"It makes me so happy to see that there's good people. I just like the way we've been treated. I didn't think anything good would happen."
COMMENTS FROM NETIZENS
Many netizens were touched by the Texas siblings' story and shared messages of appreciation and support on social media:
"I'm in tears of joy for this family!"

— ( @Norma-Hernandez) August 13, 2022
"Now this is why God put us on this earth! To love one another and do everything we can to help those in need! God bless you both [Jaylan] and Julian!"

— ( @malinda.breen) August 13, 2022
"From Jaylan raising his little brother to strangers helping one another, this is the America I know! Thank god , some have not forgotten who we are."

— ( @frank.sorgie) August 13, 2022
RAISING HER SIBLING
Like Jaylan raised his baby brother after their parents' demise, Molly did the same for her younger sibling. Molly was 13 and her baby brother, Ryan, was only six months old when their mother, Helen Brown, passed away in 1993.
Before her mom's death, Molly promised her that she would always take care of her brother. She not only raised Ryan but also ensured he felt special every day, particularly at his birthday parties. In many ways, Molly became her brother's surrogate mom.
Even after moving to different states and experiencing periods of pain, struggle, and loss, the siblings stayed close. In 2021, Molly met with an unfortunate car accident, after which she had severe back and knee problems.
LOSING ANOTHER PARENT
Molly underwent surgery and had to rely on physical therapy to get better. While she recovered, she and Ryan had a hard time convincing their dad, Brown, to get vaccinated against COVID-19, who they said had been influenced by false information online.
Brown was scheduled for a shot but fell sick on the day of his appointment. Eventually, he was diagnosed with COVID-19 and died within a few hours. Despite being a widower for 28 years, Brown still wore his wedding ring when he passed away.
Respecting their father's final wish, Molly used her savings to have him buried next to her mother. Molly and Ryan began raising money to purchase a double headstone to honor their late parents.
A HEARTWARMING SURPRISE
In the meantime, Molly conducted interviews in her dad's home state of Kentucky to encourage people to get vaccinated. Only weeks after burying their dad, Ryan honored his sister's kind-heartedness by nominating her for a Little Wish.
Ryan's touching surprise included a mattress and bed from Sam Pack Auto Group, new car tires, a salon voucher so Molly could get her favorite hair-do, and free physical therapy sessions for one year.
Ryan's heartwarming surprise deeply moved Molly, and she couldn't stop doting on him. If you loved reading about the phenomenal sibling bond between Jaylan and Nicholson and Molly and Ryan, go ahead and share these stories with your loved ones.
Please fill in your e-mail so we can share with you our top stories!
The information in this article is not intended or implied to be a substitute for professional medical advice, diagnosis or treatment. All content, including text, and images contained on news.AmoMama.com, or available through news.AmoMama.com is for general information purposes only. news.AmoMama.com does not take responsibility for any action taken as a result of reading this article. Before undertaking any course of treatment please consult with your healthcare provider.