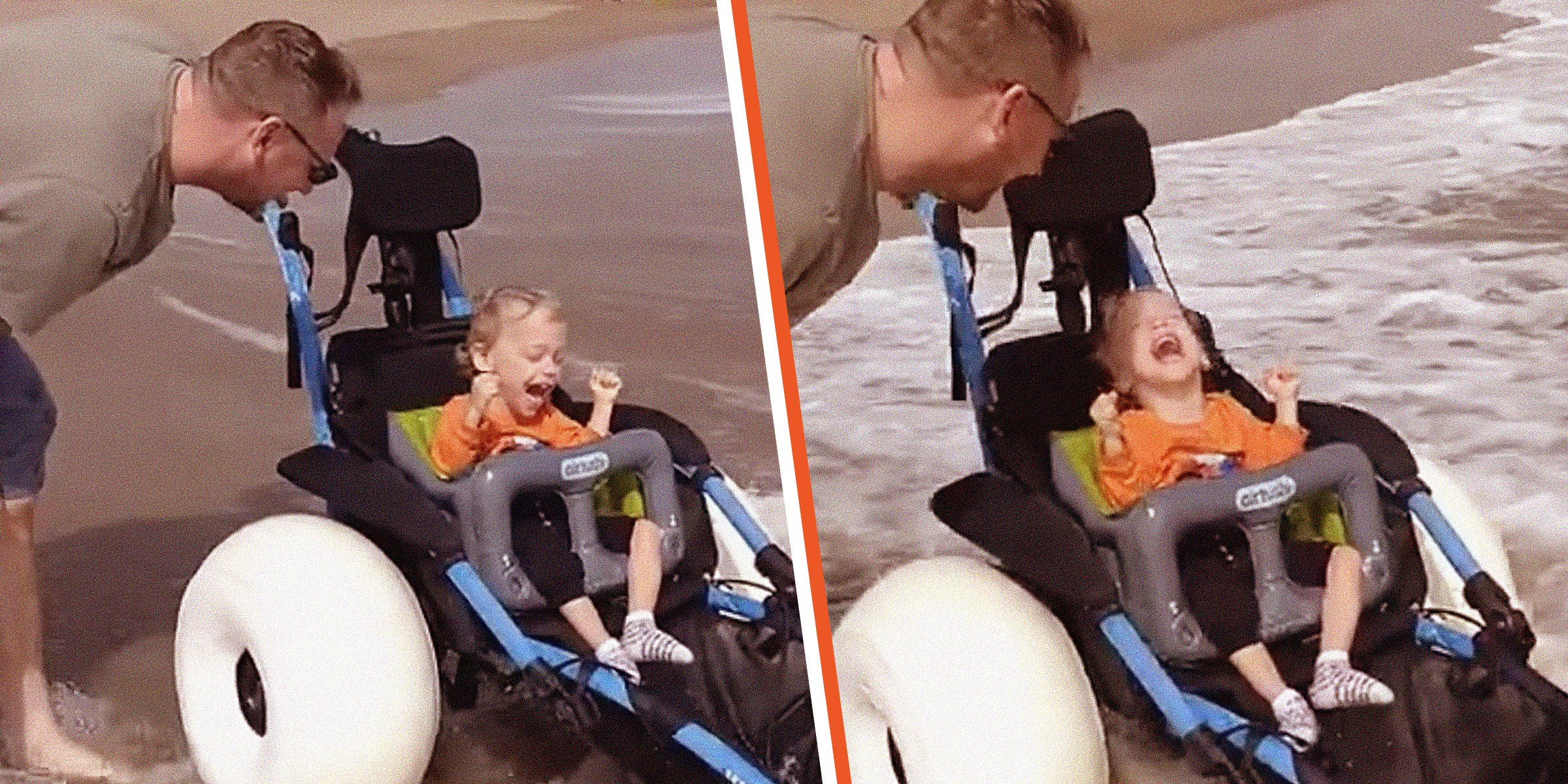 facebook.com/CBSNews
Little Boy with Cerebral Palsy Plays in the Sea for the First Time Thanks to a Special Wheelchair

Children look forward to new and exciting experiences, particularly those that give them room to be their true selves. For a long time, a toddler felt left out whenever he saw his older siblings play. Then one day, his parents gave him a heartwarming surprise.
Nothing compares to the pure bliss of seeing your kids experience their very first moments. Creating positive and enriching moments for little ones can play a pivotal role in their sensory and developmental growth.
Letting kids explore their surroundings and embark on adventures can help with their mental and emotional well-being. However, some parents might struggle with providing wholesome playing environments to their children for several reasons. A couple underwent something similar until they came up with an intelligent solution.
A Sweet Little Boy
Joey Leathwood lived with his parents and siblings in Sheffield, England. The little boy had missed out on many fun activities with his older brother and sister, particularly those involving water and the seaside.
But the question was: how could the little boy enjoy his seaside trip without feeling overwhelmed?
According to his parents, Leathwood loved the water but didn't enjoy trips to the sea because he struggled with how the sand felt on his skin.
Brave and Beautiful
Little Leathwood had cerebral palsy, a set of conditions impacting movement and coordination, stemming from a brain problem occurring before, during, or soon after birth. The symptoms might take two to three years to become noticeable after a child's birth.
The most common ones include extreme difficulty in walking, inability to sit without support, stiffness of the muscles, and increased sensitivity. People with cerebral palsy may react differently when in contact with certain textures or exposed to noisy environments.
Feeling Left Out
Leathwood's mother, Helen Butterfield, 34, who took care of him full-time, shared that her son could not do things for himself because he had significant sensory problems.
She added that little Leathwood didn't like grass, sand, snow, and soft surfaces, so their family avoided taking him to the beach.
His First Seaside Adventure
Butterfield explained that she often feared her tot would fall sick if he failed to process a feeling. At the same time, the mother felt guilty for not being able to provide her son with delightful and wholesome experiences.
However, Leathwood was able to play by the sea for the very first time with his parents and siblings — a moment that his family captured beautifully. In a short and absolutely heart-melting clip, the little angel was seen enjoying the tumbling waves, with his father, Tom, beside him.
A Special Chair
But the question was: how could the little boy enjoy his seaside trip without feeling overwhelmed? It was all thanks to a specialized chair designed for children like him to help them experience everyday moments and extract joy from them.
The heartwarming footage showed Leathwood having a spectacular time in his off-road, water-resistant wheelchair. His family rented the chair for free from BeachAbility, a local charity created in 2012 by Sharon Gray, who had Motor-Neurone Disease.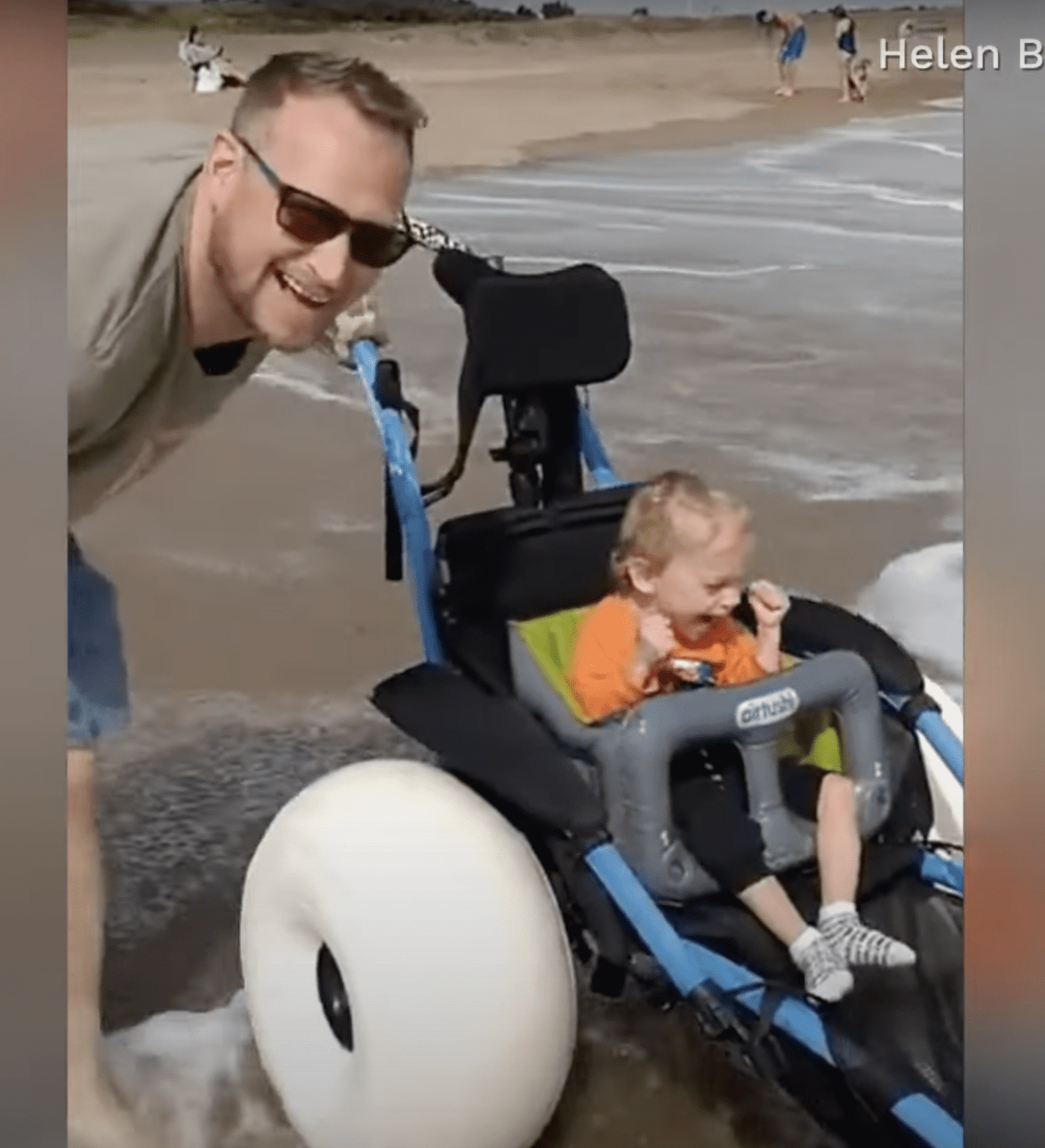 Joey Leathwood's father smiles after seeing his son having fun at the seaside. | Source: facebook.com/CBSNews
The special beach chair had a headrest and harness to aid those with difficulty moving or sitting upright. It cost more than £3,200 (approximately $3,700) and had huge plastic balloon wheels that could smoothly glide along the sand and go in the water without being stuck.
Enjoying with His Siblings
Regarding her son's first seaside adventure at Skegness Beach in Lincolnshire in August 2022, Butterfield said:
"He was able to be just as happy and part of the day with his brother and sister, he loved watching the waves splashing over the top of the chair but still felt safe."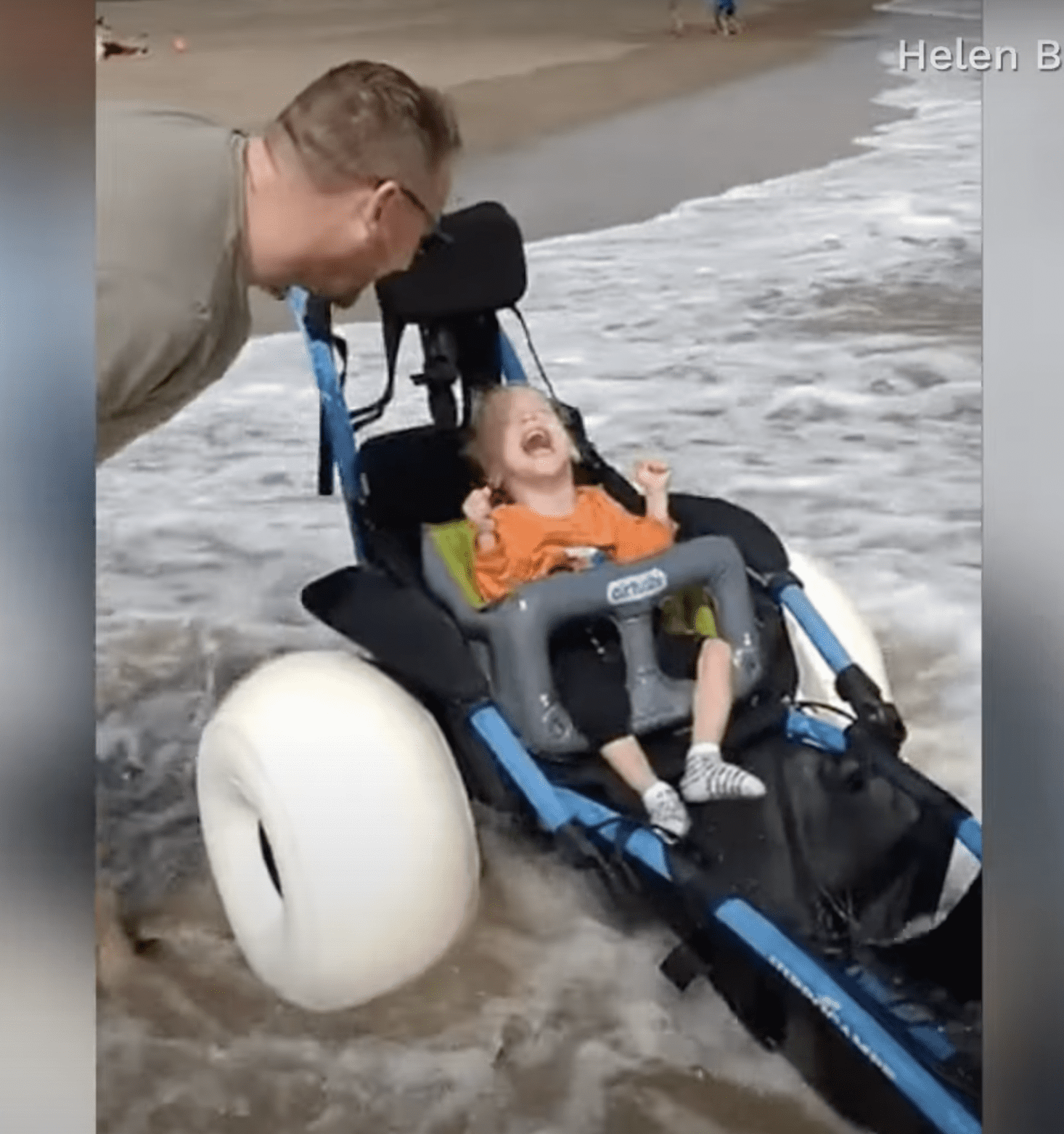 Little Joey Leathwood is seen giggling as the tumbling waves wash the shore. | Source: facebook.com/CBSNews
Nothing but Gratitude
Leathwood's mother said it was a precious feeling to watch her son play with his brother Connor 11, and Maisie, eight, for the first time, instead of sitting in a corner and feeling left out.
Ms. Butterfield praised the local charity in a Facebook group post and suggested the members try the BeachAbility Ingoldmells Hippocampe Beach Wheelchairs.
The happy mother also thanked the charity for lending the specialized chair and brightening up her little boy's day.
We are beyond glad that little Leathwood was able to play by the sea and have a wonderful time with his parents and older siblings. The AmoMama team sends their love and best wishes to this sweet boy and his beautiful family.
Please fill in your e-mail so we can share with you our top stories!
The information in this article is not intended or implied to be a substitute for professional medical advice, diagnosis or treatment. All content, including text, and images contained on news.AmoMama.com, or available through news.AmoMama.com is for general information purposes only. news.AmoMama.com does not take responsibility for any action taken as a result of reading this article. Before undertaking any course of treatment please consult with your healthcare provider.