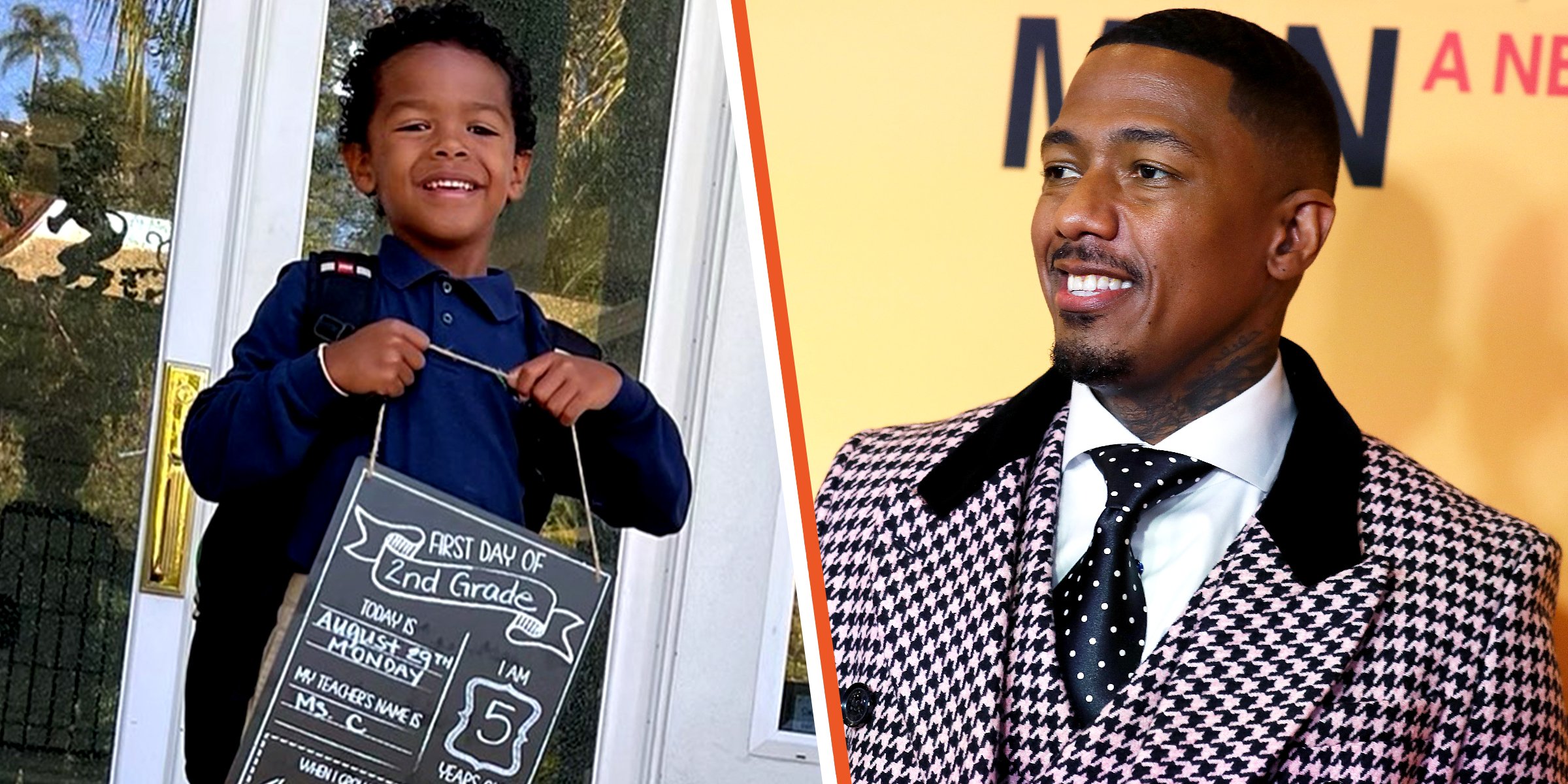 Instagram/Nickcannon I Getty Images
Golden Cannon Is So Smart He Goes to the 2nd Grade at Only 5 Years Old – Meet Nick Cannon's Son

Golden Cannon is the son of well-known Hollywood actor, TV host, and rapper Nick Cannon. The 5-year-old is so smart that he's already started 2nd grade.
Golden Cannon might be just five years old, but he's already making his parents proud. At his age, the little boy already goes to 2nd grade, which he started on August 29, 2022.
His dad Nick Cannon, who shares him with Brittany Bell, was more than happy to share the great news on social media as he took to his Instagram page to post about it.
The TV host shared a back-to-school picture of his son wearing a navy blue T-shirt and jacket with khaki pants while carrying a backpack. Golden is holding a sign in the photo which says it's his first day of 2nd grade, and he's five years old.
The sign also has the date and his teacher's name and says what he wants to be when he grows up. His dad captioned the image by saying, "Mr. Golden Cannon" had his first day in 2nd grade and that he's only 5.
The proud dad further said credit should be given to Golden's mother and wrote, "Congratulations, Champ!! I can't take none of the credit, though! He gets his genius from his Mamma! @missbbell."
Golden Cannon Wants to Be a Scientist When He Grows Up
Golden "Sagon" Cannon was born on February 21, 2017, and is a Pisces. His parents announced his arrival by sharing a photo on Instagram. Nick posted a black and white image of himself cradling Golden and captioned it by quoting a Bible verse and expressing how "God always reminds us of our purpose!"
The baby shower for Golden's mother, Brittany Bell, took place a few weeks before Golden's arrival on February 9. She had a celestial-themed baby shower, and Nick shared a picture of him and Brittany on Instagram expressing his love for her and their then-unborn baby.
Golden is a Black Panther fan and had a Black Panther-themed party for his fifth birthday in February 2022. He wore a Black Panther outfit, and so did his father, mother, and sister.
His birthday party had a lot of cool stuff like a light-up dance floor, ball pit, glow paint station, a "Wakanda Forever" birthday cake, and more. The 5-year-old is also a fan of The Thundermans.
He seems to do well in school, and his mom shared a post in April 2021 revealing the grades Golden skipped.
She said Golden has "a gift for learning" and has skipped preschool, pre-k, and kindergarten and went straight to 1st grade. According to his mom, he has a balance between cognitive and emotional skills.
The intelligent little boy even knows what he wants to be when he grows. Golden revealed that he wants to be a scientist, but his mother said in a post in August 2021 that he wanted to be "everything." Golden is learning Mandarin and a post shared by his mom on Instagram showed his progress.
The 5-year-old seems to love sports and went to the batting cages for the first time in July 2022. His dad shared a video of him there on his Instagram. Golden's dad also revealed through a post that the 5-year-old plays baseball.
Golden Cannon's Parents
Golden Cannon's parents are Nick Cannon and Brittany Bell. Nick, born Nicholas Scott Cannon, was born to James Cannon and Beth Hackett on October 8, 1980. The actor, rapper, and comedian's parents separated when he was young, and he grew up in California and North Carolina.
The TV host got his big break as a teenager on Nickelodeon's "All That" before starring in "The Nick Cannon Show" and "Nick Cannon Presents Wild 'N Out." He also appeared in the sitcom "Brooklyn Nine-Nine and hosted the competition series "The Masked Singer."
Golden's mother, Brittany Bell, is a model and pageant titles holder after winning the Miss Arizona USA 2010 and Miss Guam 2014. The Barrigada, Guam, native's a former NBA dancer for the Phoenix Suns and a college graduate.
Nick and Brittany began dating in 2014 after he split from Mariah Carey and had an on-and-off relationship for a while. The pair supposedly had their son Golden in 2017 while "on a break." The two were broken up when she got pregnant the second time, and they seemed to be back together.
They were spotted together in November 2020 while leaving a restaurant in Malibu, California, holding hands. That same year, the pair had their second child, a daughter, whom they named Powerful Queen Cannon. Brittany has defended her relationship with Nick and has remained optimistic.
Golden Cannon Has Many Siblings
Golden Cannon has many siblings. Nick's first child is Monroe Cannon, who he welcomed with famous singer Mariah Carey. Born on April 30, 2011, Monroe, whose name comes from Marylin Monroe, made her modeling debut in July 2021.
Monroe has a twin, Nick's first son named Moroccan Scott Cannon. His first name is from the Moroccan decor in the apartment where his father proposed to his mother in 2008. His second name is from his father.
The rapper's third child is Golden's younger sister, Powerful Queen Cannon, born in December 2020. Her mother is Brittany Bell, and Nick announced her arrival by posting hospital photos on his Instagram, saying she's "the best gift ever."
Nick's other set of twins is Zion Mixolydian and Zillion Heir Cannon. They were born on June 14, 2021, and their mother is professional DJ Abby De La Rosa. Abby announced the birth of her twins on Instagram two days after they were born.
Golden's other sibling is Zen S. Cannon, born June 23, 2021. His mother is model Alyssa Scott. Legendary Love Cannon is Nick's other child with model Bri Tiesi. They welcomed him on July 2022 after Nick confirmed he was expecting another child on his show in January 2022.
Golden sadly lost one of his siblings in 2021. Zen S. Cannon sadly died at five months old in December 2021. His father announced on his show that his son died of brain cancer.
Nick's expecting his ninth child with Abby De La Rosa, and the baby is expected to arrive in October. Golden's mom Brittany is also pregnant with Nick's tenth child so Golden will have another sibling.
Golden Cannon's Dad Has Planned All His Children
In July 2021, Golden's dad revealed that none of his children were in an accident but had them on purpose. He expressed his feelings about having children with different women by revealing that he's never "really subscribed to" the mentality that "a man should have one woman."
He also said he doesn't have "ownership of any of the mothers" and that they "create families in the sense of we created a beautiful entity." The TV host further stated that the women are the ones with the choice saying, "The woman is always the one who leads and makes the decision."
Nick Cannon revealed that he could have gotten many people pregnant but didn't. He further stated that the women he has kids with are "the ones that were supposed to get pregnant."
Please fill in your e-mail so we can share with you our top stories!