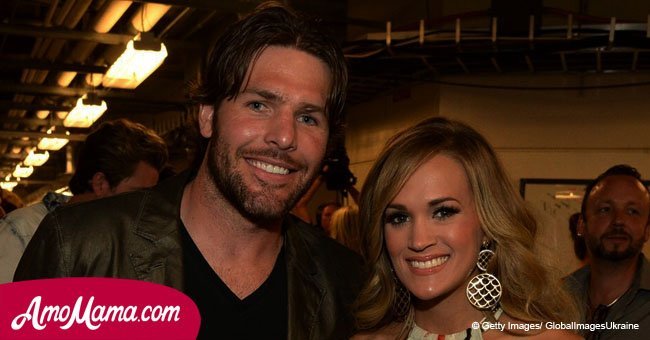 Carrie Underwood's husband Mike shares 'silly' photo to celebrate her 35th birthday
The sports star took to social media to celebrate a special day in his life but chose a humorous way to do it.
Mike Fisher shared a hilarious photo of his wife Carrie Underwood, from her days of American Idol, to mark her 35th birthday on March 10, 2018.
According to Inquisitr, the 'less than flattering' photo revealed Underwood as donning a 'pretty crazy' hairdo during her American Idol days.
The photo was from the time when she performed the Heart song, Alone, on the famous singing reality show about 13 years ago, in 2005.
In the photo that Fisher shared the 35-year-old singer can be seen rocking huge locks, which Fisher made sure to make fun of by referring to it in the comment as 'killer hair.'
He further captioned the image as: "Happy birthday to an incredible wife and an amazing mom with killer hair!"
The former NHL star, who is soon returning to the game playing for the Nashville Predators, further wrote: 'All kidding aside you're a blessing to Izzy and I everyday! Love you...'
The source informed that Izzy was a reference to the couple's baby, who just turned 3 years old a month earlier.
During Izzy's birthday, Underwood had also taken to social media to share her own message. She thanked her fans on Twitter who sent out sweet birthday messages for her little boy.
'How is my sweet baby 3 years old? Thank you all for the sweet birthday wishes for the little man,' her Tweet read.
Meanwhile, Fishers fun-filled post about Underwood's killer hair has garnered over 35,000 likes in the first two hours of sharing. He has more than 376,000 followers on the social media, the online source confirmed.
The online source further suggested that Underwood's hair might be a 'running joke' in the family as only a few weeks earlier, she shared another hilarious painting of her, done by her son, in which she had less than perfect hair.
Please fill in your e-mail so we can share with you our top stories!