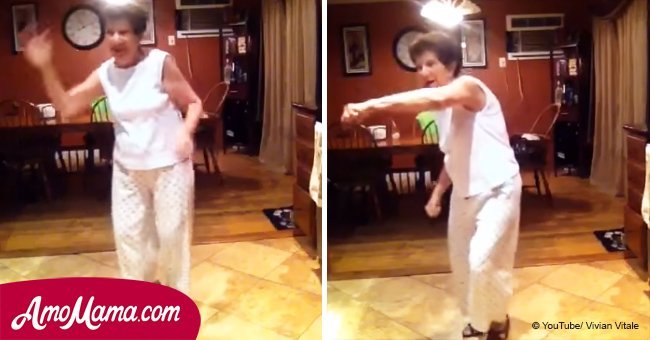 Boy heard a noise from the kitchen. Entering, he instantly grab the camera and film his granny
This grandmother surely deserves all the attention she's getting.
As reported by Jumble Joy, the 86-year-old grandmother was captured by her grandson doing the Whip/Nae Nae dance.
In this video, the grandmother is seen in the middle of the kitchen grooving to Silento's Watch Me (Whip/Nae Nae).
Being recorded by her grandson, the 86-year-old seriously gets down. She just proved that age really is just a number.
She's got the spunk and enthusiasm. Her hip-hop moves aren't just for young whipper snappers, according to Jumble Joy.
The granny made no mistake as her moves are perfectly in tune. She was also right on cue during the 'stanky leg' portion of the dance and she even dances one bra strap off of her shoulder.
YouTuber, Vivian Vitale, posted the video and it has been viewed over 1.8 million times. The video also received many positive comments from other users.
'This looks so much like my mother at 84. I kept thinking how could this be her. I hope your very grateful to have such a beautiful grandmother, who obviously takes great care of herself. She probably keeps so young because of you,' YouTuber, Celeste Pearce, wrote.
'That's Awesome. Grandma can dance and get enough views doing it to make some folks jealous. Ellen Degeneres would be so proud. I love that you went longer than you wanted to for your grandson to make his video.' YouTuber, Kimbra Conger, added.
YouTuber, LeXYs HeRe, commented that she hopes she can move like the grandmother when she's 86 years old.
Silento's Watch Me (Whip/Nae Nae) has swept the nation when it was released on May 5, 2015. The song peaked at #3 on the Billboard Hot 100 and spent 6 non-consecutive weeks on the chart.
The official music video was uploaded on Silentó's Vevo channel on YouTube on June 25, 2015. It has surpassed 1.4 billion views as of March 2018.
Please fill in your e-mail so we can share with you our top stories!