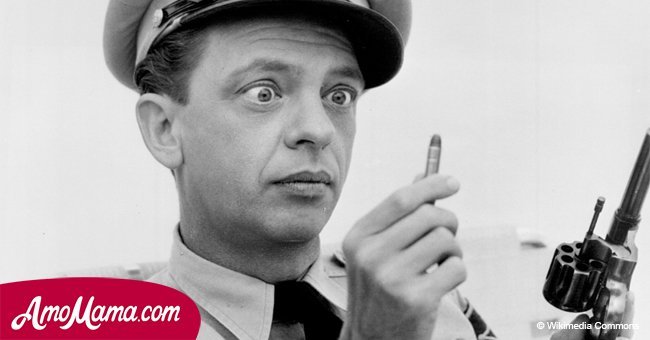 Don Knotts from 'The Andy Griffith Show' had a life full of struggles that fans wouldn't expect
The actor may have had a difficult start to life, but he was hugely successful once he started his career.
Born Jesse Donald Knotts on July 21, 1924, the actor who would become known as Don Knotts entered the world to a mother who was already 40 years old at the time of his birth, and a father who resented the attention he took from his mother.
As reported by Closer Weekly, his most successful role was that of Deputy Sheriff Barney Fife on The Andy Griffith Show.
Knotts' father, William, suffered from both schizophrenia and alcoholism, and hated the fact that his wife would give the amount of attention she did to their young son. On one occasion, he became so envious of their relationship that he held a knife to Knott's throat.
It was during his rough childhood that he fell in love with movies and film. He particularly loved comedy, and actors who he perceived as comic geniuses such as comedy duo Stan Laurel and Oliver Hardy. On radio, he loved listening to Jack Benny.
As a child, he also appeared in a number of school and church events, performing as both a comedian and a ventriloquist.
After finishing high school, he moved to New York City to pursue a career in comedy. Unfortunately, things didn't quite go according to plan, and he ended up moving back home to West Virginia where he started studying at university.
Source: Wikimedia Commons
Source: Wikimedia Commons
Just one year in, he enlisted in the military, and served during World War II from 1943 - 1946. He didn't engage in combat, instead being the entertainment for the troops. He became part of Stars and Stripes, a G.I. variety show.
When the war ended, he completed his studies, earning a Bachelor's degree in education, with a minor in speech. By then, he had made some great connections due to his stint in the army, and returned to New York, this time with a plan.
He started in radio, as television was not yet quite as prominent as it is today, before moving over to the screen. Knotts spent the next two years on Search For Tomorrow, before becoming part of the cast of The Tonight Show.
The now successful actor stayed with the show until it ended in 1960, also making an appearance on Broadway in that time, starring in No Time For Sergeants. It was when this play was reproduced in film that he and Andy Griffith first met one another.
Source: Wikimedia Commons
Source: Wikimedia Commons
The pair had instant chemistry, and soon after came the birth of The Andy Griffith Show. Before they started filming, Griffith stated that he would be a part of the show for five seasons, and no more. Knotts accepted this, and agreed he too would only do five seasons.
When the five seasons passed, Griffith had changed his mind. But Knotts had not. He claimed he had signed a five-film deal with Universal Studios, although admitted years later that the deal had actually not yet been signed at the time.
He did return to the popular show for just five more episodes, and the cast and fans were glad to have him even for those rare episodes.
Knotts' first starring role in a feature film was in 1964 in The Incredible Mr. Limpet. The film also featured Paul Frees and Elizabeth MacRae, and balanced both live action and animation.
The films he starred in for Universal Studios were The Ghost and Mr. Chicken (1966), The Reluctant Astronaut (1967), The Shakiest Gun in the West (1968), The Love God? (1969) and How to Frame a Figg (1971).
Source: Wikimedia Commons
Source: Wikimedia Commons
While he had a very successful career even after leaving The Andy Griffith Show, he never quite recaptured the same magic that fans had known and loved from his days as the flamboyant Deputy Sheriff Fife.
In the 1970's, he found another home in a hit comedy, Three's Company, after three of the main cast members chose to leave. Both the cast - who had originally been intimidated by his reputation - and the show's fans loved his zany character.
He stayed with the show until it ended in 1984. And just two years later, he made his return to The Andy Griffith Show, along with the majority of the original cast, when a television movie was made.
After that, he appeared only in smaller roles, and did plenty of voice acting for animated films and series, and video games.
In the early 2000's he suffered a macular degeneration in both of his eyes. Sadly, this left him all but blind.
In February 2006, it was announced that he had lung cancer, and he passed away on February 24 as a result of pulmonary and respiratory complications of pneumonia.
Please fill in your e-mail so we can share with you our top stories!