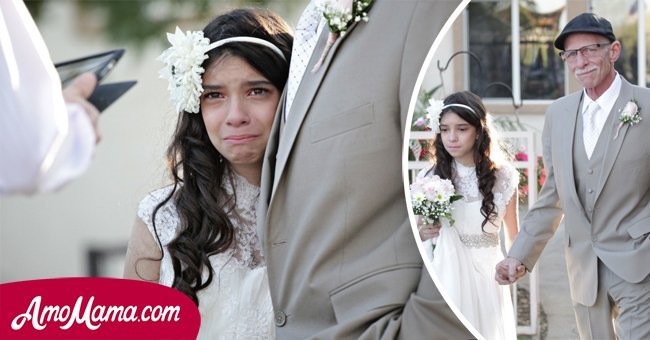 Man celebrates his 11-year-old daughter's wedding, but the bride is crying the whole time.
A 62-year-old father celebrated his daughter's wedding for a heartbreaking reason.
According to Wikr, Jim Zetza wanted to attend his daughter's wedding but was short of time due to terminal illness.
The touching story is about a 62-year-old man. Fate had different plans and he couldn't wait until his daughter, Jose, grew up to attend her wedding.
Jose was only 11 but Jim wanted to go to his daughter's wedding.
Unfortunately, Jim was diagnosed with terminal pancreatic cancer and he knew he did not have much time.
He decided to celebrate a mini-wedding with his little princess.
He requested photographer Lindsey Villatoro to document his family in the time they had left together. A mother-of-three herself, Villatoro was touched by how young Jose would react after she loses her father.
An amazing idea was born. With Jose's birthday approaching, Villatoro wanted to do something special for the family.
She said that she too had an 11-year-old and thought what her daughter would want if her father was not around.
Just then she thought about Jos being at her wedding about 15-20 years later. Suddenly the video pops up and it is the little girl in an oversized wedding gown walking down the aisle with her father.
She spoke to Jose's mother and she immediately agreed to help.
Villatoro organized the surprise wedding in just three days. A day after Jose's birthday, she was told about the plan.
The photographer revealed that Jose was initially overwhelmed but realized how much it would mean to her father. She agreed to be part of it.
Pastor Gary Galbraith officiated the emotional ceremony where he told the 11-year-old, "Your dad may not get to see you get married, but he is here to walk you down the aisle today."
He then announced them, father and daughter.
After the ceremony, Jim said that it was not easy to do, but he would not change it for the world. He knew that in about 20 years when Jose really gets married, she will be happy that she walked down the aisle with her father.
Please fill in your e-mail so we can share with you our top stories!