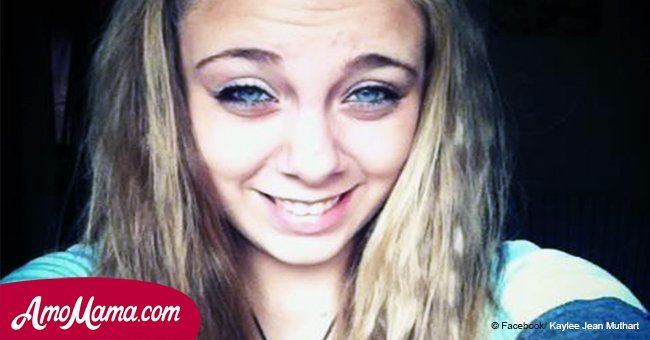 Woman ripped her own eyes out. She thought it was a 'sacrifice' to God

The woman's mother is now setting a crowdfunding campaign to help her start again with a guide dog and rehabilitation from drug addiction and abuse.
NY Post has reported the gruesome news of a young woman who ripped her own eyes out in the middle of a drug-induced frenzy that made her believe she was hearing voices from heaven, just outside a church.
According to the source, the 20-year-old named Kaylee Muthart was heard by parishioners that were at the service in South Main Chapel and Mercy Centre in South Carolina as she was screaming right outside the premises on February 6.
The people that ran out after her screams were shocked to see the young woman holding her eyeballs in her hands. She was clearly out of control and barely restrained while the police arrived at the scene.
A team of policemen with great effort managed to calm Muthart down before she was airlifted to Greenville Memorial Hospital's trauma unit. All doctor's could do was cleaning what was left on her eye sockets to prevent an infection.
It was determined that Muthart was under the influence of the drug known as crystal meth. She later explained that in the midst of her drug-addled haze she heard God asking her to sacrifice her eyes in order to be welcomed into heaven.
'So I pushed my thumb, pointer, and middle finger into each eye. I gripped each eyeball, twisted, and pulled until each eye popped out of the socket — it felt like a massive struggle, the hardest thing I ever had to do,' she recalled.
There was nobody around to stop her from committing the unthinkable act against herself, and when her screaming gave her away, it was already too late. The pastor reached her as she held her eyes in her hands screaming: 'I want to see the light!'
Muthart's mother, Katy Tompkins, talked to People and shared how devastated she was after learning her daughter had left herself blind because of drugs. She knew about her daughter's drug problem and was trying to get her to a rehabilitation program.
'The day before it happened, which was my birthday, I was getting ready to have her committed, just to get her off the streets and away from it. But I was too late,' Tompkins said.
Despite the horrible incident, Tompkins hopes for the best and takes refuge in her faith. She thinks God gave her daughter a second chance and she trusts Muthart is going to enter rehab as soon as she is well enough.
'It's weird to say, but she uplifts me right now and she's the one that can't see. That 's just the kind of person she is. I'm thankful, it's a horrible thing, but I'm still thankful because God spared her life,' Tompkins said.
Please fill in your e-mail so we can share with you our top stories!