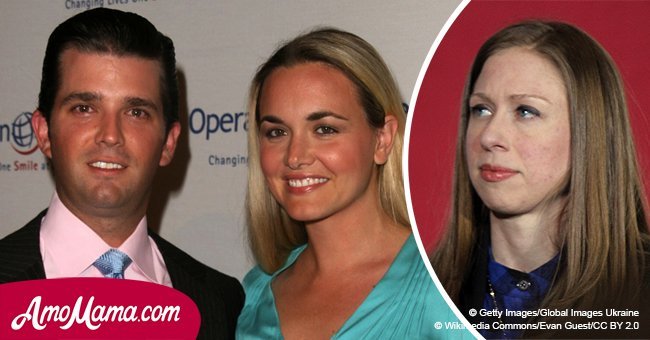 Chelsea Clinton gives a warning to media following Donald Trump Jr. divorce news

The media can turn into quite an harassing force whenever something is about to go wrong; like when celebrities have a baby or prepare to file for divorce.
That is what has been happening to Donald Trump Jr. and his wife, Vanessa Trump, with whom he has been married since 2005. The couple recently admitted that their relationship was over.
The spark and love that once existed between them are long gone and they decided that it was best if each went their separate ways, as reported by the Huffington Post.
This led the media to immediately start pouring content related to the couple, but one woman stood up for them. Chelsea Clinton, former First-Daughter, warned the media to back off.
Being the daughter of former President of the United States Bill Clinton, she knows the power that the media can have with the right, or wrong, information in their hands.
According to the source, Chelsea took to Twitter to respond to the reports that were published on Thursday, which reported that Donald and Vanessa had filed for divorce.
She claimed that they were a young couple and that they were entitled to their privacy. Chelsea added that Donald and Vanessa didn't deserve being turned into clickbait.
But, despite her best efforts, the couple still issued separate statements on their social media accounts that confirmed the decaying state of their marriage, and that they were going to divorce.
As reported by Pop Culture, the reason behind the separation is the fact that the politician spends too much time away from home, and that he hasn't given Vanessa any attention for quite some time.
She feels very lonely on a daily basis, and the children barely see their father anymore because he has been too busy running the Trump Organization.
Please fill in your e-mail so we can share with you our top stories!