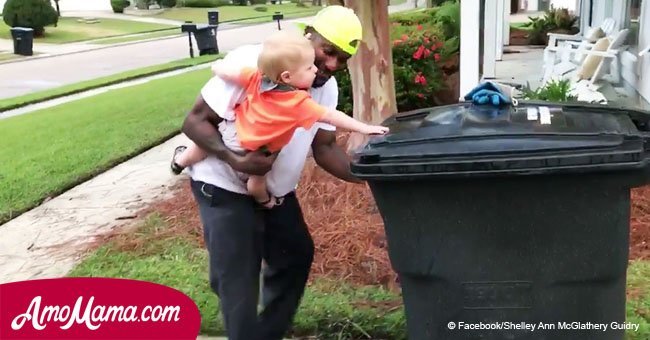 16-month-old boy is fascinated with his local garbage man. One day they finally made friends
Sanitation work is difficult. It takes physical strength, and often requires workers to be out in the heat of the day working.
Gray Guidry is just 16 months old, but already he has a deep admiration for the sanitation workers in his neighborhood, particularly a man known to the residents of the area as Mr Anthony.
As reported by Liftable, the pair seem to have quite a sweet relationship.
Despite the demands of his job, Mr Anthony always takes the time out of his day to pay some attention to the little tot.
To Gray, Mr Anthony is a superhero. He lets him help with the trash duties, happily enouraging the sweet boy to be strong and push the trash can.
On other occasions, the pair play on the sidewalk with Gray's toy garbage truck, or drawing with chalk.
One day, Mr Anthony even picked Gray up to help him push the garbage can. Gray's mother, Shelley Guidry noticed this one day, and quickly picked up her camera to capture the adorable moment.
"[T]hey really have the cutest little friendship! It's just about the sweetest thing," she wrote on Facebook when she shared the footage.
The video has already been watched over 127,000 times.
Ryan Guidry, Gray's father, was delighted at the positive response his wife's sweet video received, and hopes that it will encourage a few kind words and gratitude for sanitation workers who work hard to keep everyone's environment clean.
"These guys work hard, and they still take time out of their day to spend time with my son. That time means a lot to our family, and I'm glad it's touching so many others as well," he said.
Please fill in your e-mail so we can share with you our top stories!