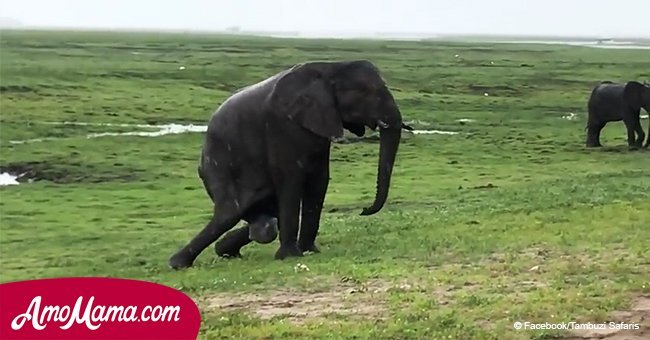 Elephant gave birth in the middle of a safari. The incredible moment after birth was filmed
Elephants share deep bonds with each other in their herd.
Faith Tap reported a heart-touching moment of an elephant giving birth to a young one even as the members of her herd watch from a distance.
Giving birth is one of the most incredible moments a mother can ever experience. When humans give birth, it is usually the mother, father, and random hospital staff who greet the young ones.
It is a different story when it comes to wild elephants. The whole herd is present to say hello to their newest tribe member.
In a video shared by the source, a group of tourists on safari got to witness the intimate moment of birth as it unfolded.
A female elephant is seen standing in the middle of the grasslands. She is in the middle of giving birth in the drizzling rain.
The rest of her herd is at a safe distance giving a feeling that even in the great outdoors, a mother still needs some personal space and room during one of the most important moments in her life.
Eventually, her adorable little one pops out into the world.
Then something incredible happens. Everyone from the baby's great-grandmother to the second cousins come forward to celebrate. The herd quickly surrounds both the mother and the newborn.
It is as though the new mother proudly shows off her offspring to her near and dear ones.
The elephants also sense that there are humans nearby. The herd forms a protective barrier around the new-born calf.
The adult elephants are also vocal in letting the tourists know that they should stay back for their own safety.
Elephants are considered sensitive and emotional creatures and it is evident from the video that they are like humans when it comes to welcoming their little ones into the world.
Even during the celebrations which they express by wrapping their trunks around others, they were also protective of the vulnerable members of their family.
Please fill in your e-mail so we can share with you our top stories!