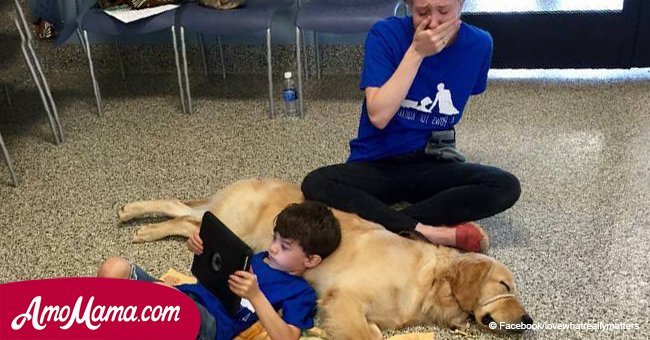 Mom nervously watches autistic son meet his service dog
Not being able to hold or hug their own child is unimaginable for parents.
Parenting Isn't Easy reported that the fear is real for some parents of children with autism because they reject physical contact.
Some autistic children have sensory issues and hugging, holding, or any other kind of physical contact is unthinkable for them.
Dr. Anis Contractor said, "They don't look in people's eyes, they won't hug their parents, and they are hypersensitive to touch and sound."
Shanna Neihaus is a mother of a five-year-old autistic son, Kai. She was moved when she saw her son in an embrace for the first time. This was possible due to a service dog named Tornado.
The American family lives in Japan and prepared for almost two years to meet Tornado.
'This picture captures the face of a mother who saw her child, who she can't hug, wash, dress, snuggle and touch freely, lay on the new service dog of his own free will, with a purposeful, unspoken attachment.'
Shanna Neihaus, Facebook, October 19, 2016.
The mother had never seen her son willingly accept an embrace. Even a simple act of washing, dressing, or cuddling her son is a struggle.
The dog seems to have changed that for her. She took to Facebook to share her joy, posting a photo of her son with their service dog. The photo also captured her reaction.
She said that she had never experienced such a moment before. After seeing her son's countless failed social interactions to have a friend, she was relieved and happy.
The moment Kai spotted Tornado, he ran over to the dog and hugged him. The mother was taken aback by the instant connection her son formed with his dog.
She had been longing for some kind of connection. She had sat with her son who cried at night for months because he did not have a single friend outside of the family. He struggled hard though he had worked hard in his autism therapies.
Looking at the bonding between the two, the mother heaved a sigh of relief knowing that her son was growing and a hope that he was going to be okay.
Tornado came from Paws 4 Ability and she is happy that she finally cried for a different reason. She experienced a feeling that was 'indescribable.'
The post on Facebook went viral and was shared more than 300,000 times.
Please fill in your e-mail so we can share with you our top stories!