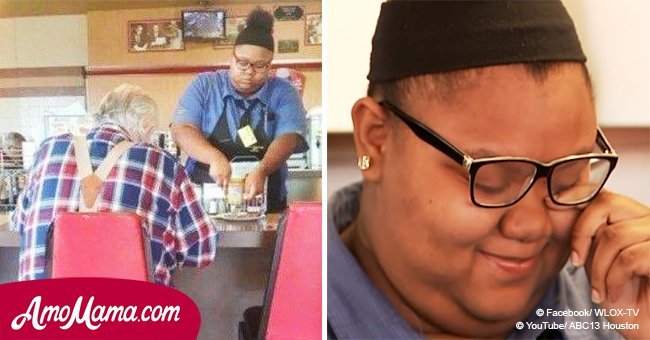 Waitress noticed an elderly man having trouble enjoying his meal. She stepped in to help
A kind-hearted teenage waitress shows an unexpected gesture toward a customer and the result is truly beautiful.
Evoni Williams never suspected that her act of kindness was being watched and it would come around to provide a big payoff for her that she never even expected.
According to Goodfullness, Williams stood as an example that even in the world getting fuller of bad news and negative influences, something good does 'shine through.'
It all began when Williams noticed that an elderly man was having trouble enjoying his meal because his hands did not work well and he could not cut the ham properly.
The 78-year-old Adrien Charpentier was not being able to enjoy his meal the way he wanted and the way he deserved to enjoy it. Without even being asked, Williams volunteered to help.
She stepped in and started cutting up the man's meal so that he could enjoy it properly. Williams took this entire thing with simple grace as she did not make much show off the fact that she was involved in a selfless help.
Her action was caught on camera by another patron, Lara Wolf, who took to Facebook to share the prized photo along with a caption of a compassionate message.
Wolf wrote on her Facebook post that the old man was on oxygen and struggling even to breathe. He told the waitress that his hands did not work good, so without much thinking, she began helping him.
'This may seem small but to him, I'm sure it was huge. I'm happy to have seen this act of kindness and caring at the start of my day when everything in this world seems so negative,' Wolf further captioned her post.
After Wolf's post, the story quickly went viral and started making major headlines in local news outlets. Knowing about her kindness and her popularity, Williams' school decided to show a kind gesture of their own.
They put together a $16,000 scholarship for Williams and gifted it to her as a surprise, which immediately broke her to tears.
Please fill in your e-mail so we can share with you our top stories!