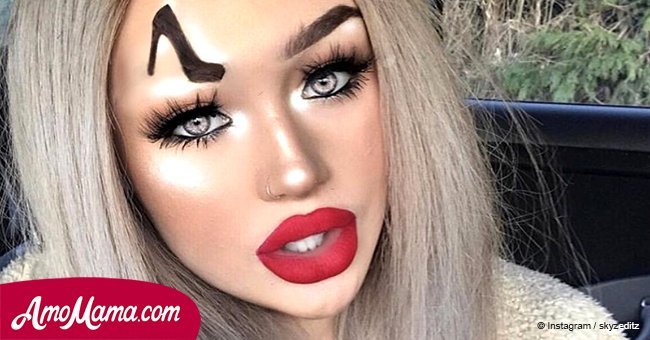 High heel brows are the latest divisive eyebrow look. Do you like it?

When it comes to art and fashion, several things might be considered trendy for some people and epic fails for some others.
Instagram has become a platform for those who like to express themselves in their very own way. That's the case of @skyzeditz, who shared a unique style: the high heel brow.
Just as its name suggests, the model's brow is manipulated into the shape of a very high stiletto quite similar to the form of the high heel emoji. According to This Is Insider, the image was shared on the Instagram account of Megan Feather.
Feather, the Instagram star best known for her makeup tutorials, captioned her post admitting that it was a very creative and funny trend. She thanked the original account that uploaded the photo, and pointed out that she loved it.
@skyzeditz is famous for creating different brow styles as they were the first ones promoting the fishtail brow. Later, several other Instagrammers have done their best to come up with different and innovative designs.
Those include the right angle brows for math lovers, halo brows for those who aren't afraid of experimenting with a reverse unibrow, and even the seasonal favorite, Christmas tree brows.
One of the most interesting aspects of the trend is that it started in the simplest way: drawing the eyebrows in a lighting shape or even the Nike swoosh. Now it has evolved so much that people turned it into high heels.
Several Instagram users took to the comments section to share their opinions about it. Beverly Collins confessed that the model looked just like a desperate clown and that it was shameful.
Rebekah Marshall, on the other hand, pointed out that it was a bad photoshop job. @sav.jxde chimed in asking the Instagram account to stop posting such images and get some help.
It didn't get only bad comments, though. @itslauren defended them admitting that it was a creative and fun job and that it was obvious that was an edit as the name of the Instagram account – skyzeditz – made clear it was photoshopped.
Please fill in your e-mail so we can share with you our top stories!