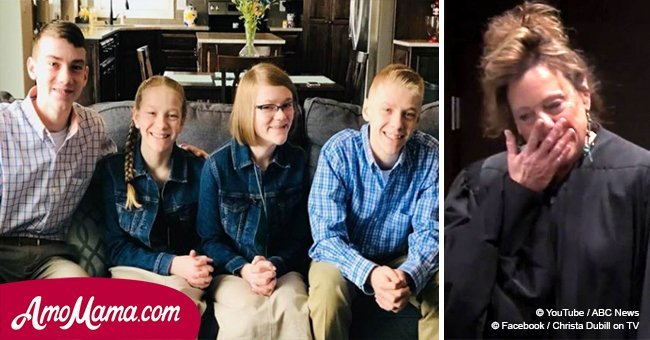 Couple chooses to foster 4 siblings. During adoption ceremony, judge cries at their union

Four siblings in the Kansas foster care system have all been adopted by the same family.
The judge struggled to hold back tears as a new family filled six chairs Monday, March 12, in Johnson County District Court. Four teenaged siblings in the Kansas foster care system have all been adopted by the same family.
According to Inspire More, when this kind couple discovered that they couldn't have children, they decided to become foster parents. But little did they know that what lay in store for them would change their lives forever.
Eric and Phyllis Watson received their licenses in August 2015 to become foster parents with the potential to adopt. Adoption agency KVC Kansas called the Watsons the next day with their first case: four siblings looking for a home where they could stay together.
The set of siblings is composed by Alisia, 17; Bradley, 16; Cody, 15; and Emma, 11. They endured neglect and abuse so bad the state took custody of them. The children entered the foster care system in November 2015.
The children came from an Overland Park home that saw a failed marriage, substance abuse and neglect. Biological grandmother Susan Bustamente said the children were always well-behaved thanks to Alisia.
As the youth director of Faith Baptist Church in Olathe, Kansas, Eric Watson believes that "God's hand has been all through this process." Eric and his wife Phyllis originally had very different plans about how they wanted to handle adopting children.
With both working full-time jobs, they were unsure if they would be able to provide all that the children needed. They wanted to decline, but they were told that if they decided not to foster them, the teens would be split up into different homes.
Initially, the Watsons planned to foster the teens for a year while attempts were made to reconcile them with their biological parents. When it became apparent that wasn't an option, though, the couple knew what they wanted to do.
Without hesitating, Eric and Phyllis asked to adopt all four of them together. The adoption was finalized in early March, and District Judge Kathleen Sloan could not help but burst into tears when she saw how happy the Watsons and their new children were.
Alisia would have aged out of the system and may have been left on her own as early as this summer when she turns 18. Now she has quite different plans: college, someday marriage, and later perhaps boys and girls of her own.
Please fill in your e-mail so we can share with you our top stories!