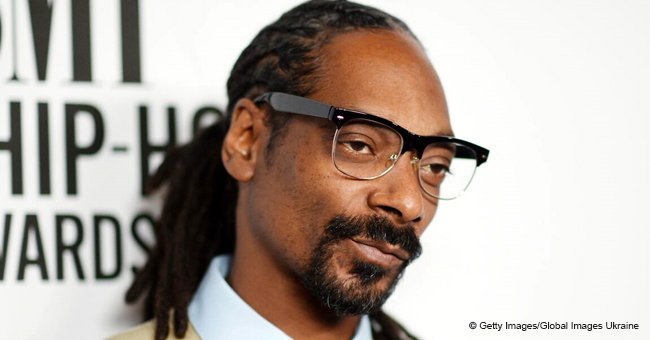 Snoop Dogg's wife shares recent photo of Snoop and their adult sons. They all look alike
- AmoMama brings you the lovely looks of the three wonderful men in the life of 'The Boss Lady,' Shante Broadus.
- The entrepreneur and wife of rapper Snoop Dogg made this upload of father-son bonding time on her Instagram handle.
- It is interesting to find out that Snoop's sons take after him.
Wife of American rapper and music star Snoop Dogg made a show of love for her family and the handsome men in her life with a passionate Instagram upload.
Shante Broadus who is the CEO of Boss Lady Entertainment made this passionate upload of her husband of over two decades and two of the three children their union is blessed with.
In the upload, the proud father wore a red and yellow coloured cardigan as he stood between his two handsome sons.
As his custom is, the 46-year old rap star had a black bandana over his head and his popular facial hair shaving seemed to restore the grace of his youthful days.
His expressionless face, however, does not deny the fact that he was overwhelmed to have his boys turn into men as he spread his hands over their shoulders.
To the record producer and television personality's right is his first son; Cordé who stood with a half-smile on his face.
The 23-year old whose Instagram handle @kalvin.love says;
'I Love to Love. Hate to hate' is undoubtedly a true fan of his mother'.
He was dressed in a white long-sleeved tee shirt which pays tribute to his mother's investment with the inscription
'BOSS LADY ENTERTAINMENT.'
The youngster had his hair left fly as he stood with both hands crossed before him.
On Snoop's left is his second child and son; Cordell C. Broadus who takes after his father in looks and noticeably height.
The 21-year old took his good looks to another level as he had big dark goggles over his eyes as a complement to his outfit of a simple pull-over.
This upload by The Boss Lady who is also the proud mother of an 18-year old daughter, Cori comes with the simple caption in which she calls the three men,
'Broadus Boys.'
What are your thoughts about The Boss Lady's love for her family?
Source: Instagram.
Please fill in your e-mail so we can share with you our top stories!