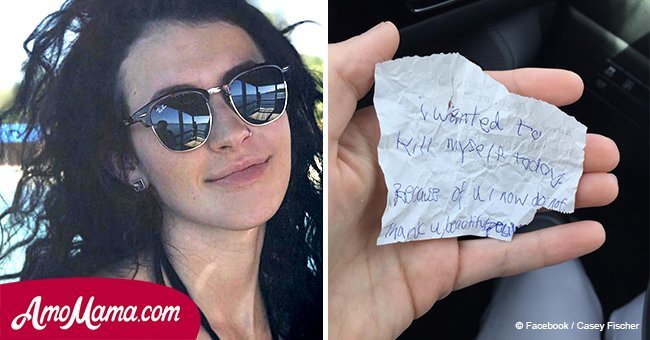 Young mom buys homeless man breakfast. Then he hands her a note about his plans to die
Sometimes small actions can lead to mighty consequences.
Liftable reported a heart-touching incident in the life of one Casey Fischer when she was at Dunkin' Donuts.
Joan Osborne's hit song, What If God Was One of Us, was a top 40 hit and was nominated for three Grammy awards.
The lyrics of the mid-1990's song caught the fans' attention probably because they could relate to it. With lyrics like, "What if God was one of us? Just a slob like one of us? Just a stranger on the bus, tryin' to make his way home," was on everyone's lips.
Casey Fischer had a life-changing experience when she happened to meet a homeless man on the street.
The young woman was at Dunkin' Donuts when she saw a man on the side of the road picking up change. He then went inside and started to count his money.
She was the annoying lady for the man when she started talking to him. She noticed he only had about $1 in his hand.
Fischer decided she would buy him a coffee and bagel out of her own pocket. She then asked him to sit down with her and he obliged.
The man opened up to Fischer and told her that his name was Chris. He also talked about how everyone was usually cruel to him "because he was homeless."
He confessed that drugs had "turned him into the person he hated." Chris wanted to be a person his mother could just be proud of. He also revealed that his mother had died due to cancer.
The young lady and the man chatted for well over an hour before she realized she had to get back to class. But Chris asked her to wait.
He quickly wrote something on a crumpled up receipt for Fischer. He handed it over to her, apologizing for his shaky handwriting. He then smiled and walked out.
She opened the note to find a thank you but realized that she had done something incredible. It was much greater than a friendly conversation.
Chris wrote, 'I wanted to kill myself today. Because of u I now do not. Thank u, beautiful person.'
This was probably the best 'Thank you' note she will ever receive.
Please fill in your e-mail so we can share with you our top stories!