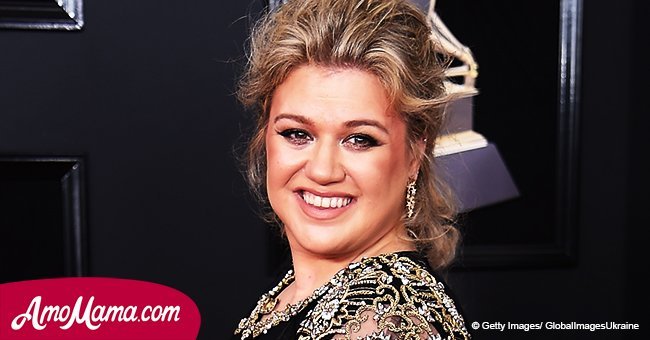 Kelly Clarkson looks breathtaking in a chic black floor-length gown showing drastic weight loss

The powerful singer releases an emotional video that not only sheds light on her painful past but showcases her amazing figure.
Kelly Clarkson's latest music video is as powerful a representation of her past as it is a testament to her dramatic weight loss.
Donning an elegant black floor-length gown in the emotional video, Kelly showcased her shapely curves fresh from her astounding weight loss. With heavy eye make-up, her hair in waves, and a stunning neckwear, she exuded classic sophistication as she delivered her new song 'I Don't Think About You' standing on a circular platform under dramatic lighting.
According to the Daily Mail, the video is an ode to Kelly's life as she struggled with toxic relationships and hurdled challenges in the music industry. It beautifully captures milestones from Kelly's past and present which alternately presents themselves.
The song delivers a message of pride and gratefulness as a woman who's learned from all the painful experiences from her past. In one symbolic scene, the "ghosts of her past" reunited with the 35-year-old singer as she belts out the chorus to its climax. She sang,
"It used to bother me. I could never leave. After all that I've been through, nothin' left to prove. No, no, no, I don't think about you."
Kelly's latest single is a cut from her eighth studio album 'Meaning of Life' which was released in October. Speaking to Daily Blast Live about her latest song, she described it as a soulful rendition of what it means to be free from the negativity.
"I think it's a beautiful thing when it's a negative situation and all of a sudden you wake up one day and it has zero power over you. For men and women it's an amazing experience to feel that and that's what this song is about."
Kelly has clearly shunned out all the pain from her life since she looks fabulous ang glows with positivity. No doubt, she'll be accomplishing greater things now that she's faced her past demons and left them where they belong.
Please fill in your e-mail so we can share with you our top stories!