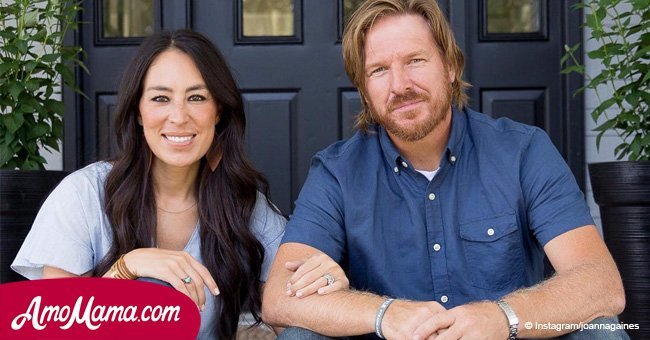 Joanna Gaines' visibly growing baby bump spotted in a recent appearance at a sporting event
The Fixer Upper stars are going through a wonderful time in their lives and they are happy to share their joy with their loyal fans.
Joanna Gaines and husband Chip are pregnant with their fifth child. It might sound like too many children to most young parents today, but the stars of recently canceled reality TV property show Fixer Upper can certainly afford another child.
The couple shared their pregnancy news in January 2018, and since then Joanna has been sharing her pregnancy journey with her followers on social media. She has been so proud of her baby bump that she doesn't miss an opportunity to flaunt it.
As Hollywood Gossip reported, the cancelation of Fixer Upper, the show that made the couple famous, hasn't kept the Gaineses out of the public eye.
They have since embarked on some other projects and are still making use of their platform.
Being frequently out on public appearances, Joanna's precious pregnant belly is visible in every photograph of the designer and entrepreneur.
On her last public outing, Joanna delighted her fans once again with her flawless pregnancy glow.
Over the weekend, the Gaineses spend time with former NFL player Tim Tebow, who runs a charity foundation named after himself that focuses on helping individuals with disabilities in difficult situations.
Joanna and Chip were happy to be present at Tebow's recent charitable event and they were the principal attraction among the beneficiaries of the initiative, with many of them likely being fans of Fixer Upper.
Joanna opted to wear a beautiful black dress that, far from hiding her baby bump, outlines and highlights it, a trend that many stars, as well as ordinary women, are following after a change in ideas and values about pregnancy.
Not too long ago pregnant women used to keep their baby bumps discreetly covered or minimized by wearing flowy or overstuffed clothing as unnatural beauty standards put the issue of hiding the weight gained during pregnancy above the joy of expecting.
Fortunately, women nowadays understand that there is nothing to be ashamed of as their bodies adapt to grow a new life within, and they have embraced their beautiful pregnant figures with the freedom of choosing what they like to wear.
Please fill in your e-mail so we can share with you our top stories!