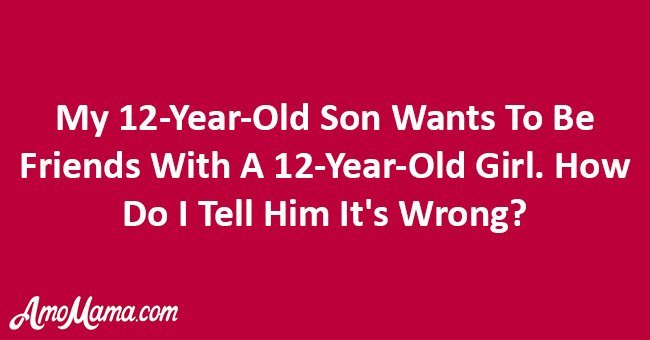 My 12-year-old son wants to be friends with a 12-year-old girl. How do I tell him it's wrong?
Dear AmoMama,
I have a 12-year-old son who is in an exclusive boy's school and has been since he started primary school. He is an exceptionally bright boy, and very good-looking too, funny and sweet - but he has practically no experience with girls.
Last summer when he came home, he befriended the 12-year-old child of our new next-door neighbors, and I wasn't very happy about it at all.
I think this girl is too forward and advanced for my boy, and wears tiny skirts and lipstick and has very long hair which she tosses all the time.
He was over at their house all the time and at first, I thought he was 'hanging out' with her brother who is a year older. He was playing computer games with her, and doing goodness knows what else but her mother wasn't concerned at all.
This girl is going through puberty and has started developing breasts, and I caught my son looking and blushing. I want to cut this 'friendship' short before it develops into something more and this little hussy seduces my son. She goes to a public mixed school, and from what I can see most of them are pregnant and on the pill before they are 13.
My son is coming home for the Easter holidays, and I want to prevent him from spending time with her. I know they have been phoning each other and exchanging e-mails. Her mother thinks all this is very natural, but I want this cut short.
I want to stop this, but without antagonizing my son, or making the friendship even more exciting by forbidding it.
Can anyone help me? Have any of you been through something similar?
If you need help or advice, reach out to us, and thousands of women just like you who are struggling with the difficulties of life. You are not alone, we are here for you, and we listen; so write to us anonymously using this form.
Please fill in your e-mail so we can share with you our top stories!