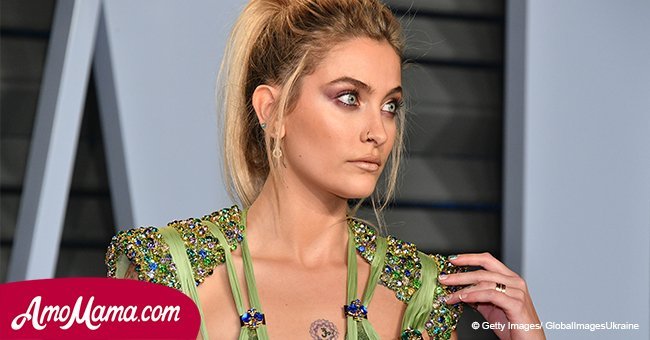 Paris Jackson's grandparents are reportedly furious with her alleged romance with female model

While her grandparents try to stop her, Paris isn't backing down on her relationship as sources say she's fallen completely in love.
Paris Jackson's rumored relationship with model Cara Delevigne seems to be hitting an all-time high while her grandparents sees it as an all-time low.
Just this week, the 19-year-old daughter appeared to be confirming persistent speculations over her same-sex affair with the 25-year-old supermodel after she posted a series of photos suggesting they're more than just friends. On Saturday, she posted a Snapchat of them snuggling in bed while watching the lesbian flick 'Carol' and later, she also posted another photo of Cara striking a strange pose inside Paris' colorful bedroom and captioned it "a r t."
Her older brother Prince seemed to support her romance as he even replied to her post saying,
"Cara Delevigne is art itself!"
But while she celebrates her new found love with the approval of her brother, Radar Online has revealed her grandparents, Joe and Katherine Jackson are far from ecstatic. In fact, a source told the publication that they're totally against the idea of her forging a relationship with another woman believing it goes against their strong religious beliefs.
The source added that while they have so much love for their granddaughter, they're worried for her.
"They both love Paris so much and they want the best for her, but they feel that Cara's fast-paced lifestyle is just too much for Paris to handle."
However, their pleas might as well fall on deaf ears as Paris is clearly not heeding their call. She is totally smitten with Cara, according to the source who affirms,
"Paris isn't listening to anyone when it comes to her relationship with Cara. She is following her heart and believes that Cara is the one she is meant to be with."
Moreover,
"Paris is able to be herself around Cara and that is refreshing to her. People around her think she's fallen completely in love."
There's no stopping a determined heart it seems and Joe and Katherine may just have to swallow this pill and hope for the best.
Please fill in your e-mail so we can share with you our top stories!