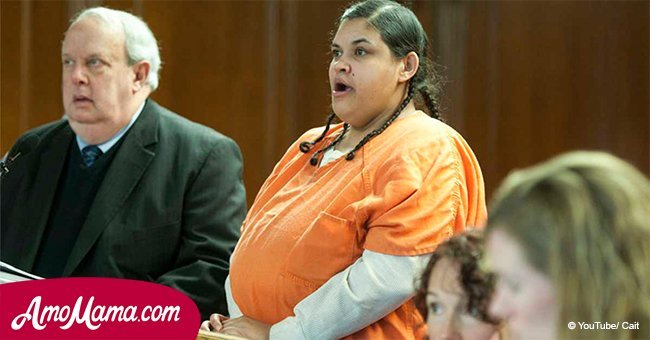 Judge tells convicted killer, 'I hope you die in prison'

This woman made headlines around the world when she committed a crime.
On May 18, 2013, Camia Gamet killed her boyfriend, Marcel Hill, 38, by stabbing him using a knife. She has been sentenced to life in prison without parole on April 16, 2014.
As reported by Jumble Joy, during her trial, Gamet was spotted disrespecting her boyfriend's family by rolling her eyes time after time.
Judge John McBain lost his cool and told the convicted killer that he hoped she died in prison.
Gamet was accused of stabbing and beating her boyfriend to death in the apartment they shared, Murderpedia reported.
Gamet's attorney insisted that his client murdered an unknown attacker in an act of self-defense.
Before the crime, the couple reportedly had a fight at a bar. Many people also testified about their violent relationship.
As Diana Banks-Joiner spoke to the court about the abuse her nephew, Hill, suffered at the hands of his girlfriend, Gamet interrupted, asking, "Is that it?"
Judge McBain became enraged because of her statement and threatened to duct tape her mouth closed.
"She has a right to talk to the court after you murdered a relative of hers," he said.
Judge McBain also noticed Gamet rolling her eyes and snickering. He finally broke his calm composure at the time.
"You were relentless. You stabbed. You stabbed. You stabbed. You stabbed. You stabbed until he was dead. I hope you die in prison," he yelled.
Banks-Joiner then said that Gamet showed her true color that day.
Hill's cousin, Barbara Johnson, added that Gamet was rude and that she showed no remorse.
Jennifer Johnson, Hill's another cousin, also expressed her emotion, saying God is good and that they all got what they deserved.
But Gamet maintained she acted in self-defense. She stated that she thought her boyfriend was an unknown attacker.
Gamet added that she loved her boyfriend and that she was convicted on lies.
Please fill in your e-mail so we can share with you our top stories!