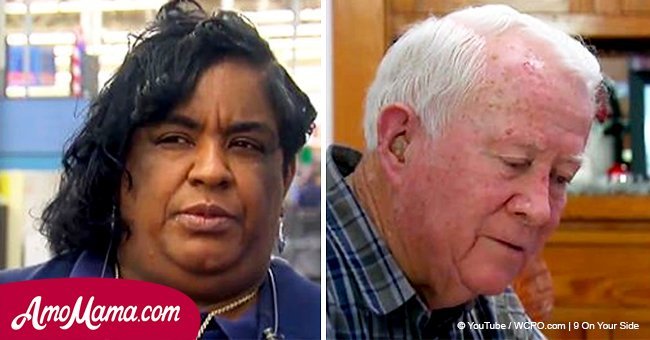 Old man hands cashier $2,000. But she immediately refuses and gives him an eerie warning

The quick-thinking actions of a cashier helped an old man.
As reported by Shareably, Cecil Rodgers, from Cincinnati, Ohio, received a phone call from someone claiming to be his oldest grandson.
The caller said that he had been in a car crash and needed some help. Then he put an attorney on the phone who told Cecil to send a hefty amount of money if he wanted to help his grandson.
Without even taking the time to question the phone call, the loving grandfather immediately withdrew an amount of money from his bank and headed to his local Walmart.
Rodgers had planned on sending $2,000 to the supposed lawyer. He chose the line with Audrella Taylor at the register.
Taylor, who has worked at Walmart for the last five years, got suspicious that it might be another senior scammed. She decided not to let the elderly man send the money because she knew he was about to make a big mistake.
"He said something about somebody was locked up in jail. He got a call, and he needed to send $2,000. I said, 'I am going to refuse the sender. I'm not going to let you send that money. I think you are being scammed,'" Taylor said.
The Walmart clerk also found out that Rodgers was the only one in the family who had heard about his grandson's accident.
This was another red flag to her. She assumed that the boy's mother would have been contacted first in the event of an accident.
Rodgers was a bit confused by Taylor's actions. All he wanted is to help his grandson during that time.
The elderly man then admitted that the lawyer told him not to tell anyone about the phone call and that his grandson would be in even more trouble if he did.
Taylor brought all these strange facts to Rodgers' attention and he realized that it didn't add up, Shareably reported.
The Walmart employee was praised for her sharp instincts. The manager said that he's proud of her.
Rodgers, who has been looking forward to buying Christmas gifts for his family that year, was very grateful for Taylor's help.
Please fill in your e-mail so we can share with you our top stories!