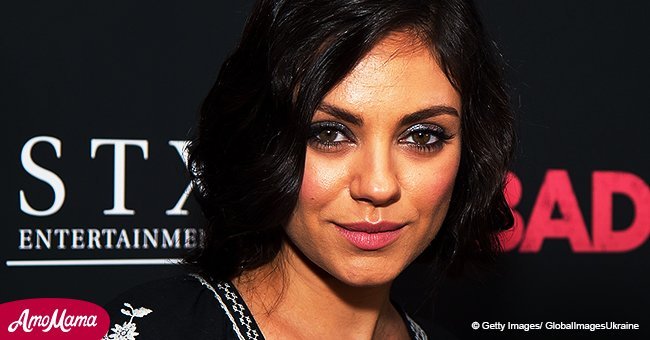 Mila Kunis shows off her slender figure in a tight sweater and skinny jeans at recent appearance

The actress is spotted on an errand run looking cool and casual in a heart-filled sweater.
Mila Kunis is a mother of two who would often be photographed running errands in LA and on Monday, she was once again spotted getting off her car to head to her scheduled destination, as the Daily Mail reported.
Casually clad in a pair of jeans and a navy blue sweater with pink hearts, the 34-year-old actress looked slim and fit as she completed her look with a pair of white trainers. Usually make-up free on her errand runs, the wife of Ashton Kutcher made an effort this time to put on some foundation and blush with black mascara and dark pink lipstick.
Mila has been a hands-on mom to her daughter Wyatt, 3 and son Dimitri, 1 and having spent a great amount of time with them, she's come to the conclusion that boys are definitely different from girls. She explained this during her recent appearance on 'The Ellen DeGeneres Show.'
"My boy's like a sloth. He's wonderful, and I love him — 'cause one day he'll probably watch this and be like, 'Why did you say that?' - but the truth is, women are smarter than men. And I have this evidence from my two different humans that I created."
Explaining further, the 'That 70's Show' star added,
"Girls are just like, on it and boys are like, dum dum dum. They're just like a little bit more like little linebackers going through life and like Neanderthal-ish."
It's curious what her husband of nearly three years has to say about that. The couple who were co-stars in the sitcom 'That 70's Show' have been married since 2015. Prior to Mila, Ashton was also married to actress Demi Moore for eight years.
Please fill in your e-mail so we can share with you our top stories!